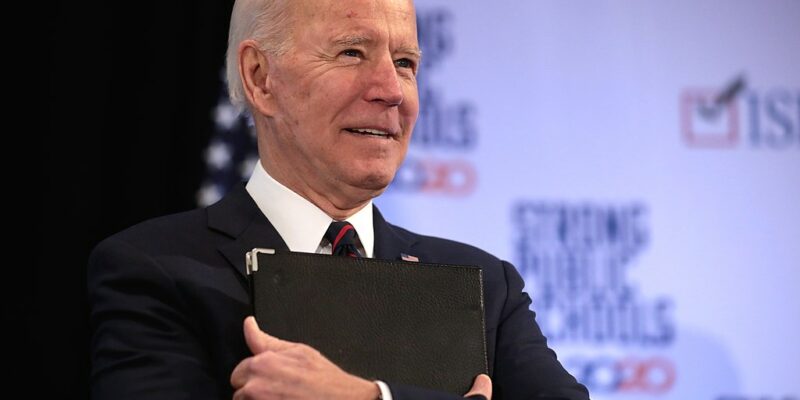 More problems seem to be arising for Joe Biden. While he's losing moderates like Joe Manchin, he's also getting pressure from progressives in his party. Everyone else might be surprised that the White House is unwilling to go along with the Left's plan to lessen the punishment for carjackings in the nation's capital and has recognized the growing crisis and violence occurring at the border, some Democrats in the House and Senate are throwing up their arms that the president has noticed reality.
The leaders of the far left in Congress have already begun to attack the president. A few weeks ago, when news broke that the White House was considering all options as the border crisis grows, Pramila Jayapal said she was "deeply disappointed in the Biden administration's proposal to limit access to asylum. The ability to seek asylum is a bedrock principle protected by federal law and should never be violated. We should not be restricting legal pathways to enter the United States, we should be expanding them. Last month, we saw the positive impact new legal pathways can have on irregular migration. We hope the Biden administration will reconsider much of this proposed rule."
Now, she's gone to the outlet Semafor to say that she and her lefty colleagues are growing more restless. The outlet writes that "while Jayapal said she's normally reluctant to 'second guess' Biden too much, the administration's confirmation that it may revive family detentions at the border — a policy Biden personally denounced under Trump — is stirring fears within the caucus about a tack to the right with profound human consequences.

'I do think that there are people within the administration who are giving very bad advice,' Jayapal said. 'I don't know who those people are.'

Late the same day, the Senate voted overwhelmingly — with Biden's backing — to override a progressive-backed D.C. bill to reform its criminal code. The White House had previously opposed interfering with the District's self-governance when the same measure was voted on in the House, prompting 173 Democrats to vote against it.

A spokesman for Sen. John Fetterman, D-Pa. said Wednesday that the crime vote had 'been mishandled at every turn' including the 'White House blindsiding House Dems with a bait and switch.' Congressional Black Caucus members, including D.C. Del. Eleanor Holmes Norton, first learned about Biden's decision from a reporter's question at a press conference.

Similarly, on immigration, Congressional Hispanic Caucus members told Roll Call that they had not been briefed on a potential return to family detentions at a February meeting with Homeland Security Secretary Alejandro Mayorkas. At the time, Mayorkas was already trying to address their concerns about a separate move towards Trump-era rules requiring asylum seekers to turn to other countries before America. The CHC spoke with Mayorkas again in a virtual meeting on Tuesday, and condemned potential family detentions as a 'return to the failed policies of the past' in a joint letter with other Democrats.
When it comes to the border, two Americans were found dead in Mexico after being kidnapped at gunpoint by a Mexican drug cartel. "Shortly after the foursome crossed the border Friday into the crime-ridden city of Matamoros, located in the northeastern state of Tamaulipas, realized they were lost.
While trying to sort out their location, the four became caught in the middle of a violent cartel showdown," The New York Post reported.
Not to worry, though: the cartel has said oopsie, sorry about that.
As for the crime bill in the nation's capital, the city council's changes were so radical that 33 Senate Democrats voted with Republicans to prevent them from being enacted, including Chuck Schumer. The passage overturning DC's "reforms" comes a month after an unidentified man sharing an elevator with Representative Angie Craig, a Democrat from Minnesota, attacked her in her apartment building. 
The attack, however, did not stop many of Craig's "moderate" colleagues from voting in support of D.C.'s lessening of punishments for crime, including those from nearby Northern Virginia, where crime rates have been trickling up in the swanky, suburban districts of the nation's capital.
Republican Virginia Attorney General Jason Miyares, a Glenn Youngkin ally, slammed "Democratic U.S. Representatives Abigail Spanberger, Jennifer Wexton, Don Beyer and Gerry Connolly for voting to allow D.C.'s controversial criminal code revisions to take effect.
'This is one of the most extreme criminal-first, victim-last measures we've seen across the nation,' Miyares told 7News. 'The idea that you would get rid of mandatory minimums for things like carjackings, get rid of enhanced penalties for most violent crimes, I just find that astounding at a time which so many cities right now we're seeing what has happened when they've implemented these criminal-first, victim-last policies. It has led to a crime explosion and tragically an explosion of more victims. And so, the fact that what happens in the D.C. metro area does not happen in a vacuum – D.C. crime absolutely affects Northern Virginia crime – and the fact that they failed at this aspect of their job, I think was very troubling.'
Several major crimes have been increasing in Spanberger's, Connolly's and Beyer's Northern Virginia districts, including in Fairfax County, Prince William County, and Arlington County. 7News reached out to Spanberger, Wexton, Beyer and Connolly for their reaction to Miyares' criticism of their votes.
'The fact is just in 2023, so far, we've had 94 carjackings just in the area of Washington D.C., and there's just been this problem with a criminal-first, victim-last mindset and the fact is you had a D.C. Council that passed a measure that was broadly opposed by most rational thinkers, is probably opposed by the vast majority of the Democrats in the House of Representatives. The U.S. Attorney for Washington D.C. said this measure would undermine public safety, but for some inexplicable reason, the very leadership in Northern Virginia in which their constituents are the most affected by this voted against it [stopping D.C.'s crime bill],' said Miyares. 'I find it inexplicable that they would so much ignore both the recommendations of the Biden Administration, the U.S. Attorneys and so many of their fellow colleagues to vote for an extreme measure.'"  
Despite liberal resistance, the measures easily passed. To keep the Left in line, the White House is proposing to do the thing progressives love the most: increase taxes. The Hill noted that "President Biden is set to formally propose an array of tax increases on wealthy individuals and corporations in a budget plan that he says will reduce the deficit by $2 trillion over the next decade, setting up a battle royal with Republicans on Capitol Hill.  
Biden told lawmakers during his State of the Union address last month that his budget will lower the deficit and extend the solvency of the Medicare Trust Fund 'by making the wealthy and big corporations begin to pay their fair share.' 
The administration is also expected to propose a quadrupling of the stock buyback tax that was included in the Inflation Reduction Act that Democrats passed through the House and Senate on party-line votes last year. That legislation set a 1 percent surcharge on corporate stock buybacks. 
Biden is expected to reintroduce two staples of his 2021 Build Back Better agenda, raising the top marginal income tax rate from 37 percent to 39.6 percent and raising the corporate tax rate from 21 percent to 28 percent."
The GOP has already said that the budget is dead on arrival, but one question remains, however. Without Nancy Pelosi being their leader, how long will the detente between reality and the Left last for Biden? 
[Read More: Joe Manchin Grows Tired Of Biden's Backstabbing Of Him]