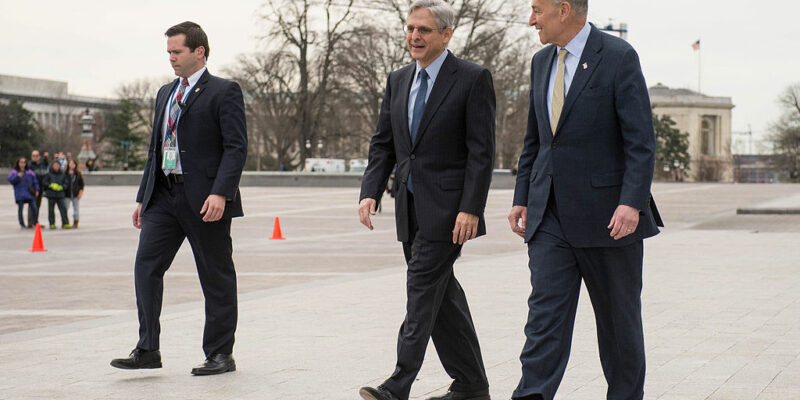 Merrick Garland almost became a Supreme Court Justice in 2016, and we should all be thankful every day that Mitch McConnell and the Senate Republicans prevented it from happening. As Joe Biden's attorney general, Garland has appeared to have abused his power as head of American law enforcement, targeting pro-lifers with SWAT Teams while dragging his feet on apprehending pro-choice activists who have attacked pro-life counseling centers and Catholic churches. 
Earlier in the week, the Senate finally got its chance to ask the attorney general what is going on, and Garland showed his typical contempt for half of the American people. 
CNA reports, "Sen. Mike Lee, R-Utah, asked Garland to account for a disparity in the number of prosecutions of pro-life activists and pro-abortion activists under the Freedom of Access to Clinic Entrances (FACE) Act. The FACE Act made it a federal crime to impede access to a pro-life pregnancy center or abortion clinic.

Lee noted that there have been 81 reported attacks on pro-life pregnancy centers "and only two individuals have been charged" with violating the FACE Act. Meanwhile, he said, 34 pro-life activists have been charged for blocking access to or vandalizing abortion clinics.

Garland acknowledged the disparity in prosecutions and attributed it to pro-life activists' tendency to operate openly, in the light of day.

'There are many more prosecutions with respect to the blocking of the abortion centers, but that is generally because those actions are taken with photography at the time, during the daylight and seeing the person who did it is quite easy,' Garland responded.

'Those who are attacking the pregnancy resource centers, which is a horrid thing to do, are doing this at night in the dark. We have put full resources on this. We have put rewards out for this,' he said."
.@BasedMikeLee: "DOJ has announced charges against 34 individuals for blocking access to…abortion clinics…there have been over 81 reported attacks on pregnancy centers…and only 2 individuals have been charged!"

GARLAND: "We apply the law equally." pic.twitter.com/DRqeb5Pee1

— Townhall.com (@townhallcom) March 1, 2023
The radical pro-choice group Jane's Revenge has threatened pro-life counseling centers, but with the Richmond FBI allegedly looking into those who attend Latin Mass, it has been unable to find them. 
Lee wasn't the only senator who wasn't buying what Garland was selling. 
John Hawley destroys Merrick Garland for using the Dept. of Justice as a political weapon 🔥

"We're supposed to hate assault style weapons…you're happy to deploy them against Catholics and innocent children" pic.twitter.com/7p1L3OAj1H

— Hodgetwins (@hodgetwins) March 2, 2023
Fox News wrote, "Sen. Josh Hawley, R-Mo., grilled Attorney General Merrick Garland over the FBI raid on a pro-life Christian man and asked whether the Department of Justice (DOJ) had an 'anti-Catholic bias.'
'Our department protects all religions, all ideologies. It does not have any bias against any religion of any kind,' Garland said, fielding the question from Hawley during Wednesday's Senate Judiciary Committee hearing.
'Why did the FBI do this?' Hawley asked Garland face-to-face during the Senate hearing. 'Why did you send 20-30 SWAT-style agents, SWAT-style team to this guy's house when everybody else had declined to prosecute and he offered to turn himself in?'
Garland said FBI agents on the ground determined how to engage with Houck in the 'safest' and easiest way, adding that agents disagreed with Hawley's description of what happened at the scene. A senior FBI source previously told Fox News that there may have been 15-20 agents at the scene but denied 25 were there."
Houck was a pro-life activist whom the Biden Administration targeted with a SWAT Team for violating the Freedom of Access to Clinic Entrances Act, a law that was rarely deployed against pro-lifers before 2021. 
Despite local authorities not charging him and a judge tossing a civil case against him, the White House wanted to throw the book at Houck, hoping that it would intimidate other pro-lifers, but a jury thought otherwise. 
The Washington Times reported, "Jurors in the trial, which began on Jan. 24, remained deadlocked on a verdict as of Jan. 27. By midafternoon on Jan. 30, however, they had reached a verdict resulting in Houck's acquittal."
Twitter users criticized Garland's defense as a horrible excuse for a biased double standard. Several even claimed the attorney general was lying by arguing the government was applying the law equally.
Merrick Garland is a hack, and I am thankful every day that he is not on the Supreme Court. https://t.co/NpMk4EjBnq

— Pradheep J. Shanker (@Neoavatara) March 1, 2023
Why is everyone in the Biden regime so dumb – they can't complete a simple sentence?

Dumbest AG in history – most corrupt AG in history. https://t.co/L3160JLBqu

— Catturd ™ (@catturd2) March 1, 2023
BS. The FBI analysis that declared traditional Catholics "domestic extremists" advocated undercover operatives to infiltrate and catch them out having Latin Mass and saying pro life things. There has been no such infiltration of Jane's Revenge, Antifa or other abortion militants https://t.co/ieV9nd9VA0

— Miranda Devine (@mirandadevine) March 1, 2023
[Read More: Watchdog Delivers Scathing Report of Biden's Afghanistan Withdrawal]