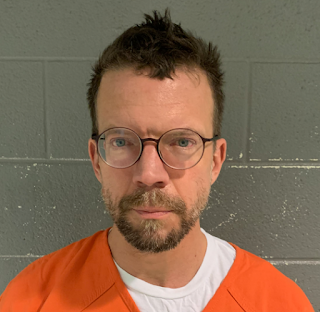 The Democratic Mayor of College Park, Maryland, the home of The University of Maryland Terrapins, surrendered to police and was arrested on dozens of counts of alleged child pornography on Thursday. 
NBC News reports that "Patrick Wojahn, 47, was charged with 56 counts of alleged child pornography that included 40 counts of possession of child exploitative material and 16 counts of distribution of child exploitative material, according to a statement from the Prince George's County Police Department."
A statement on the liberal college town's website announced Wojahn's resignation was effective Thursday and thanked the alleged child pornographer for his years of service.
'Last night, after business hours, Mayor Patrick L. Wojahn submitted his letter of resignation as Mayor of the City of College Park, effective immediately on March 2. Mayor Wojahn has served in this position since 2015 and on Council since 2007. The City of College Park thanks Mayor Wojahn for his many years of dedicated service,' the statement read.
"Effective immediately, Mayor Pro Tem Denise Mitchell will serve as presiding officer until a Special Election is held and a new Mayor has been sworn in. Per the City Charter, a Special Election must be held within 65 days."
The 56 counts of child pornography apparently didn't keep the well wishers away apparently. The disgraced, well maybe not disgraced in College Park, Mayor wrote, "While this investigation does not involve any official city business of any kind, it is in the best interests of our community that I step aside and not serve as a distraction." 
"Many of you have already reached out with well wishes and thoughts, and I am eternally grateful. I am stepping away to deal with my own mental health. I ask that you continue to keep me and my family in your prayers."
Racking up all those child porn charges really affected him mentally, it sounds like. 
The New York Times writes, "The National Center for Missing and Exploited Children had notified the county police on Feb. 17 that a social media account operating in the county possessed and distributed what were suspected to be images of child sexual abuse, the police said.
Videos and an image had been uploaded to the account in January, and Prince George's County Police investigators determined that the account belonged to Mr. Wojahn, the police said.
On Tuesday, detectives served a search warrant at Mr. Wojahn's home, where they seized cellphones, a storage device, a tablet and a computer, the police said. After further investigation, the police charged Mr. Wojahn and took him into custody early Thursday morning, the police said.
Mr. Wojahn, a Democrat who grew up in Wisconsin, received his law degree from Georgetown University Law Center in 2002, and ran for Mayor in 2015 'to help College Park realize its unfulfilled promise of becoming a top-tier college town,' according to his biography on the city's website."
The first openly gay man to take mayoral office in College Park, Wojahn was elected Chair of the National League of Cities 2023 University Communities Council (UCC). In his role, the city explained, "Wojahn will develop and guide programs among local elected officials from similar communities."
Wojahn and his now-husband, Dave Kolesar, first came to prominence as plaintiffs in a lawsuit seeking to overturn a ban on gay marriage in Maryland in 2004. 
Last December, the two joined Joe Biden at the White House for the president's signing of the Respect for Marriage Act into law.
🚨 Patrick Wojahn and his "husband" were recently guests of President Joe Biden's at the White House. pic.twitter.com/AWLjiRhBr5

— Raheem J. Kassam (@RaheemKassam) March 2, 2023
"It certainly is a momentous occasion," said College Park Mayor Patrick Wojahn, who attended the event with his husband, Dave Kolesar.
"I think there's a little bit of a 'pinch me, I'm dreaming' aspect to it," Kolesar, who is WTOP's senior broadcast engineer, said about being present to see history being made.
Kolesar told the station that "when they initially joined the lawsuit they were greeted by skepticism from family, friends, acquaintances and even members of the gay rights movement who questioned if it was too soon to fight for marriage quality.
'Part of the task that we saw when we first joined the lawsuit was to frame the debate, because I guess you could say the Overton window was in a totally different place than where it is now,' Kolesar to the station."
The Biden White House did not issue a comment on the situation. 
Fox News found that "Wojahn's case isn't an unusual one. At least 12 additional then-current and former mayors have been accused of child sex crimes since 2021, ranging from child pornography to sexual assault.
An earlier Fox News Digital analysis found that at least 349 public school educators were arrested on child sex-related crimes spanning nearly every state in the country last year, averaging to almost an arrest every day on crimes ranging from grooming to child porn to raping students."
The news channel said that 75 percent of the "involved alleged crimes against students."
[Read More: Merrick Garland Finally Faces Music Over His Corruption]