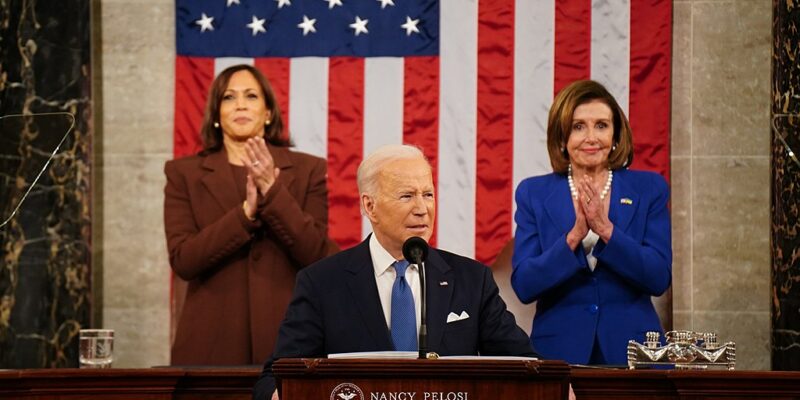 Tonight, Joe Biden delivers a State of the Union where he plans to take a victory lap on the economy. NPR wrote, "Biden is expected to tout the economy as one of his great strengths for reelection. Reports say that he intends to "use his second State of the Union address on Tuesday to remind Americans of how their lives have been improved over his first two years in office, as he tries to confront pessimism in the country and navigate the tricky politics of a newly divided Washington.
Rather than laying out major new policy proposals, Biden was expected to devote much of his speech to highlighting his efforts over the past two years to create jobs, fight inflation and improve the nation's infrastructure. The speech comes as Biden is honing his pitch to voters ahead of his expected announcement in the next few months that he will seek another term in office despite voter frustrations about the direction of the nation.
'Next week, I'll be reporting on the state of the Union,' Biden said Friday after a stronger-than-expected jobs report that saw the unemployment rate drop to the lowest level in more than 53 years. 'But today, I'm happy to report that the state of the Union and the state of our economy is strong.'" 
While the White House might be clueless and think they're doing a great job, Americans are still feeling the economic hit caused by the Biden presidency.
CBS Poll – Are Biden's policies…

Making your own family's finances better or worse?

Better – 18%
Worse – 49%

Making political division better or worse?

Better – 19%
Worse – 50%

Making illegal immigration better or worse?

Better – 21%
Worse – 51%https://t.co/y1Og2QFF7a

— InteractivePolls (@IAPolls2022) February 7, 2023
NBC said that "record numbers" of people in the United States say they are worse off today than they were two years ago. 
"Four in 10 Americans say they've gotten worse off financially since Joe Biden became president, the most in ABC News/Washington Post polls dating back 37 years. Political fallout includes poor performance ratings for Biden and a tight hypothetical Biden/Trump rematch next year, the outlet explained.

Given disaffection with both leaders, a rerun of the 2020 presidential election is hardly enticing: Nearly six in 10 Democratic-aligned adults don't want to see Biden nominated again for the job, and half on the Republican side would rather not see Donald Trump as their party's nominee.

If those were the choices and the election were today, the poll suggests it could be close: Among all adults, 48 percent support Donald Trump and 44 percent are for Biden; it's a similar 48-45 percent among registered voters. The differences are within the poll's margin of sampling error.

The big hit on Biden is the economy: With inflation moderating but still high, 41 percent say they're not as well off financially as they were when Biden took office, the most in nearly three dozen ABC/Post polls to ask the question since 1986, when Ronald Reagan, who popularized the "better off" phrase, held office. Just 16 percent in this poll, produced for ABC by Langer Research Associates, say they're better off.
For comparison, two years into Donald Trump's presidency, 13 percent said their lives were worse, whereas 25 percent claimed that the Trump presidency had improved their financial lives.
American News Nation recently noted that many Americans are living paycheck to paycheck, even those who make over $100,000 a year, as inflation eats up wage increases and makes it nearly impossible to save. 
"More than half of Americans earning six-figure salaries admitted they were living paycheck to paycheck last year as high inflation slammed households, according to an alarming study released this week, The New York Post stated.
As of the end of December, 51% of Americans with $100,000 or more in annual income said they lived paycheck to paycheck, according to the survey conducted by LendingClub and Pymnts.com. The share rose 9% compared to one year earlier, when 42% of six-figure earners made the same admission.
Overall, a whopping 64% of US consumers — the equivalent of 166 million Americans — said they were living on razor-thin budgets each month. That was up from 61%, or about 9.3 million, compared to the previous year's findings.
'The effects of inflation are eating into every American's wallet and as the Fed's efforts to curb inflation drive up the cost of debt, we are seeing near-record numbers of Americans living paycheck to paycheck,' said Anuj Nayar, financial health officer at LendingClub."
Politico recently noted that the Biden presidency is entirely dependent on being contrasted with Donald Trump rather than doing anything good for the country. "America may not want a Trump-Biden rematch, but Donald Trump and Joe Biden sure do.
A CNN poll late last year showed that 6 in 10 Republicans and Republican-leaning independents want a different GOP nominee in 2024, and a roughly similar proportion of Democrats hope for a nominee other than Biden. Not that either man is inclined to pay any attention.
Trump wants revenge against a president who humiliated him in 2020 and who, with an approval rating in the mid-40s, would seem ripe for the picking. Biden wants to run against a persistently unpopular, controversy-plagued former president whom he beat once before and used to great effect as a foil in the 2022 midterms.
It's the weirdest, and most dispiriting, symbiotic relationship in politics. It's the career politician soaked in conventional politics versus the upstart developer with zero respect for rules. The establishmentarian versus the populist. Boring versus erratic. And … unpopular versus unpopular, as well as, now that you mention it, old versus old.
If Biden stepped aside, Trump might feel a little less driven to run, whereas if Trump declined to run, Democrats would have to be a lot more nervous about how Biden would match up against a younger, less toxic GOP opponent."
That's something to keep in mind tonight as the president touts his successes and then compares himself to the past rather than looking toward the future. 
[Read More: Leftwing Judge Compares Carrying A Baby To Slavery]