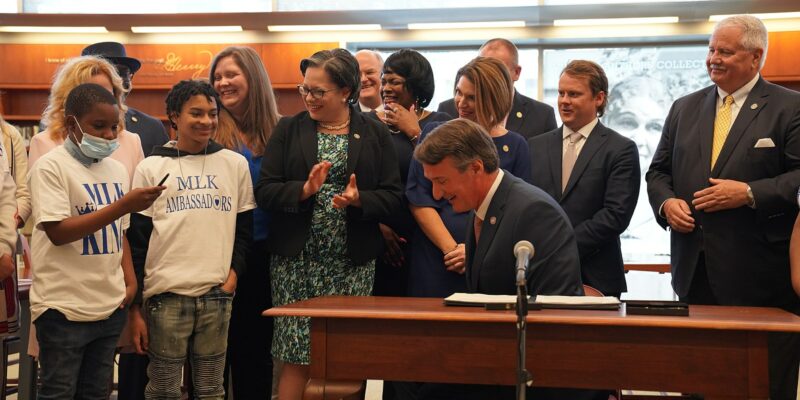 In October 2021, a father outraged that his daughter had been assaulted while in a locker room and the school board covered it up helped spark attention to an important debate happening across the country. Scott Smith was shown being tackled after claiming that school leaders had brushed the sexual assault of his daughter by a "transgender female" using the girl's bathroom for reasons of political correctness. 
Fox News reported at the time, "Scott Smith was found guilty of disorderly conduct and resisting arrest in August after he was filmed being dragged by police from the Loudoun County School Board meeting on June 22. He was sentenced to 10 days in jail, all suspended, contingent on a year of good behavior, Loudoun Now reported at the time.
Smith's image went viral among left-wingers as an example of parents run amok. The National School Boards Association cited his arrest in a letter last week requesting the Department of Justice to provide federal law enforcement to respond to an increase in violence against school officials across the country."
The NSBA's letter to the White House stated, "without providing support, that "extremist hate organizations" were showing up at school board meetings, and that these protests should be characterized as 'equivalent to a form of domestic terrorism and hate crimes.'
The letter stated that federal law enforcement authorities should employ the full array of tools at their disposal, including the Patriot Act, against these perpetrators of 'domestic terrorism.'
Being the leading hatchet man for the radical left, Attorney General Merrick Garland responded to the letter from National School Boards Association by writing a memorandum that, according to two whistleblowers, led to the FBI using counterterrorism tools against parents upset with their local school boards.  
The protests at the school board meetings dramatically shaped politics in Virginia. Newsweek wrote, Democrat "Terry McAuliffe saying that parents shouldn't influence what schools teach was a major factor in the race for the governor of Virginia, which was won by Republican Glenn Youngkin, according to a new poll.
During a debate in September, McAuliffe, who served as Virginia's governor from 2014 to 2018, said, 'I don't think parents should be telling schools what they should teach.'
Youngkin squeaked out a victory, winning by two percent. Now, over a year later, we're seeing that elections do, in fact, have consequences. 
The Washington Examiner reports, "A special grand jury in Loudoun County has indicted former Loudoun County Public Schools superintendent Scott Ziegler on three misdemeanor charges, a week after issuing a scathing report detailing the school district's misdeeds in responding to a sexual assault.

The office of Virginia Attorney General Jason Miyares, who had impaneled the grand jury, announced Monday that a Loudoun county judge had ordered three misdemeanor indictments against Ziegler to be unsealed. Loudoun County Public Schools Public Information Officer Wayde Byard was also charged with felony perjury.

Ziegler was charged with one count of misdemeanor false publication, one count of misdemeanor prohibited conduct, and one count of misdemeanor penalizing an employee for a court appearance. The charges carry possible jail time of up to one year. Byard's perjury charge carries a maximum sentence of 10 years in prison.

Ziegler, who had served as superintendent for Loudoun County Public Schools since June 2021 after a brief stint as interim superintendent, faced widespread criticism for his response to a May 2021 sexual assault that occurred in the girl's bathroom at Stone Bridge High School. The perpetrator of the assault was transferred to Broad Run High School, where he committed another assault in October 2021. Ziegler was abruptly fired after the special grand jury released a report last week that accused LCPS administrators of "fail[ing] at every juncture" when responding to the assaults."
The Ziegler indictment was joined by an indictment of Wayde Byard, the school system's public information officer. Authorities charged him on one count of felony perjury.
The unsealed indictment detailed horrifying behavior by the school's leadership and revealed how desperate they are to side with leftwing proponents of culture wars. The National Review noted, "A male high-school student allegedly sexually assaulted two female students in the LCPS district between May and October of 2021.
The 'gender-fluid' male student, who was wearing a skirt at the time, allegedly sodomized a ninth-grade girl in the girl's bathroom at Stone Bridge High School. The perpetrator was transferred to another LCPS school, Broad Run High School (BRHS), where he allegedly sexually assaulted another female student. He allegedly "abducted" the girl from a hallway and forced her into an empty classroom where he nearly suffocated and sexually assaulted her, according to the grand jury report.
'There were several decision points for senior LCPS administrators, up to and including the superintendent, to be transparent and step in and alter the sequence of events leading up to the October 6, 2021 BRHS sexual assault,' the report reads. 'They failed at every juncture.'
The grand jury found the second assault 'could have, and should have, been prevented.'"
Last week, Loudon Schools were still trying to cover up their guilt. According to The Daily Caller, "On December 5, the Loudoun County School Board noted that they were "pleased" the investigation 'found no evidence of criminal conduct on the part of anyone within LCPS, and not a single indictment was filed as a result of this lengthy process.'
Virginia Gov. Glenn Youngkin says he wasn't surprised by the early pushback he and the AG received when they started the special grand jury investigation into how Loudoun County Public Schools mishandled sexual assaults.

"It suggests that they tried to cover it up." – Youngkin pic.twitter.com/2l0gLUGINo

— Nick Minock (@NickMinock) December 11, 2022
Youngkin criticized the response from the Loudoun County School Board for using the word "pleased" in their reaction to the grand jury's report.
He told ABC7, "I think they should have they should have used the words "I'm sorry" and "we're embarrassed" and "we failed, we failed Loudoun County." Those are the words they should have used," said Youngkin. "And to have this come out through a grand jury process as opposed to their own investigation that they should have undertaken long ago, when this entire incident was clearly illuminated and there was great concern that in fact, there had been a dereliction of duty and nothing was really done. That's what the reality is here."
"And again, I see a dad who has stood up for his family," added Youngkin. "I see a dad whose heart is broken. I see a daughter who has just endured a terrible, horrific circumstance. I see two young women who have been through something they should not have ever gone through in a Loudoun county school. And this is the circumstance. And again, I think the work that the Attorney General's office did here was incredibly, incredibly good. And the hard work that our that our grand jury has done should be appreciated. On day one, I issued this executive order, because this needed to be investigated fully because otherwise, I don't believe that the Loudoun County School Board would have done anything about it."
"I do believe that part of my job as governor, is to make the decisions to shine light on circumstances like this," Youngkin said. "And that's what we were elected to do. And I wasn't surprised by the pushback from Democrats. Because this is something that, in fact, is not just an embarrassment, but it suggests that they tried to cover it up. And at the end of the day, we were going to shine a bright light on this and make sure that the facts were clear, and that those that had, in fact, violated their duty would be held accountable. And that's exactly what's happened."
Youngkin also demanded that the Loudoun County School Board take further action to protect kids. 
"For something of this magnitude to have occurred, there is not a single person who wasn't at fault," said Youngkin. "And I think that the school board should undertake a full review of everyone who was involved and take action. That's what leadership is, and that's what they should do. And that's what I believe Loudoun County citizens expect and that's why I think that the role of the Attorney General here and this grand jury were so important, because they weren't going to do it otherwise. And so I do believe that there's more work to be done here. And that Loudoun County School Board should get on with it and do it."
If convicted, Ziegler could face a fine of $500 and up to two years in prison.
If Byard is convicted, he could face up to 10 years in prison.
[Read More: House of Cards Collapsing On McCarthy?]