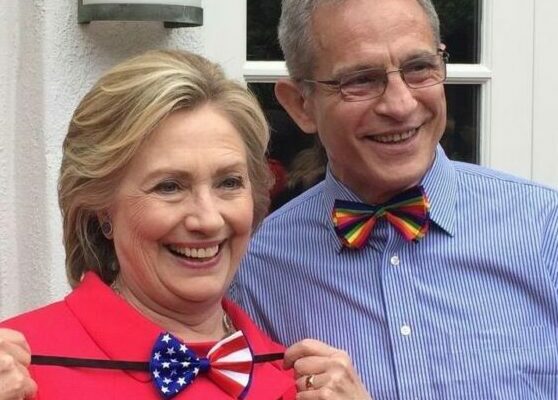 Ed Buck, one of the Democratic Party's most prominent donors, has been sentenced to 30 years for using meth to horrifically murder gay black men in California and running a drug house. Buck, "a longtime political donor who once ran for a seat on the West Hollywood City Council," had previously escaped charges in 2017 after 26-year-old Gemmel Moore, a sex worker, was found dead after a fatal overdose in Buck's home in West Hollywood home. Along with donations to Kamala Harris, "his Facebook page has boasted dozens of photos of him with prominent Democrats, including former Secretary of State and presidential candidate Hillary Clinton, California Gov. Jerry Brown, and Los Angeles Mayor Eric Garcetti." Biden rewarded Harris with the vice presidency and Garcetti with an ambassadorship to India in 2021. 
It took Los Angeles prosecutors two more deaths of gay sex workers before they took action against Buck in 2019. At the time, The Daily Beast wondered, "Why Wasn't Democratic Donor Ed Buck Charged Before a Third Man's Overdose in His Apartment?" and Democratic Rep. Karen Bass said, ""It's incomprehensible to me that it took a third black gay man to be attacked and almost die to finally dissolve the unconscionable apathy that has allowed Ed Buck, a racist sexual predator, to roam free. "Everyone knew that he preyed on young black men…The inaction in response had a message that was loud and clear: Black gay lives obviously didn't matter." 
Yes, a total mystery, that one. 
Buck used his Political Action Committee to send Democrats hundreds of thousands of dollars over the years and, according to Open Secrets, gave nearly $4,000 to Hillary Clinton and more than $1,500 to Obama. His most recent donation was a few years ago, but after Moore's death, to Gavin Newsom's campaign for California Governor and Xavier Becerra's campaign to be California Attorney General, a position that launched him to be the current Secretary of Health and Human Services in the Biden Administration. Newsom is reportedly planning to run for president in 2024. 
The LA Times detailed Buck's gruesome crimes. "A parade of men testified that Buck would offer them extra money if they "slammed," or allowed him to inject them with the drug. In what prosecutors called a "carrot-and-stick approach," he would sometimes withhold payment if they didn't smoke enough methamphetamine or let him inject them.

In his squalid apartment, which was littered with drug paraphernalia and sex toys, Buck treated the men "like lab rats in his twisted experiments," Norell wrote in a sentencing memo.

He drugged them to the limit of their bodies' tolerance; once they were unconscious or immobile, he sexually assaulted them, choked them, slapped them. One man, injected with something that left him unable to move, managed to regain control of his body only when Buck revved a chain saw in front of him, sending adrenaline coursing.

Buck filmed many of the episodes. In a video played at trial, he gave stage directions to a masked man who was smoking methamphetamine: "Stare directly into the camera, flare your nostrils and blow it out slowly. Now, if you add wide-open eyes to that, it would be a perfect shot."
The AP reported that "Buck managed to avoid arrest for more than two years after Moore's death and family and community members led by political strategist Jasmyne Cannick complained that he escaped prosecution because of wealth, political ties and race. He donated more than $500,000 since 2000 to mainly Democratic causes." His neighbor who saw the victims enter Buck's house called it "the gates of Hell." 
Harris, Obama, and Hillary did not comment on their pal's misdeeds and most of the mainstream media seem to have forgotten which party he shoveled money to. Harris was once criticized by activists for "for going after the platforms sex workers use to vet potential clients and keep themselves safe." 
The Judge in the case, Christina Snyder, called the case "one of the most difficult and tragic ones she had presided over." Buck's "horrific crimes," she continued, "were reprehensible and more than just an accident." 
[Read More: Biden Deeply Unpopular: New Poll]