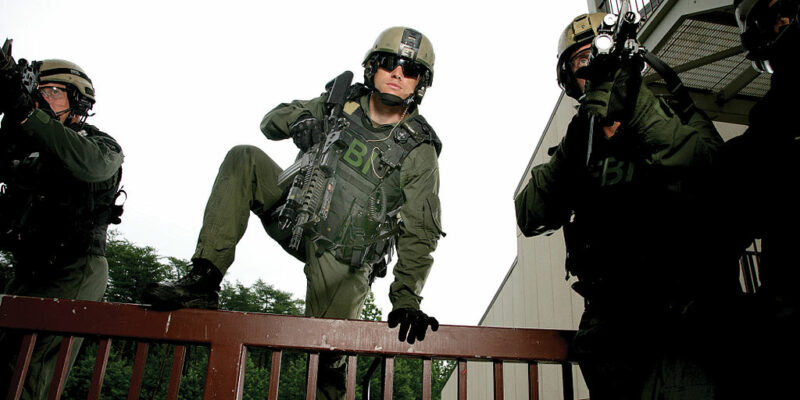 Who is the "semi-fascist" and who isn't? In the weeks leading to the overturning of Roe v Wade, the Department of Homeland Security warned that there might be an increase in pro-choice violence against pro-lifers. What they didn't say is that the violence would be coming from the Department of Justice. 
Joe Biden's administration recently continued attacking those who oppose abortion, arresting several more pro-life leaders. This time the Justice Department attested 11 activists for peacefully protesting outside an abortion clinic in Tennessee, including Paul Vaughn, a father of 11. 
Following the overturning of Roe v Wade, Chicago Mayor Lore Lightfoot called for taking up arms. Biden must have agreed. Every week the White House appears to sic DOJ on anyone who dares oppose one of liberalism's sacraments. 
Townhall wrote, The DOJ charged pro-life leader Paul Vaughn with "a civil rights conspiracy" and a Freedom of Access to Clinic Entrances Act (FACE Act) offense over the activist blockade of a Nashville-area abortion facility in early March 2021. A federal indictment unsealed Wednesday alleges that the pro-life defendants "engaged in a conspiracy to prevent the clinic from providing" and patients from receiving abortion services and violated the FACE Act by "using physical obstruction to intimidate and interfere with the clinic's employees and a patient."

Vaughn, the president of Personhood Tennessee, told FOX Chattanooga at the time that it was "like church service in there" with pro-life protestors "singing hymns, reading scripture, praying," and sitting on the floor in the hallway outside of Carafem Health Center Clinic, an abortion facility located within a medical office building.

Vaughn's house underwent an early morning FBI raid at around 7:20 a.m. Wednesday when four FBI agents approached his family home with "guns drawn" in front of his young children and "began banging on his door so hard that it made the old farmhouse shake," a Personhood Alliance press release sent to Townhall says.

Vaughn shared his family's account of the FBI raid with Townhall, providing harrowing details of his arrest just before the father was about to take his children to school. According to a statement provided to Townhall, Vaughn was handcuffed on the porch in front of his kids after FBI agents raided the Vaughn family property while carrying assault rifles and side arms. Three of Vaughn's children were outside walking through the backyard when an FBI agent armed with an AR-15 confronted the kids and questioned them. Several kids were asleep upstairs, and one child ran to her mother frantically crying, "The FBI is here, and they are arresting Daddy." Vaughn's wife remarked, "They traumatized me and my children intentionally. We will never forget this."
The video obtained by Townhall is disturbing. The FBI agents shown will not say their names or explain what is happening. 
🚨 One of the pro-life leaders targeted by Biden's DOJ sent me footage of the early morning FBI raid on his family home. Paul Vaughn was placed in handcuffs by armed FBI agents in front of his children just before school drop-off. Watch as his wife pleads for answers mid-arrest: https://t.co/lUP6tJOSzW pic.twitter.com/XeYComC6mZ

— Mia Cathell (@MiaCathell) October 7, 2022
The DOJ said, "The indictment further alleges that on March 5, 2021, the 11 individuals, aided and abetted by one another, used force and physical obstruction to injure, intimidate, and interfere with employees of the clinic and a patient who was seeking reproductive health services. 
If convicted, those charged with conspiracy face up to 11 years in prison and fines of up to $250,000. Others face up to one year in prison for the misdemeanor offense and fines of up to $10,000." 
The Daily Signal reported, "the 11 activists, including Vaughn, were charged with FACE Act violations stemming from their 2021 "blockade" of an abortion clinic in Mount Juliet, Tennessee. This blockade was peaceful, pro-life activist AJ Hurley told The Daily Signal on Wednesday evening.
The raid in Tennessee follows a national outcry over the arrest of Mark Houck, a Catholic father and pro-life activist who was reportedly dramatically arrested by armed FBI agents for stopping a pro-abortion activist from harassing his son.
The Daily Signal continued: "Several of the activists were arrested on the day of the blockade, after reportedly successfully preventing abortions from taking place at the clinic for most of the day, but police reportedly released these activists later in the day after they posted bail for misdemeanor charges, the pro-life news outlet Live Action reported. Vaughn told The Daily Signal on Friday that he was not arrested on the day of the blockade.
'On March 4, 2021, Coleman Boyd and Chester Gallager advertised the blockade of the Carafem Health Center Clinic, in Mount Juliet, Tennessee, which was planned for the following day,' the Justice Department release on the incident said. 'In his social media post, Gallagher referred to the blockade as a 'rescue.' Boyd also began a Facebook livestream broadcast of the clinic blockade at 7:45 a.m. on March 5, 2021.'" 
Vaughn described the scene when FBI agents pointed long guns at children while they arrested him at his home as children prepared to go to school. 
Paul Vaughn, pro-lifer who was raided by the FBI, appears on Tucker: "Fortunately as a Christian family we do a lot of studying about historic Christianity. They know there are people who have been persecuted and picked on by bully-tyrants just like they are in America today." pic.twitter.com/UN20F3VXjt

— American Firebrand (@FirebrandPAC) October 11, 2022
The arrest of Vaughn comes as Biden's allies in the media have attacked Catholics for running hospitals. Under the headline of "Spread of Catholic hospitals limits reproductive care across the U.S." The Washington Post wrote, "The role of Catholic doctrine in U.S. health care has expanded during a years-long push to acquire smaller institutions — a reflection of consolidation in the hospital industry, as financially challenged community hospitals and independent physicians join bigger systems to gain access to electronic health records and other economies of scale. Acquisition by a Catholic health system has, at times, kept a town's only hospital from closing.
The article continues by explaining that pro-choice advocates have said: "there has been a steady erosion of services in both Republican- and Democratic-led states because of the growing dominance of Catholic hospitals."
Joe Biden has claimed to be a devout Catholic and even visited Pope Francis after as a movement has grown among the bishops to deny him communion. Republicans have demanded that the FBI explain why they seem to be constantly arresting pro-life speakers. 
The arrest of pro-lifers comes following a report issued last year by the watchdog group Open The Books that "found that more than 200,000 federal bureaucrats now have been granted the authority to carry guns and make arrests – more than the 186,000 Americans serving in the U.S. Marine Corps. 'One hundred three executive agencies outside of the Department of Defense spent $2.7 billion on guns, ammunition, and military-style equipment between fiscal years 2006 and 2019 (inflation adjusted), 'notes the report. 'Nearly $1 billion ($944.9 million) was spent between fiscal years 2015 and 2019 alone.'
The watchdog reports that the Department of Health and Human Services has 1,300 guns including one shotgun, five submachine guns, and 189 automatic firearms. NASA has its own fully outfitted SWAT team, with all the attendant weaponry, including armored vehicles, submachine guns, and breeching shotguns. The Environmental Protection Agency has purchased drones, GPS trackers, radar equipment, and night vision goggles, in addition to stockpiling firearms." 
Earlier in the year, the president signed into a law an appropriation that will add 80,000 more IRS agent, many no doubt armed, to the federal payroll.
Liberals have staked the entire midterms on the abortion issue. NPR wrote, "For Democrats, there's been a significant increase in spending on ads related to abortion since the Supreme Court overturned Roe v. Wade. And in many races, Republicans have amped up their ads accusing Democrats of being soft on crime.
According to AdImpact, a firm that tracks ads, Democrats spent more than $73 million on television ads about abortion in September, nationwide. That represents about a third of all Democratic television ad spending."
Biden, or his radical staff, may very well believe that putting pro-lifers in jail may depress their movement's vote during the upcoming November elections. 
For constantly worrying about fascism, democracy and freedom, Democrats sure have a funny way of acting like fascists as they flex the federal government's power against its political opponents. 
[Read More: Gunfire At Governor Candidate's Home]