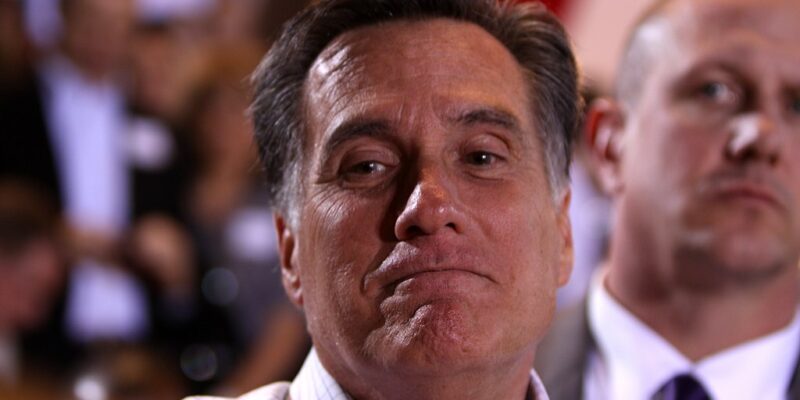 It's looking like former Republican presidential nominee and current Utah Senator Mitt Romney has decided to not be a team player, risking a GOP-held seat, and possible Senate majority. 
Chuck Schumer can't be happier.
The Salt Lake Tribune reported, "Romney has so far refused to endorse either candidate in the contest. The former GOP presidential nominee says he considers both Lee and McMullin friends, which is why he's staying out of the contest.
In September, Lee touted the endorsement of every Republican in the U.S. Senate. Romney's name was notably absent from the list.
I am grateful for the support of my Senate colleagues. Together, we will continue the fight for the American people. The failures of the Biden Administration and Democrats have damaged our nation for long enough. pic.twitter.com/EyeeWg7ySg

— Mike Lee (@MikeLeeforUtah) September 9, 2022
Lee said he understands Romney's reluctance to issue an endorsement but urged him to get off the fence as control of the U.S. Senate may hang in the balance."
"PLEASE get on board. Help me win reelection."

— Sen. Mike Lee (R-UT) practically begs Sen. Mitt Romney (R-UT) to help him beat independent Evan McMullin in a tighter-than-expected Senate race in Utah

(Romney has been neutral because he says he has "two friends in the race.") pic.twitter.com/SfOQWCgpb5

— The Recount (@therecount) October 12, 2022
In March, Romney told Politico, "I don't get involved in primaries and I don't endorse. I just stay out of them, particularly between two friends."
Running as an Independent, McMullin has been trying to rally Utah Democrats, Independents and disaffected Republicans against the two-term incumbent this year.
Lee did not endorse Romney in his 2018 campaign for Senate.
Rolling Stone went into more background: "Sen. Mike Lee is in a tight reelection race in Utah against former independent presidential candidate Evan McMullin. Lee is a Republican, as is the state's other senator, Mitt Romney. Now, normally, senators of the same party from the state would endorse each other, but Romney has yet to throw his weight behind Lee. Romney is one of the scant few Republicans who have yet to turn their souls over to former President Donald Trump, and Lee is very much … not that.

Lee is desperate, though, and on Tuesday night, he went on Tucker Carlson's show to literally beg Romney for help. "I've asked him, I'm asking him right here again tonight, right now," Lee bumbled as a dumbfounded Carlson watched. "Mitt, if you'd like to protect the Republican majority … please, get on board. Help me win reelection. Help us do that. You can get your entire family to donate to me."

Lee was first elected to the Senate in 2010 and, like most of his colleagues, has relinquished what little integrity he may have possessed by prostrating himself before Trump. Initially critical of the former president, Lee quickly fell in line after he was elected. He even tried to sell Trump to Utahans ahead of the 2020 election by comparing him to the Mormon prophet Captain Moroni. "He seeks not power, but to pull it down. He seeks not the praise of the world or the fake news, but he seeks the well-being and the peace of the American people," Lee exclaimed.

Lee did not publicly challenge the legitimacy of President Biden's win, and he condemned the Jan. 6 riot at the Capitol. But, as Politico pointed out earlier this year, he attended a fundraiser at Mar-a-Lago weeks after the insurrection. When the Republican National Committee met in Utah in February to censure Reps. Liz Cheney (R-Wyo.) and Adam Kinzinger (R-Ill.) for serving on the Jan. 6 committee, describing the riot as "legitimate political discourse," Romney objected. Lee did not. A few months later, texts revealed he was working to overturn the election all along, offering former White House Chief of Staff Mark Meadows his "unequivocal support for you to exhaust every legal and constitutional remedy at your disposal to restore American's faith in our elections."
According to The Hill, former President Donald Trump criticized Romney's reluctance to ensure a Republican Senate Majority. He accused the senator of "abusing" his Utah colleague. 
The 45th president said, "Mike Lee is an outstanding Senator who has been abused, in an unprecedented way, by a fellow Republican Senator from his own State, something which rarely has happened in political History," Trump said in a statement published from his Save America PAC.
"Such an event would only be understandable if Mike did not perform his duties as a United States Senator, but he has, and he has performed them well," the former president continued."
Evan McMullin ran an almost absurdist presidential campaign in 2016. Running as the anti-Trump Republican, the former CIA agent received no votes from the Electoral College, and in the national popular vote, he placed fifth with 732,273 votes or about half a percent.
Following his vanity run for the White House, McMullin stiffed his workers with roughly $670,000 in debt. At the time, as noted by AP, "Joel Searby, McMullin's campaign manager, said the team is working to pay off the debt." Searby said, "Responding to a unique moment, we ran a campaign on a short time frame and without traditional party support. We are working hard to do what we can within the law to retire as much debt as possible."
Six years later, all that hard work to pay his employees money owed has led to the initial debt being lowered by a whopping $25,000. A local Utah outlet wrote, "a financial summary from McMullin's 2016 presidential campaign, filed with the Federal Election Commission, showed a debt of almost $645,000." 
McMullin has become so upset about being called a deadbeat that he's currently suing the Club For Growth because they pointed out that he's a deadbeat.
Nothing may show McMullin as a liberal pretending to be "independent" than his endorsements, including Luke Skywalker himself, Mark Hamill, a loud critic of Donald Trump and Republicans.
I like @EvanMcMullin SO much, it makes me wish I lived in Utah so I could vote for him!*

*(FUN FACT: Brigsby Bear was filmed in Utah.🐻) https://t.co/eYnIV6W3nS

— Mark Hamill (@MarkHamill) October 11, 2022
In a release, the Hollywood actor wrote, "I fully endorse Evan McMullin for U.S. Senate. Evan is a force for change at a time when our country desperately needs it. Utah is a great state and deserves far better than Mike Lee. Evan McMullin is the right man for this job — for Utah and for our country."
During the 2020 presidential campaign, Hamill voiced an ad for the Lincoln Project, an anti-Trump political organization founded by a political consultant who asked Trump for a job but was rejected and an accused pedophile. 
Hamill, of course, does not live in Utah, but rather Malibu, California, which pretty much sums up Evan McMullin's entire political life. 
[Read More: As Biden Locks Up Pro-Lifers, Some Wonder Who The 'Semi-Fascist' Actually is]