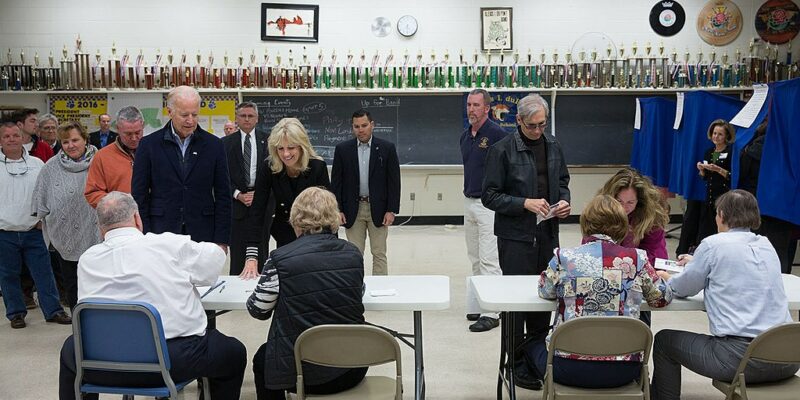 Joe Biden has nominated a radical to the Federal Elections Committee who argued that the 2018 election for governor should be overturned because Stacey Abrams didn't win. Dara Lindenbaum, Biden's nominee to the agency in charge of watching our elections, represented Abrams's nonprofit and Senator Raphael Warnock's church in a lawsuit questioning the 'unconstitutional' nature of the 2018 election. She has alleged that the election was invalid because Georgia used "insecure and unreliable" electronic voting machines. She also asserted a conspiracy in which "voting machines switched" votes from Stacey Abrams to Brian Kemp. 
The Washington Free Beacon explains, "In November 2018, election lawyer Dara Lindenbaum signed on to a federal legal complaint on behalf of Abrams's Fair Fight Action. The complaint challenged the constitutionality of Georgia's 2018 election, which saw Abrams lose to Republican governor Brian Kemp in a race she never conceded. Warnock's Ebenezer Baptist Church joined the suit in early 2019, just months before the Democrat entered Georgia's 2020 Senate race.

According to the complaint, the state of Georgia "grossly mismanaged" the election by depriving "Georgia citizens, and particularly citizens of color, of their fundamental right to vote." As a result, the complaint said, Georgia's election "violated the First, Fourteenth, and Fifteenth Amendments to the United States Constitution." The complaint also lamented the use of "insecure and unreliable" electronic voting machines that "lack a paper trail" and thus "cannot be audited"—those machines even "switched" votes from Abrams to Kemp, according to the complaint.

Roughly three years after Lindenbaum signed the original complaint, Biden nominated the attorney to serve on the FEC, a regulatory agency that helps shape U.S. election rules. If confirmed, Lindenbaum will mark a leftward shift for the commission, as she'll replace Steve Walther, an independent. Lindenbaum has worked with numerous left-wing organizations, including Code Pink and UnidosUS, the Latino civil rights group formerly known as La Raza."
Democrats and their media allies have written that Supreme Court Justice Clarence Thomas should be impeached because his wife, Ginni, expressed concerns about fraud in the 2020 elections and urged White House Chief of Staff Mark Meadows not to concede the election and hire lawyers to challenge the results in courts.
Alexandria Ocasio-Cortez recently wrote, "Clarence Thomas should resign. If not, his failure to disclose income from right-wing organizations, recuse himself from matters involving his wife, and his vote to block the Jan 6th commission from key information must be investigated and could serve as grounds for impeachment." 
During her confirmation hearing, Lindenbaum refused to say if her claims that the Georgia election was "stolen" damaged faith in American democracy. Instead, she told Senator Cruz, "I think it depends on the context involved."  
The "context" is presumably whether the Democrats won or lost.
[Read More: Pelosi Catches Covid]