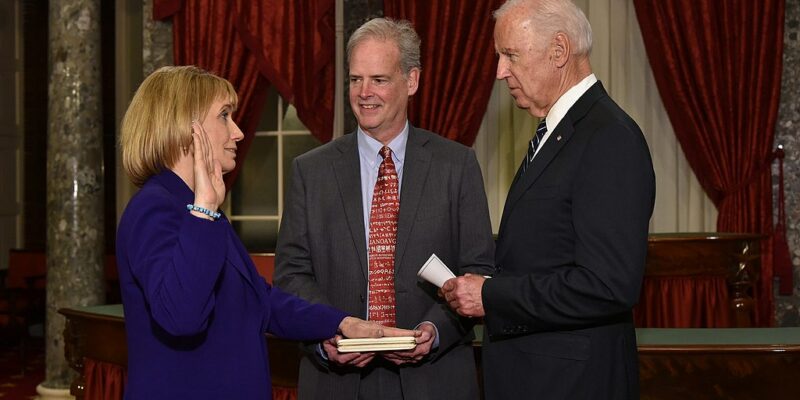 Another Democratic husband is in trouble, and this time it may decide the fate of the Senate majority. This time it's the spouse of New Hampshire Senator Maggie Hassan who allegedly befriended and mishandled the removal of a sexual predator while serving as principal at an elite, private high school. 
Fox News reports, "Tom Hassan failed to properly handle allegations of misconduct at Phillips Exeter Academy (PEA) while serving in leadership at the elite boarding and day school located in Exeter, New Hampshire, independent law firm Holland & Knight concluded in a report published in August 2018. The investigation stated that school leadership failed to establish an effective protocol for students, faculty, and employees to raise complaints.

Hassan served as PEA's assistant principal between 2001-2008 and principal between 2008-2014. Throughout his tenure as principal, the report said his administration's response to complaints of inappropriate conduct by staff members was "ineffective" and "incomplete."

'Reflective of this absence of protocol was that some individuals who experienced different forms of sexual misconduct at various points were not able to seek assistance or, when they sought assistance, were not treated consistently or fairly,' the Holland & Knight report stated.

'Emerging from these systemic deficiencies was a pattern of PEA failing to respond to, investigate, and communicate internally regarding reported misconduct in an effective and appropriate manner and, in certain circumstances, failing to report misconduct to the appropriate authorities,' it continued.

In one case, after PEA history professor Richard Schubart admitted to having a sexual relationship with a student in 2011, Hassan forced him to resign from his position. However, Hassan allowed him to retain 'emeritus status,' attend school events and continue to participate in student life."
Politico reported in 2015, "Hassan's husband, Tom, was in the midst of a six-year stint as principal of the elite school in 2011 when Rick Schubart, a longtime teacher, was forced to relinquish his post after an allegation that he had an improper sexual relationship with a student beginning in 1977, according to The Boston Globe, which first reported the scandal last week. Phillips Exeter disclosed the abuse allegation to police and a state agency at the time but did not go public with the allegations.
The Daily Mail stated that "the victim, who asked to remain anonymous, told the Globe that she was speaking out so other potential victims' know they are not alone.'
The woman said she had gone to Schubart for advice one night during her senior year at the school in 1977 and he had kissed her. The encounter led to the pair developing a sexual relationship that lasted several months.
'After learning of the second allegation, I knew the situation was worse than I realized,' she told the newspaper.
'At least one other young woman might have been devastated as I was, and I am no longer willing to remain silent.'"
Schubart, though, being buddies with Tom Hassan, got to keep his prestigious emeritus faculty status at the school. Later, the former professor and his wife donated to Maggie Hassan's 2012 gubernatorial campaign listed among "dozens of prominent local figures serving on a steering committee for her campaign."
Hassan's campaign spokesman said that this was just old news and it wasn't a big deal that her husband allegedly shielded a teacher predator and rewarded him with a job on her campaign steering committee because he cut her a check. 
"Senator Hassan's opponents tried to use the same misleading attacks on her family in 2016," Hassan's campaign spokesperson Kevin Donohoe told Fox News Digital." Six years later, they're trying to bring back these desperate attacks to distract from Don Bolduc's extremism," the spokesman told The Daily Caller.  
Tom Hassan resigned as principal of PEA in 2015 after apologizing for not "going public with the allegations against Schubart. The Daily Caller noted, "He said that he and other school officials were attempting to protect the privacy of the former students, adding that "it's clear in retrospect that we didn't get that balance right." 
Hassan is running against Don Bolduc, who Majority Leader Chuck Schumer backed in the 2022 Republican primary campaign because he was viewed as a weak candidate compared to his opponent. 
Now that the primary is over, we can see why Schumer was so eager to have Hassan go against a weaker candidate. She may need all the help she can get. 
[Read More: Newsom Thinks Biden Is Done]