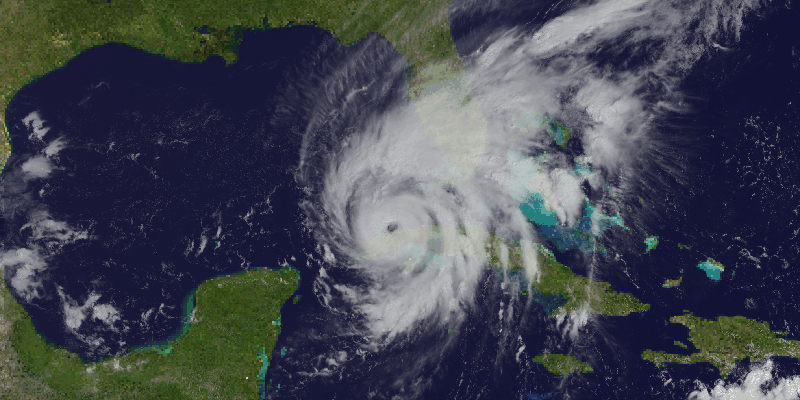 Update 9-28-2022: It looks like Governor Ron DeSantis shamed Joe Biden into doing his actual job late Tuesday evening. During a press conference the governor told the media that Biden had not called him while praising the president's basic approval of Florida's emergency declaration.
DeSantis said, "I'm happy to brief the president if he's interested in hearing what we're doing in Florida. My view on all this is like, you've got people's lives at stake, you've got their property at stake and we don't have time for pettiness."
He continued. "We gotta work together to make sure we're doing the best job for them, so my phone line is open."
Later that evening, likely feeling embarrassment that real life is not fighting on Twitter, the president called the Florida governor for an update. Earlier in the day, the Biden had oddly told Floridians to prepare for the storm not by buying bottled water or leaving the area, but by getting the vaccine for COVID-19.
Original Story
Roughly 2.5 million Floridians were given an evacuation order as Hurricane Ian rapidly strengthened into a major hurricane on Tuesday. The National Hurricane Center said that the winds from the hurricane will be "catastrophic," words that were echoed by Florida's governor. 
Governor Ron DeSantis apprised the media, "There's still uncertainty with where that exact landfall will be. But just understand, the impacts are going to be far, far broader than just where the eye of the storm happens to make landfall in some areas. There will be catastrophic flooding and life-threatening storm surge."
Ian has already had a devastating impact in the Caribbean. Reports from Cuba have announced that the entire island has lost electricity.
A local Fox affiliate in Florida stated, "Several counties along Florida's west coast have already issued mandatory and voluntary evacuation orders, including Tampa Bay where 300,00 people alone are being told to evacuate their beachfront property as forecasters say storm surge will create massive problems for the state's third-largest metro area.
According to the FOX Forecast Center, storm surge could reach as high as 10 feet along portions of Florida's west coast, though the entire western Florida coast is susceptible to some level of storm surge." 
As a natural disaster happens, you'd expect the President of United States to put down politics and reach out directly to the state's governor to offer help, but then again the current president is Joe Biden. 
Today the FEMA administrator said that Biden delegated his responsibility to lead with her rather than handle the task himself. 
👀 FEMA administrator says Biden *has not* spoken to @GovRonDeSantis about the hurricane, and that he personally told her to handle coordination with the governor. pic.twitter.com/1kMUSUfeBF

— John Cooper (@thejcoop) September 27, 2022
That hasn't stopped him from calling mayors in Florida who are his political allies as a Category 3 hurricane crashes into the Sunshine State, however. 
The New York Post wrote, President Biden called three Florida mayors Tuesday as Hurricane Ian nears Florida's western coast — but didn't call Republican Gov. Ron DeSantis, with whom he has clashed on issues such as COVID-19 policies and migration.

Presidents frequently speak directly with governors during emergency events — both to demonstrate political unity and to help coordinate federal and state relief efforts.

As the devastating Category 3 storm approached, Biden instead spoke with Tampa Mayor Jane Castor, St. Petersburg Mayor Ken Welch and Clearwater Mayor Frank Hibbard. Castor and Welch are Democrats, while Hibbard is a Republican.
Asked by ABC Chief White House Correspondent Cecilia Vega, White House Press Secretary Karine Jean-Pierre said, "We don't have any calls to preview or that's locked into there, at this time," Jean-Pierre said when 
ABC reported, "Jean-Pierre insisted that the politically tense relationship between the two men is not at issue.
'It's about the people of Florida. It's not about public officials, especially in this time. And so again, the president, as president of the United States, as president for — for folks in red states and blue states, he's going to keep that commitment. And you have seen him do that over the course of the 19 months when there has been extreme — extreme events, extreme weather that has happened again in blue states and red states," she said."
The news outlet pointed out that this isn't the first time that the White House has ignored a red-state governor. "When another reporter pointed out that President Biden never spoke with Mississippi GOP Gov. Tate Reeves during the height of Jackson's water crisis, Jean-Pierre said the administration showed up for Mississippians, even without a Biden call to Reeves."
Joe Biden has plans to attack DeSantis, according to Reuters. For the first time as U.S. president, he will "hold a political rally in a state where he lost in 2020, when he treks to Florida on Tuesday to stage a showdown with potential 2024 rival, fierce critic and possible Trump successor Ron DeSantis.
Biden is expected to offer his most sharply targeted attack yet on DeSantis, a pugnacious governor who has used the power of his office to rise to national prominence by shunning COVID-19 lockdowns, mocking Biden's age and abilities, penalizing Disney World for opposing a new state law limiting discussion of LGBTQ issues in schools, and recently flying Venezuelan immigrants from Texas to Martha's Vineyard."
Biden's pettiness should be compared with that of Barack Obama. During the heated final months of 2012, Hurricane Sandy hit New Jersey particularly hard. Although Governor Chris Christie had been one of his harshest critics during the campaign, both worked hard to help the people, placing loyalty to being a public servant over politics. Christie noted, "The president has kept every promise he's made. I think he's done a good job. He kept his word."
Biden won't even pick up a phone. 
Dan Mclaughlin over at National Review brought up a good point: "Picture the media reaction if a Republican president refused to talk to a Democratic governor who was facing a major hurricane. Actually, you don't have to imagine it. When Donald Trump was president, he called Puerto Rico governor Ricardo Rosselló about Hurricane Maria in 2017 and visited the island in October. But two years later, Rosselló blasted Trump for not visiting the island to discuss its recovery. NBC News blared: "Trump refuses meeting over hurricane relief, Puerto Rico governor says. Rosselló said the White House declined his requests to meet with the president directly without giving a reason." Vanity Fair was harsher:" Trump Blames Puerto Rico for Inconveniencing Him with Another Potential Hurricane."
Maybe Floridians should just ask Elizabeth Warren for help?
[Read More: Amidst Struggling in Texas, Beto Attacks Biden]