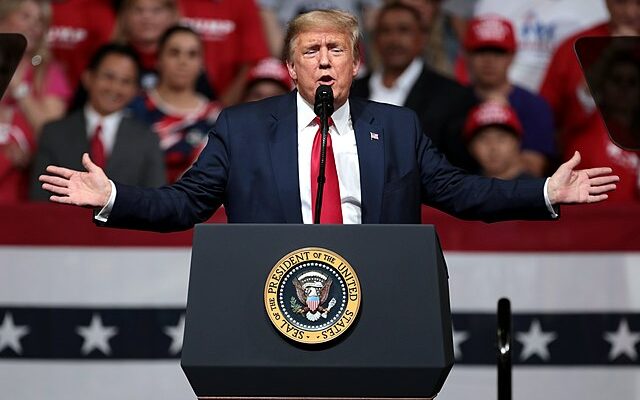 While he's still leading in polls for the Republican primary, former President Donald Trump's campaign to reclaim the White House might soon be running into a snag. 
No, it's not the looming indictments themselves but rather the legal bills from various lawsuits that Trump has paid using campaign funds rather than creating a robust campaign apparatus.
The Trump campaign's money problems were revealed in recent disclosures that campaigns must file every quarter. 
The New York Times reports, "The political action committee that former President Donald J. Trump is using to pay his legal bills faced such staggering costs this year that it requested a refund on a $60 million contribution it made to another group supporting the Republican front-runner, according to two people familiar with the matter.
The decision signals a potential money crisis for Mr. Trump, who has so far refused to pay his own voluminous bills directly and has also avoided creating a legal-defense fund for himself and people who have become entangled in the various investigations related to him.
It comes as Mr. Trump runs a campaign while under indictment in two jurisdictions and, soon, potentially a third, while also paying the legal fees of a number of witnesses who are close to him or who work for him.
It is unclear how much money was refunded.
But the refund was sought as the political action committee, Save America, spent more than $40 million in legal fees incurred by Mr. Trump and witnesses in various legal cases related to him this year alone, according to another person familiar with the matter."
One eagle-eyed Twitter user compiled the former president's reports and revealed that after raising roughly $135 million, the president has only $32 million left. Most strikingly, Trump's Save America PAC, which raised over $15 million in the first half of 2023, spent over $30 million and now only holds about $3.6 million, according to Federal Election Commission records.
https://twitter.com/rpyers/status/1686169608120594432
Politico went into more detail as to where the money is going, and it's not to beat Democrats, or even Ron DeSantis and the other Republican challengers. 
The outlet wrote, "The leadership PAC reported paying nearly 50 distinct entities for legal work or legal consulting, with nine different firms paid at least seven figures. The group also reimbursed Red Curve Solutions — the firm of Bradley T. Crate, his longtime campaign treasurer — roughly $1.5 million for legal fees and expenses, which suggests that investigators have focused on Trump's campaign books.
Even a super PAC supporting Trump spent beyond its means. MAGA Inc. reported raising $14.6 million over the first six months of 2023. But it spent $25.6 million in addition to issuing a $12 million refund to Save America.
The state of Trump's finances was obscured, in part, by the way his committees move money around among each other. Roughly 60 percent of the money the joint fundraising committee raised, for example, was transferred to its affiliates: $29.3 million to Trump's campaign and $2.2 million to Save America. The Save America leadership PAC, additionally, benefited from that $12 million refund from MAGA Inc."
Back in May, The Washington Times reported that Trump was raising funds through his campaign organs to take "on Democrats' ballot-harvesting in key battleground states where billionaire liberal activist George Soros' groups are spending tens of millions targeting to energize President Biden's base.
'We recently alerted you that a Soros-linked Super PAC has begun targeting 6 battleground states with a $75 MILLION spending blitz to buy Crooked Joe the White House," the campaign said in a fundraising email Thursday. "But there's something important we want to add … some of those states have legalized BALLOT HARVESTING.'
The campaign highlighted the Soros-linked effort in battleground states Arizona, Georgia, Michigan, Nevada, Pennsylvania and Wisconsin.
'At the beginning of the year, President Trump made a major announcement that our campaign would ballot harvest in the states where it's legal to counter the Left's schemes,' the email said before asking for contributions to support the Trump campaign's Ballot Harvesting Fund.
Ballot harvesting is when someone besides a voter turns in a voter's ballot, usually a mail-in ballot. Mail ballots can be absentee ballots and ballots cast in vote-by-mail states."
The revelation that his campaign was instead paying lawyers with the money fundraised rather than taking out Democrats has rubbed a lot of conservative activists the wrong way. 
Only 4.6% of the $280 million in donations to Trump's "Election Defense Fund" went to post-election legal challenges.

👉🏻 https://t.co/YuYXk0Mpuw https://t.co/BmSc5nzW4O

— Frank Luntz (@FrankLuntz) July 30, 2023
Wow…

If you're sending Trump money, it's almost exclusively going to his personal legal fees. Which also means they are going to have practically nothing left over for spending on turnout efforts to compete with Democrats in key states. https://t.co/kO2eTXJwF7

— AG (@AGHamilton29) July 29, 2023
If people are so willing to pay Trump's legal fees, why not set up a separate legal defense fund instead of funneling money out of a presidential campaign? https://t.co/VEj3bfJCJD

— John Now at Friendster Ekdahl (@JohnEkdahl) July 30, 2023
A "silver lining" for Trump, however, according to Politico, is that most of the billionaire's fundraising is not coming from wealthy people but rather from small donations. "$23.7 million came from donors giving less than $200, a far greater total than any of the former president's opponents, Republican or Democrat."
Although he's spending most of his campaign donations from supporters on personal legal bills rather than winning the election, Donald Trump still leads national polling among Republicans by double digits for the nomination. 
One political scholar broke down the current state of the primary this way: "About 28% only Trump, 25% never Trump, 47% open to Trump and others."
[Read More: Senior Dem Tragically Passes Away Right After Taking Power]