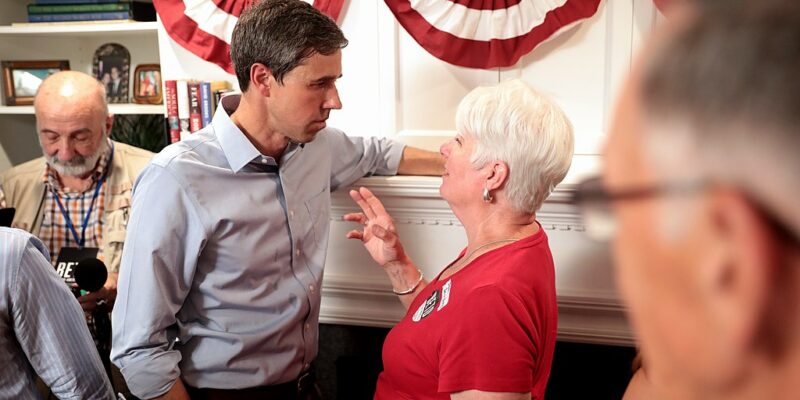 They say that when a ship begins to sink, the rats start to flee first. There might be no bigger political rodent in Texas than Beto O'Rourke. The former member of Congress, Vanity Fair cover boy, and 2020 presidential nominee faces Texas Governor Greg Abbott in November's election, and now as the polling starts, he's desperate to seem more moderate.  
In a recent interview, the Democrat from El Paso blamed President Joe Biden for his party's losing its grip on the Latino vote, especially in his state, as he tries to dig himself out of a political hole. 
Texas Democrats are definitely in trouble on the border. Earlier in the year, Rep. Mayra Flores became the first Republican Latina ever elected to Congress from Texas. She is also the first female Mexican-born member of the House of Representatives. The GOP is also running two other Latina women for Congress this year: Cassy Garcia in the 28th Congressional District and Monica De La Cruz in the 15th Congressional District.
Beto doesn't think he has anything to do with Texas Democrats' troubles. He pinned it squarely on the White House. 
Fox News writes, "Candidate Biden didn't spend a dime or day in the Rio Grande Valley or really anywhere in Texas, for that matter, once we got down in the homestretch of the general election," O'Rourke told a crowd at the Texas Tribune Festival in Austin on Saturday. "You got to be locking eyeballs with the people that you want to fight for and serve and whose votes that you want to win."

Despite losing the 2020 presidential election, Donald Trump carried 38% of the Latino vote, a 13 percentage point increase over the level of support that Republican candidates received from that group in the 2018 midterm elections, according to Pew research data.

O'Rourke also said that Trump offered a "very strong, compelling economic message" during the last presidential election.

"It was literally one syllable one word, it was 'jobs,' and he kind of offered a false choice: 'I can either keep you holed up in your house during this pandemic, or I can open up all places of employment and prioritize the economy,'" O'Rourke said Saturday. "What did we have on our side? Nothing."

Beto is right that Latinos have moved towards the Republicans and poor Joe Biden, like the blind leading the blind, is the most effortless punching bag. The campaign and polling tracker site 538 recently noted, "One major storyline coming out of the 2020 election was the rightward shift of Latino voters, who supported former President Donald Trump at a higher rate than they had four years earlier. Although about 3 in 5 Latinos voted for President Joe Biden, this still represented a decline in Democratic support from 2016, when around 2 in 3 backed Hillary Clinton. With November fast approaching, the outcomes in a number of races in the 2022 midterms could hinge on whether Democrats continue to lose ground among Latino voters." 
Although it is true that Jill Biden apologized for saying that San Antonio's Latino community was "as unique as the breakfast tacos" and Biden has been doing poorer with Latinos overall, Beto should probably look to more of his ludicrous pandering than blaming DC.  
As NCP wrote in May, "It has long been suspected that Beto O'Rorke's billionaire father-in-law helped launch his career for two reasons. First, to use him on El Paso City Council to get some favorable treatment and, more importantly, to keep his hapless idiot of a son-in-law away from his business. In the aftermath of the horrifying shooting in Uvalde, Texas, that took the lives of 21 people, including 19 children, Beto took the time to remind the world of his innate ability to screw something up."
The Clown Prince of El Paso "stood up and interrupted a news conference on Wednesday by Texas officials following the latest mass shooting in the state, shouting, 'You are doing nothing!' over the cries of grieving parents and a shocked community who was there to learn what they could do to help their neighbors.  
Uvalde Mayor Don McLaughlin stood up to O'Rourke's attempt to make the shooting all about himself and his gubernatorial campaign, saying, "You're a sick son of a bitch who would come to a deal like this to make a political issue." 
Latino and African American gun ownership has surged since 2020. 
While Latinos probably did not uniquely find his political stunt downright appalling, most of us did, I think we can pinpoint why the Democrats might not be doing so hot in Texas, despite Governor Abbott's own struggles to keep the power on.
Recent polling in Texas shows O'Rourke trailing Abbott by 7 points. Having lost three out of four running campaigns for House, Senate, President, and Governor, you have to wonder what Beto will do next. It doesn't look like rodent control in Austin is an elected position. 
The most scared one is probably his billionaire father-in-law. He'll probably have to find him a job come this November. 
[Read More: Pro Life Volunteer Shot Campaigning Against Michigan's Proposal 3, Garland Shrugs]