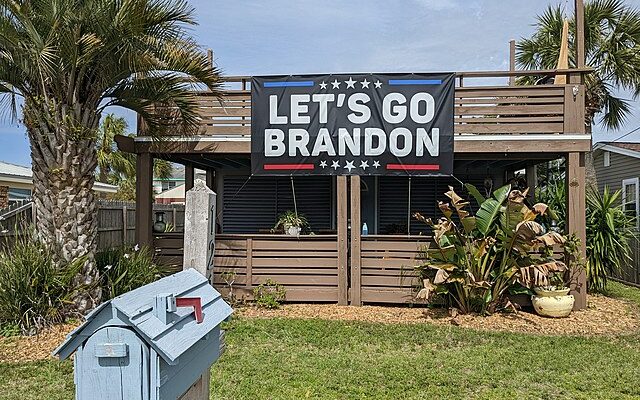 Now that Joe Biden has gotten back on the job after taking two separate vacations, he has finally taken Air Force One to visit the suffering people of Maui. Now residents of the island who are trying to rebuild their lives after the devastating wildfires likely killed over 1,000 people are letting their thoughts known to the president, who initially responded to the tragedy by going to the beach and saying "no comment." 
[Language Warning]
It wasn't pretty.
A series of wildfires across Hawaii, but mainly on Maui, have claimed the lives of at least 115 people, while at least 850 people are still missing weeks after the blazes began, according Hawaii News Now. Biden, who spent the tragedy and immediate aftermath relaxing on the beach and saying "no comment," finally bothered to show up for his voters on Monday, but his visit has been met with nothing but disgust from seemingly everyone.

A video shared on YouTube on Monday showed Maui residents raising their middle fingers at his motorcade as it drove through the island. "Here it comes after 13 days," someone says in the background, with evident frustration, writes The Daily Caller.

"Wow, he's finally here. Wow. Yeah, awesome. Thanks for nothing. FUCK YOU! FUCK YOU! FUCK YOU!" another man said, growing progressively (and understandably) more angry. Countless others screamed "FUCK YOU," as the president drove past, while others held signs reading "FJB" (for "Fuck Joe Biden").
While the president is often praised by allies as "empathetic" because of his own past tragedies in reality he sounds like a sociopath because every time he comes across someone struggling he tells them about something bad that happened in his own life. 
Hawaii was no different. 
The Washington Examiner noted that "President Joe Biden appeared to embellish yet again the story of how a lightning strike caused a fire at his home nearly two decades ago.
'Jill and I have not gone through what you've gone through, but we have had lightning strike our home and almost lose our home,' Biden said.
Republicans were quick to chastise Biden.
Biden tells victims of last week's Colorado wildfires that he once "had lightning strike our home and almost lose our home."

That is a lie. According to a 2004 AP report, it was "a small fire…contained to the kitchen" that "was under control in 20 minutes." pic.twitter.com/cfBDyo6KkT

— RNC Research (@RNCResearch) January 8, 2022
In his remarks Friday, Biden went on to say, 'We only lost about 25% of it. We were able to rebuild. But, you know, the hard part is the memorabilia you lost. The special things that you had put away that you lost.'"
In Maui, it wasn't the knickknacks lost that really hurt, but the hundreds of children who died in the fires. 
Biden seems incapable of sympathizing with people's pain without inventing a story about how the same thing happened to him.

— Noam Blum 🚡 (@neontaster) August 22, 2023
When not falling asleep while hearing about the people who lost everything, Biden also looked like an ass by making one of the worst jokes ever told by a president visiting a disaster site. 
Biden jokes about how hot the ground is while touring wildfire damage in Maui pic.twitter.com/lY18UQ36fP

— Greg Price (@greg_price11) August 21, 2023
The New York Post writes, "President Biden is facing brutal backlash for a quip about a Maui cadaver dog that went viral just hours into his disastrous visit to the site of the deadly wildfires — with critics blasting his ill-timed attempts at comic relief as "poor taste."
'You guys catch the boots out here? That's a hot ground, man,' Biden, 80, joked while petting a cadaver dog, Dexter, and chatting with first responders in Lahaina in a video shared by self-proclaimed 'news breaker' Greg Price on Monday evening.
The president, who owns two German shepherds, turned to the media and gestured at the small boots covering Dexter's paws.
Last week, Hawaii Gov. Josh Green noted that recovery efforts in the worst-hit areas took time in part because the search dogs could only work for about 15 minutes at a time before their paws overheated."
This was not a one-off gaffe. It's how Joe Biden views the world.  
Charles Cooke at The National Review notes that "the president's responses to tragedies almost always involve butchering the truth to make them about him, rather than their victims.
For the living, the news of a death brings with it a peculiar mixture of the transcendent and the mundane. There is shock to absorb, anguish to process, and passion to assuage, and then, in the midst of all that, there is the bureaucracy. Within hours, one must turn one's attention to the dull but necessary questions that all mourners face in such times. Questions such as: 'Where can we get hold of the coroner?' 'What should we do with the body?' And, 'How swiftly can we get Joe Biden here to make this event about himself?'
For Biden, this was par for the course. After 13 service members were killed in Afghanistan — largely as a result of his own appalling lack of planning — Biden told the families that his son died in Iraq and was brought home in a "flag-draped coffin." This was not merely inappropriate; it wasn't true. On Memorial Day this year, Biden, asked to honor those who had died for their country, skipped merrily past that peskily narrow theme and discussed Beau again. Sure, Biden conceded, his son "didn't perish in the battlefield." But what's that small detail on a day explicitly dedicated to the memories of those who did?
Whatever the topic, Joe can make it about him. Civil rights? He doesn't just support them; he is them, having participated in a sit-in in the 1950s (he didn't), helped to desegregate movie theaters (never happened), and worked as a lawyer for the Black Panthers (nope). Gay marriage? Biden didn't just change his mind on it, he remembered all of a sudden that, in the Scranton of the 1950s, his working-class Catholic father liked to endorse the sight of two men kissing in the streets. Race? Ethnicity? Religion? Biden is all of them at once. He's Catholic, black, Jewish, Greek, Puerto Rican, Polish. One can only imagine what Biden might have said had he been president at other points in history. There's been a mass suicide at Jonestown? 'I, too, have had food poisoning.' A second plane has hit the World Trade Center? 'Jill and I know all about flight delays.' The Japanese have attacked Pearl Harbor? 'My Dad once had to sell his fishing boat.'"
Maybe the president should have stuck with "no comment" and stayed on vacation. 
[Read More: Mask Mandates Popping Up All Over The Country Again]