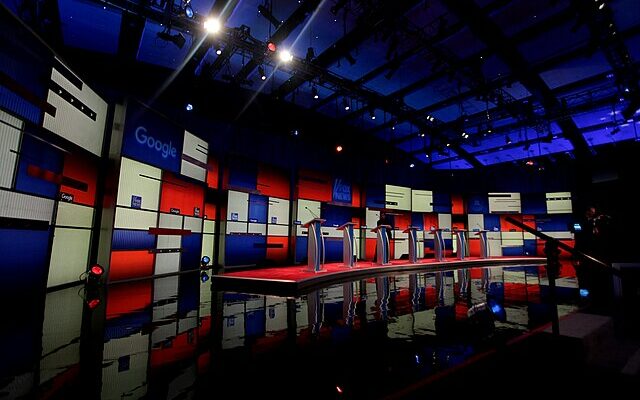 Fox News is not planning to help Donald Trump after he refused to take center stage at the first Republican debate tonight. The cable news channel showing the debate had originally planned to allow Trump to have surrogates in the "spin room" that happens after the debate's conclusion. 
On reconsideration, the outlet realized that was an unfair advantage for a candidate that refuses to stand mano a mano, though they also have plans for him to be "beamed in." 
Fox News, which is hosting the matchup, will grant access to the spin room only to aides of candidates who are participating, according to a memo obtained by The New York Times. Aides of nonparticipating candidates will have access only if they are invited as guests of media organizations, writes The New York Times.

"In addition to the (5) Spin Room credentials referenced in a previous email, we'll also issue (1) Media Row credential to any participating candidate/campaigns," the memo says. "Any non-participating candidate/campaign is welcome in the Spin Room or Media Row as a guest of one of the media organizations with positions in those locations, using one of their credentials."

The memo, which was first reported by Axios, does not mention Mr. Trump, and the restrictions apply to all candidates who aren't participating — a category that also includes those who didn't meet the donor and polling thresholds to qualify. In practice, though, it will affect Mr. Trump more significantly than anyone else, since he is the front-runner in the Republican primary and is actively trying to snub the debate while still getting its benefits.

Mr. Trump's decision to skip the first Republican National Committee-sanctioned debate of the 2024 race was a slap in the face to both the party and Fox News. Mr. Trump has frequently complained about Fox News's coverage of him. He has recorded an interview with Tucker Carlson, who was fired from the network this year, that will post on X, formerly known as Twitter, during the debate.
Trump has been roundly criticized for his decision not to debate, with many accusing the president of running a "basement" campaign similar to Joe Biden in 2020. 
Chris Christie, for example, called former President Trump a "certified loser, verified coward," following the announcement that the former president wouldn't take fire in person. 
"Surprise, surprise…the guy who is out on bail from four jurisdictions and can't defend his reprehensible conduct, is running scared and hiding from the debate stage," the former New Jersey governor wrote Friday in a post on X, formerly known as Twitter. "Trump — certified loser, verified coward." 
Others have said that the decision by Trump will only help Joe Biden in November. "Fox & Friends" host Steve Doocy argued that "by skipping the debates, though, Donald Trump may actually be helping Joe Biden, because he's giving Joe Biden an excuse for not debating Donald Trump," Doocy said on Fox News's flagship morning program, which Trump has been known to watch, according to The Hill. "That's one of the things that [Republican National Committee chairwoman] Ronna McDaniel told the former president when she was trying to get him to do the first debate. But he said, 'Nope, not going to do it.'"
Brian Kilmeade, another host on show, asked, "How could that be?" suggesting Biden may not want to participate in a presidential debate because "he can't get through a sentence."
We all know what Biden will do. If he can use Trump against his challenger, he's going to do it. 
Although Donald Trump will be a no-show in person, that does not mean he won't have his presence felt at the debate, however. 
The Daily Beast writes that "multiple people familiar with the situation told The Daily Beast that the network has committed to a plan to "beam Trump in" by playing clips of him throughout the debate and having the candidates respond. The move partly satisfies the network's need for an active, lively debate with the frontrunner somehow involved, as well as its post-2020 core operating principle to 'respect the audience'—in particular, the MAGA base that craves all things Trump. But it would also satisfy Fox's desire to effectively counter-program the Carlson interview.
The ex-president's sitdown with Carlson was taped last week at Trump's Bedminster, New Jersey golf club. Their chat will run for two hours, which is also the expected length of Fox's debate. 'MY INTERVIEW WITH TUCKER CARLSON WILL BE AIRED TONIGHT AT 9:00 P.M. 'SPARKS WILL FLY.' ENJOY!' Trump bellowed in a quintessentially all-caps Truth Social post on Wednesday morning.
According to people familiar with the interview, their friendly chat will feature no explicitly tough questions or contentious moments—just two ideologically aligned men looking to exact revenge on Fox and its debate. Sources with knowledge of the chat said the pair bonded over their shared hatred of Fox founder Rupert Murdoch, though not on camera. Much of the interview will center around foreign policy and Ukraine.
While Trump's physical presence on the debate stage would have undoubtedly provided the massive ratings bonanza that Fox desires, in the end, people familiar with the matter told The Daily Beast, the network had multiple contingency plans in the event he bailed. Although management is not surprised by his decision, they are still 'pissed,' sources said."
The debate begins at 9 PM on Fox News Channel. 
[Read More: GOP Hopeful Rushed To Hospital Night Before Big Debate]