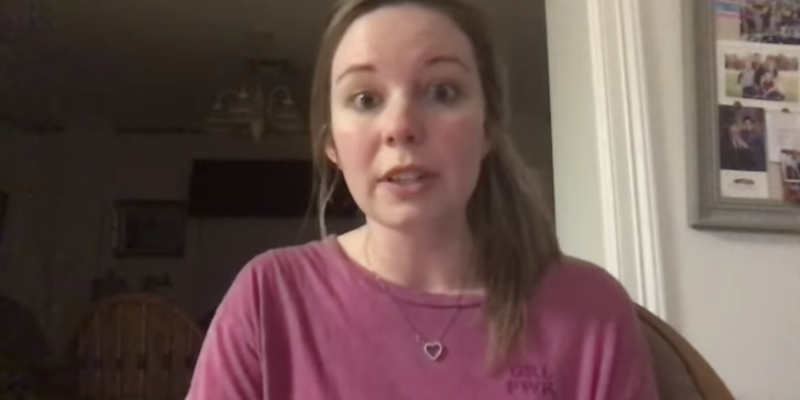 In April 2021 Tomball Police Department arrested sixth-grade teacher Marka Bodine after being accused of an inappropriate relationship with a teenager who attended the school.
A liberal judge ruled that she must sit in timeout for two months. I guess putting her in the corner for 5 minutes would have been cruel and unusual punishment, even in the Lonestar State. Prosecutors had asked for her to go to prison for decades.
Breitbart gave the details. This week, 32-year-old Marka Bodine went before Harris County Judge George Glass who sentenced her to 60 days in prison and 10 years of probation following her guilty plea on the charge of continuous sexual abuse of a child, ABC13 reported. The sentence was postponed due to the recent birth of her child. She has until June 5, 2023, to report to jail. The underage victim was not the child's father, according to a New York Post report. The defendant was an English teacher for Tomball ISD north of Houston.

The sentence came as a surprise to the Harris County District Attorney's Office, which requested a minimum sentence of 20 years in prison, District Attorney Kim Ogg revealed in a Facebook post.

"I'm heartbroken for the complainant and his family. I'm really disappointed in the outcome as a prosecutor – a child abuse prosecutor, and I'm disappointed as a citizen of Harris County," Harris County Prosecutor Janna Oswald, chief of the Crimes Against Children Division told NBC2.

The case came to light in April 2021, when Bodine reported to the school principal that a former student who was 16 at the time was harassing her and threatening to harm himself, affidavits revealed. During an investigation, the student claimed a relationship with Bodine lasted almost three years. The relationship began in 2018 when the male victim was a 6th-grade student of Bodine's. The two began chatting through the video game Fortnite and then turned to text messages. Once the student turned 13, the relationship turned sexual. Over the course of three years, Bodine sent roughly 40 explicit images of herself to the teen.
As she sparked up her relationship with a student, Bodine went through a divorce, moved into the teen victim's apartment complex, and engaged in sexual acts with him in her classroom. 
KPRC in Houston reported, "Bodine had pleaded "guilty to aggravated sexual abuse of a child under 14. Harris County District Court Judge Greg Glass sentenced her to 60 days in jail, but not immediately because she recently had a baby. Court documents show she has until June 5, 2023, to report to jail….The baby is not the child of her victim, authorities said."
The Democratic judge in the case, Harris County Judge Greg Glass, has faced significant backlash for being lenient on criminals. KHOU reported that he "has a history of not keeping habitual offenders in jail."
The ruling sparked outrage in Houston. Fox reported, "Community activists Quanell X and Dr. Candice Matthews called out Harris County Judge Greg Glass outside his courtroom Thursday morning. 
'Judge Glass, you need to get your rusty, raggedy behind off the bench, because you're not qualified to protect the children of Houston and Harris County,' said Quanell X." 
This isn't the first time Glass has faced calls to resign. Since taking his job in 2019, Glass has consistently ignored attempts by prosecutors to prevent repeat violent criminals from being freed. Last year he lowered the bond of a career criminal who later jumped bail and allegedly shot and killed a Houston police officer." 
The Houston Police Union has demanded he leave the bench. Union president Doug Griffith said, "He needs to have the integrity to step down. Until he decides to step up and explain himself, we will continue to come after him. I will actively search for people who will run against him."
"You keep letting them out, you keep spitting them out to re-offend," Andy Kahan, the director of victim services for Crime Stoppers of Houston told KHOU. "I call it the 'Harris County bond pandemic,' and people have paid the price."
The news station showed how innocent people are paying the price for this liberal judge's activism. For example, "The former girlfriend of Jorge Garivaldi paid the price three separate times after Glass freed the repeat offender on bond. In one case from June 2020, Garivaldi allegedly kicked her in the head and face. In another, he was charged with stabbing the woman with a screwdriver. 
Prosecutors had filed motions to deny bail both times, with no success.
Eight months later, Garivaldi picked up another assault charge for beating up the same woman. In that case, Glass again ruled against the state's motion to deny bail and allowed a $50,000 bond." 
The magazine Texas Monthly has written about how liberal judges have been hurting the nation's third largest city. "In 2019 Harris County agreed to a sweeping set of reforms, including the elimination of cash bail for the vast majority of misdemeanor defendants. Instead, defendants would be released before trial on so-called 'personal bonds, which require no up-front payment. The landmark settlement, the first of its kind in the U.S., was endorsed by Harris County Judge Lina Hidalgo and every other major county-wide Democratic officeholder—with the exception of [Harris County district attorney Kim] Ogg, who warned that letting defendants out on personal bonds would threaten the public by giving judges "unfettered and unreviewable discretion" to delay trials or excuse defendants from ever appearing in court.
Violent crimes such as assault have also increased since 2019, both nationally and in Harris County, although nonviolent crime is down. While the national homicide rate remains below its historic peak in the early nineties, the rapid increase has received intense attention in local media, with crime stories frequently leading television news. Houston's Fox 26 features a recurring segment called 'Breaking Bond'—created in collaboration with nonprofit group Crime Stoppers of Houston—about felony defendants who are rearrested while out on bail. The series regularly features prominent local Republicans blasting Democratic judges for their bail practices." 
Billionaire George Soros has been blamed for the rise of liberal judges and prosecutors who have allowed violent criminals back on the street. He has put millions into campaign coffers to help "reform-minded" DAs win elections. 
Last week Soros defended himself in The Wall Street Journal. He wrote, "Justice or safety? It's a false choice. They reinforce each other…In recent years, reform-minded prosecutors and other law-enforcement officials around the country have been coalescing around an agenda that promises to be more effective and just. This agenda includes prioritizing the resources of the criminal-justice system to protect people against violent crime. It urges that we treat drug addiction as a disease, not a crime. And it seeks to end the criminalization of poverty and mental illness."
Republicans have begun to stand up to the billionaire. Senator Tom Cotton bashed the leftwing billionaire, saying "Mr. Soros's prosecutors practice nullification. From New York to Chicago and Los Angeles, they have refused to enforce laws against entire categories of crime, from shoplifting to disturbing the peace and prostitution. They even coddle violent, career criminals, agreeing to sweetheart plea deals, demanding low or no bail and circumventing three-strikes laws.
The results speak for themselves. Between 2019 and 2021, the number of murders in San Francisco surged 37%, in New York 53%, in Philadelphia 58% and in Chicago 60%, far outpacing the national average. Other violent crimes, robbery in particular, and quality-of-life offenses have also skyrocketed.
Mr. Soros doesn't live in the neighborhoods that he has made so unsafe, but many Americans do. They understand, as I do, that the only good Soros prosecutor is a defeated Soros prosecutor. We must recall, remove and replace every last one of them." 
In Florida, Governor Ron DeSantis suspended "Soros-backed" State Attorney for Hillsborough County Andrew Warren "for neglecting his duties as he pledges not to uphold the laws of the state." 
At a press conference, the governor said, "We are not going to allow the pathogen that's been around the country of ignoring the law, we are not going to allow that to get a foothold here in the state of Florida. We are going to make sure our laws are enforced and no individual prosecutor puts himself above the law."
"Hillsborough County Sheriff Chad Chronister lauded DeSantis' action," according to The New York Post, "asserting that Warren was selectively prosecuting cases."
Chronister described a case in which Warren's office "declined to charge an alleged gang member who shot one person and then fired into a home filled with women and children where the victim had fled."
The sheriff said, one of the women has to live a motel out of fear of returning to her house while the shooter remains at large. She said she feels "as though her status as a victim doesn't matter and the state attorney simply does not care."
Americans have appeared to have enough of woke policing and prosecution. In liberal San Francisco, another Soros-backed DA was ousted in an electoral recall after crime spiked following his lack of prosecuting violent criminals. 
[Read More: Biden Offers Merchant of Death for Brittney Griner, Prisoner To Be Named Later]