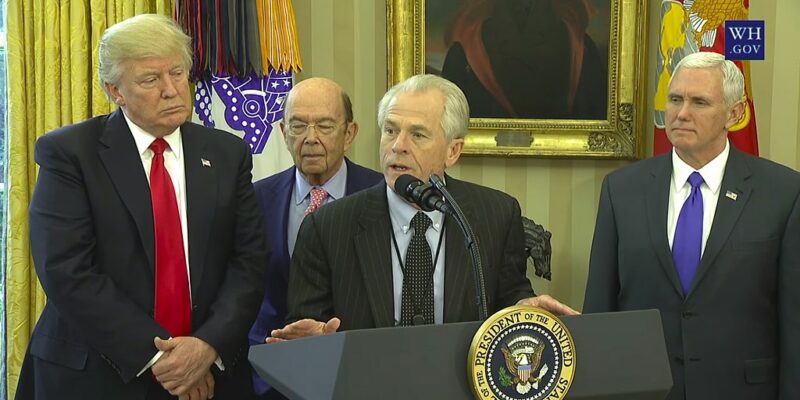 Peter Navarro is at it again, and this time he's going after a Trump family member. Earlier in the year, we reported that he had "been arrested for refusing to comply with a subpoena from House Democrats ordering him to appear in front of the committee investigating the January 6 mobbing of the Capitol. He has been charged with contempt of Congress." 
After his arrest, he described being "placed in shackles and leg irons." He compared his situation to "Stalinist Russia." He asked, "Who are these people? This is not America," he exclaimed to anyone who would listen. 
In a recent article, The Washington Examiner offered new details on his arrest. "In a court filing on Monday, federal prosecutors claimed that former White House aide Peter Navarro told agents attempting to serve him a subpoena to 'get the f*** out of here' and that the methods used during his arrest were appropriate for an 'unpredictable subject' with 'an extensive history of seeking news coverage.'"
In the filing, attorneys for the Department of Justice rejected Navarro's claim that the agency is withholding discovery material in its case against the former Trump trade adviser, and federal prosecutors also argued that Navarro has misrepresented 'facts and his posture toward the Government at the time of his arrest.'"
As the former White House advisor awaits his fate, he's decided to go after he has decided to take aim at his chief rival in the Trump Administration: Jared Kushner, the husband of Ivanka Trump. 
During a NewsMax interview, Navarro went after the son-in-law's book. He said," 'It's fiction,' he continued. 'And the thyroid thing, that came out of nowhere. I saw the guy every day. There's no sign that he was in any pain or danger or whatever. I think it's just sympathy to try to sell his book now.'
Salcedo asked if Kushner is "worthy" of Trump's trust.
'No,' Navarro replied. 'Time after time, whether it's mismanagement of the campaign, mismanagement of the pandemic, taking too much credit for NAFTA, taking too much credit for the Abraham Accords. I mean, the guy was just a one-man wrecking crew, 36 years old I think when he got in there with no training. His only qualification was that he was the boss's son-in-law.'"
The former Assistant to the President also took to American Greatness to lay out his case against Ivanka's husband. "Kushner came to the D.C. swamp on the coattails of his wife as nothing more than a young and rich, run-of-the-mill liberal New York Democrat with a worldview totally orthogonal to the president he was supposed to serve. Yet, within the West Wing, Kushner considered himself to be the ultimate "Trump whisperer."

In private, Jared would boast about how he had brought the president back from whatever he considered the brink to be that day—whether it was securing the southern border, leaving NAFTA, or slapping tariffs on China. Never mind that he was derailing, deterring, and delaying Trump's Make America Great Again agenda in real-time and at great political and economic costs.

Jared's "neuter the boss" role quickly became a source of friction between us. He believed that I, more than anyone inside the West Wing, could "rile up" the president to take actions that were, in fact, totally consistent with Trump's central campaign promises. But as this particular Wall Street transactionalist liked to say (and it always made me cringe): "That was the campaign. This is reality."

Ultimately, the biggest failure of the 2020 election was the failure of the Trump campaign itself. The campaign went from the beautifully orchestrated Steve Bannon masterpiece in 2016, with 20 people on Trump Force One barnstorming flyover country, to the ugliest equivalent of Hillary Clinton's beyond bloated Hindenburg of a campaign in just four years.
Navarro blames "the dynamic duo" of Brad Parscale, whom he calls the "putative campaign manager," and the Trump son-in-law, whom he calls the "actual campaign manager," for the Trump 2020 meltdown that ended with losing to "Sleepy Joe" hiding in the basement.
Navarro also unintentionally throws President Trump under the bus. He writes that "to this day, my old Boss still has no idea just how much damage Kushner/Rasputin did to the presidency and the Trump agenda during his four year reign of error at 1600 Pennsylvania Avenue."
That seems like a problem for Trump 2024, especially when Trump's biggest challenger will attack the former president for blindly adhering to advisors, like Anthony Fauci, who didn't have him, or his agenda, in mind. 
We noted earlier in the year, as rumors swirled that Trump would be announcing his campaign so he could go after Ron DeSantis, that the governor has been one of Dr. Anthony Fauci's biggest critics. 
During the early days of COVID-19, DeSantis refused to go along with the complete shutdown of society, refusing to close beaches in his state and citing the science against the extreme lockdowners. The governor told the podcast "Ruthless" that he thought Trump Administration officials like Dr. Anthony Fauci "panicked" during the initial spreading of the virus. DeSantis also said, "one of his biggest regrets in office was not speaking 'much louder' against the Trump Administration's calls for lockdowns in the early days of the pandemic." 
During a time in which those closest to Trump suspect "that a person close to the former president had become an informant for the FBI" and speculation flies that Trump will be indicted soon, one may wonder why Navarro's past grudges are causing him to attack the president's family right now. 
The Guardian has written "that speculation came in part amid widening knowledge about how the FBI might have established probable cause that there was a crime being committed at Mar-a-Lago using new or recent information – to prevent the probable cause from going "stale" – through a confidential informant."
Who exactly has the former president's agenda in mind? 
How does "Trump gets pushed around by Jared Kushner but is also the fighter we desperately need" even work in Navarro's mind? 
Navarro faces contempt of Congress charges for failing to comply with a subpoena from the House committee investigating the January 6, 2021, riot at the Capitol.
[Read More: Catching O'Reilly: Life After Being Canceled]