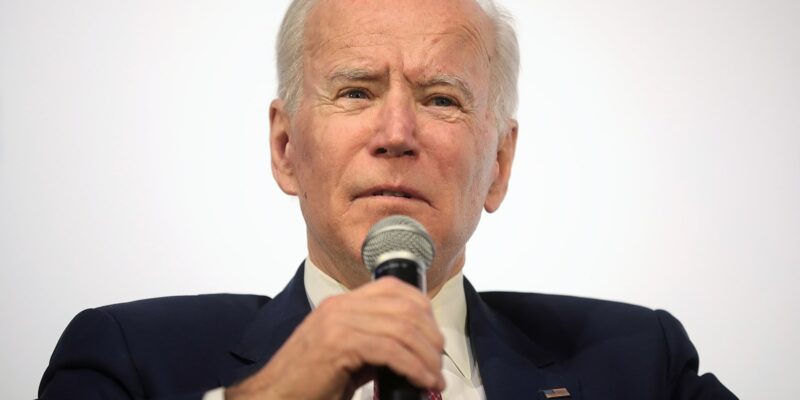 The President's trip to the Middle East this week has been a bit of a roller coaster. There have been some heartwarming points, such as when he visited Israel's national Holocaust memorial, the Yad Vashem Holocaust Remembrance Center in Jerusalem, "and spoke intimately with two American Holocaust survivors."
There have been some weird moments, such as when the president turned to shake someone's hand with a phantom and had a bad cough during a speech.  
There have been times Biden said something truly bizarre, like when he said, "the background of my family is Irish American. And we have a long history not fundamentally unlike the Palestinian people, with Great Britain and their attitude toward Irish Catholics over the years for 400 years." 
And there have even been funny moments, such as when the Palestinian Authority's band gave one of the worst renditions you will ever hear of the Star Spangled Banner while the president just stood there and listened. 
As President Biden traveled abroad, however, things took a turn for the worse back home with the White House's domestic policy. As inflation continues to soar, West Virginia Senator Joe Manchin has effectively killed the president's agenda. 
CNN wrote, "Sen. Joe Manchin on Thursday dealt a devastating blow to Democrats' hopes for sweeping legislative action this year, telling Senate Majority Leader Chuck Schumer and his staff "unequivocally" that he won't support the climate or tax provisions of a Democratic economic package, two sources familiar with the talks tell CNN.

The two had been negotiating for months, and Schumer, a New York Democrat, had made a number of concessions to pare back the climate provisions to appease Manchin, whose support is critical in an evenly decided Senate.

In a Friday radio interview, Manchin disputed the characterization that he had blown up the negotiations with Schumer but said that he asked that they wait until the July inflation numbers came out and pursue this after August recess.

"I said, 'Chuck until we see the July inflation figures, until we see the July, basically Federal Reserve rates, interest rates, then let's wait till that comes out so we know that we're going down a path that won't be inflammatory, to add more to inflation,' "Manchin told Hoppy Kercheval on Talkline. "He says, 'Are you telling me you won't do the other right now?' I said, 'Chuck, it's wrong, it's not prudent to do the other right now.'"
Axios writes, "The apparent demise of major new and expanded clean energy and electric vehicle investments will make it exceedingly difficult for the U.S. to meet its climate change targets." The "GND" looks to be DOA.
Although the West Virginia Senator and tie-breaking vote in the Senate has effectively torpedoed bigger ticket items, he has expressed an openness to a "much smaller bill. Politico stated, "Manchin told Democratic leaders he was open to changing federal laws that might lower prescription drugs costs for seniors…And the West Virginia moderate expressed support…for extended subsidies that will help keep health insurance costs down for millions of Americans for the next two years."
In September 2021, Manchin proposed a $1.5 trillion spending bill to Majority Leader Chuck Schumer, but the New Yorker balked at the idea, believing it was too small. After seven months of negotiating, he appears to be getting almost none of what he wanted.  
Manchin spokesman Sam Runyon told The New York Times, "Political headlines are of no value to the millions of Americans struggling to afford groceries and gas as inflation soars to 9.1 percent. Senator Manchin believes it's time for leaders to put political agendas aside, re-evaluate and adjust to the economic realities the country faces to avoid taking steps that add fuel to the inflation fire."
Manchin is much more in step with the American people than his party, it seems. Inflation has gotten tough for many across the country. The AP recently noted that "food banks, which had started to see some relief as people returned to work after pandemic shutdowns, are struggling to meet the latest need even as federal programs provide less food to distribute, grocery store donations wane and cash gifts don't go nearly as far." 
Since this time last year, the price of groceries have risen by over 12 percent. The prices of cereal, bread, and chicken were up a whopping 14.2%, 10.8%, and 17.3%, respectively. 
On Friday, the president traveled to Saudi Arabia to meet with Crown Prince Mohammed bin Salman at the royal palace. 
Starting their meeting with a fistbump for some reason, AP reported, "Biden had long refused to speak to Prince Mohammed, the presumed heir to the throne currently held by his father, King Salman. And he harshly criticized the oil-rich kingdom for its human rights abuses, particularly the murder of Jamal Khashoggi, a U.S.-based journalist.
But those concerns have since been eclipsed by other challenges, including rising gas prices and Iranian aggression in the Middle East. At the same time, Saudi Arabia is looking to bolster its security relationship with the United States and seeking investments to transform its economy into one that's less reliant on pumping oil."
It appears that even thousands of miles away, Biden can't escape inflation and gas prices. Maybe this trip, and Manchin's obstinance towards his left-leaning agenda, will finally get the White House to focus on things the American people care about—the economy and inflation. 
[Read More: As Trump Prepares To Jump In, DeSantis Rakes In Dough]