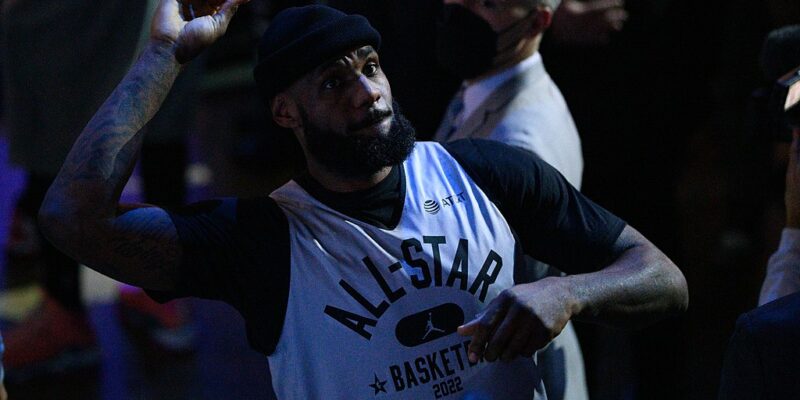 NBA and WNBA players, coaches, and their corporate allies like Nike and Disney are constantly chiding Americans over politics, but China as cracks down on gay rights in its country, you won't hear a peep from Nike, Steve Kerr, Lebron James, or the NBA.
In 2017, the NBA moved its All-Star Game from Charlotte, North Carolina, due to "its objections to a state law decried as discriminatory against the lesbian, gay, bisexual and transgender community."  
After facing criticism from fellow athletes about his political stances, Lebron James once declared, "I would never shut up about things that are wrong. I preach about my people and I preach about equality, social injustice, racism, systematic voter suppression, things that go on in our community. I know what's going on still, because I have a group of 300-plus kids at my school that's going through the same thing, and they need a voice, and I'm their voice. I'll use my platform to continue to shed light on everything that's going on around this country and around the world. There's no way I would ever just stick to sports, because I understand how powerful this platform and my voice is."
I guess his voice is not that powerful because players and coaches like Lebron always stay quiet when it comes to discussing and standing up to actual tyranny in China. 
Fox News explains: "Nike, the NBA, and star player LeBron James have remained silent on China's increasing hostility toward the LGBTQ community, most recently when one of the country's most prestigious universities cracked down on students displaying LGBTQ flags.

Fox News reached out to Nike, the NBA and Upland Workshop – an advisory company founded and led by James' spokesman and advisor Adam Mendelsohn – for comment on the crackdown but did not receive a response.

The silence comes after two students at China's Tsinghua University were reprimanded for distributing LGBTQ rainbow flags, according to a report in Bloomberg. The students were given official warnings and were prohibited from receiving scholarships and awards for six months, with the school warning that further violations could result in the students facing more serious penalties such as losing eligibility for civil service and state-owned-enterprise jobs.

James and the NBA have been vocal on a host of political and social issues in recent years, but have mostly turned a blind eye to Communist China's behavior on gender, sexual identity, and human rights abuses. Critics have largely panned the NBA and Nike in recent years over their ties to China, with the country representing a large new market audience for the professional basketball league and source of cheap labor for the shoe giant."
China's leadership has taken a hardline approach on the nation's LGBTQ community as President Xi Jinping has put more pressure on the population to adopt traditional values around gender and sexual identity. In 2020, the nation's only major pride parade, Shanghai's Pride March informed the public that it would end all activities without providing a reason. 
CNN wrote, "A person not associated with Shanghai Pride, but with knowledge to the situation, told CNN on Friday that the all-volunteer team had been facing mounting pressure from local authorities, to the point of where it was disrupting their day jobs and normal lives."
This isn't the first time James and the NBA, along with their corporate allies, have kowtowed to China. In 2020 it was reported that Nike was using forced labor from Uighurs to make their shoes, including, presumably, the Lebron James-branded attire. 
The Washington Post wrote at the time, "More than 1 million Uighurs have been put through camps aimed at 'deradicalizing' them, according to Chinese authorities, and have now "graduated" from the camps."
LeBron James waffled when asked about his thoughts on the matter so he could use his powerful platform to fight for justice. He claimed, "I think when we talk about the political side, I think it's a very delicate situation. A very sensitive situation. And I think for me personally, for any of you guys who know me or always cover me, you know that when I speak about something, I speak about something I'm very knowledgeable about. Something that hits home for me. Something I'm very passionate about, and I felt like with this particular situation, it was something that not only was I not informed enough about."
For some reason, Lebron James wasn't knowledgeable about who made his shoes. It just isn't "something that hit home" for him. Yes, this is completely believable.
However, something that hit home for the 18-time NBA All-Star was Hong Kong's protest defending their democracy and personal rights in 2019. But, it wasn't Hong Kong's fight for freedom. Instead, it was that China didn't like it.
"Two of the league's most successful coaches, Steve Kerr and Gregg Popovich, have repeatedly slammed American lawmakers for inaction on gun legislation. And other basketball stars regularly speak out on social and political issues — police shootings, elections and racism — without fear of retribution from the league, The New York Times reported.
But this weekend, a Houston Rockets executive unwittingly exposed an issue that may have been too much for the National Basketball Association: support for protesters in Hong Kong, which infuriated China."
The offending tweet was a picture from the general manager of the Houston Rockets that read, "Fight for freedom, stand with Hong Kong." 
The tweet was quickly deleted, but not before China took offense, pulling the Houston Rockets off the air from the country's largest television station. 
Lebron James said the problem was freedom of speech, not Chinese repression. He told reporters, "I think that's another situation that should stay behind closed doors. I think when we all sit back and learn from the situation that happened, understand that what you could tweet or could say…We all talk about this freedom of speech. Yes, we all do have freedom of speech, but at times there are ramifications for the negative that can happen when you're not thinking about others, and you're only thinking about yourself."
He then attacked the Rockets GM: "I don't want to get into a word or sentence feud with Daryl Morey, but I believe he wasn't educated on the situation at hand, and he spoke. And so many people could have been harmed, not only financially, but physically, emotionally, spiritually. So just be careful what we tweet and what we say, and what we do. Even though yes, we do have freedom of speech, but there can be a lot of negative that comes with that too."
Will Lebron and the NBA "become educated" on what's happening to the LGBTQ in China? It might force him to read past the first page of a book. 
Does he even want to? According to The Hill, "last year 800 million Chinese watched an NBA game, "the league is estimated to be worth about $5 billion in China… and the NBA just signed a new partnership agreement with an internet company in the country for $1.5 billion." 
Is silence still violence? 
[Read More: AOC Fakes Being Handcuffed During Protest]