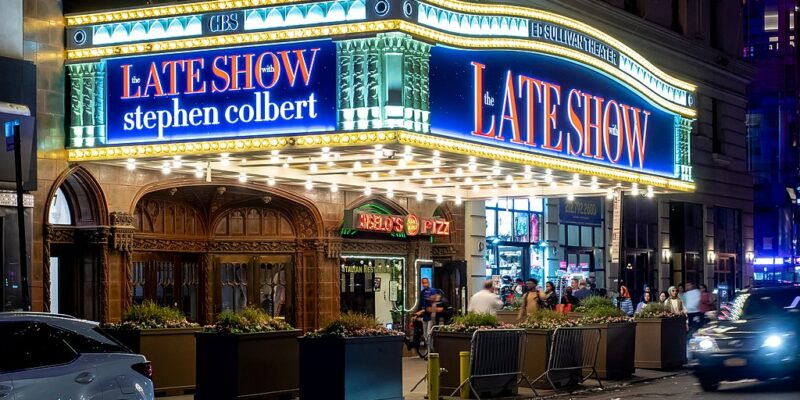 Nothing, it appears, is more important to some Democrats than kissing up to Hollywood and getting a small taste of fame, even if it undermines their committee focusing on the January 6, 2021, mobbing of the Capitol. Just days after holding primetime hearings about breaking into the Capitol, Adam Schiff, who believes he should be the next Speaker of House, has been accused of helping Late Night with Stephen Colbert's production crew sneak into the Capitol Building. Nine CBS employees spent a night in jail on Friday.
The New York Post summarized the incident. Adam Schiff's cronies snuck in Stephen Colbert's staff to the US Capitol and facilitated unauthorized reconnaissance tours of GOP offices," said an official account for the House Judiciary Committee Republicans.

"On the 50th anniversary of the Watergate break-in, @RepAdamSchiff's cronies sneak in Stephen Colbert's staffers and provide unauthorized reconnaissance tours of Republican offices throughout Capitol Hill," they added in a follow-up message, which included an embedded Fox News segment on the arrests by host Jesse Watters.

The Colbert crew, which included Late Show staffers Jake Plunkett, Allison Martinez, Tyrone Dean, Stephen Romond, Nicoletta Green, Brendan Hurley, Robert Smigel, Josh Comers and David Feldman, were busted by US Capitol Police around 8:30 PM. Thursday in the Longworth House Office Building.

Smigel is a longtime comedian most known as the voice behind Triumph the Insult Comic Dog. The Colbert gang had been around the Capitol all that day filming interviews surrounding the ongoing Jan. 6 hearings.
The mainstream media, which is often obsessed with what's happening on Fox News, just put "CNN Tucker Carlson" into any Google search, has been disinterested in this story.
Republicans are not happy, and they will be demanding answers about the arrest when Congress resumes next week. Only last week did Democrats on the January 6 Committee demand answers from Rep. Barry Loudermilk's, R-Ga, regarding a constituent tour he gave the day before the alleged "coup." 
The special House committee alleged that several members Loudermilk took with him were "casing" that Capitol Complex by taking photographs of stairwells and hallways. The Daily Beast wrote, "A man who took part in a tour of the US Capitol complex on Jan. 5, 2021, with Rep. Barry Loudermilk (R-GA) was captured on video hurling threats at Democratic lawmakers during the insurrectionist riot the next day….The footage captures him singling out House Speaker Nancy Pelosi and Senate Majority Leader Chuck Schumer, before saying, 'We're coming for you… We're coming to take you out and pull you out by your hairs. … When I get done with you, you're going to need a shine on top of that bald head.'"
The Capitol Police Chief cleared Loudermilk of any wrongdoing, saying it was a "visit by constituents." In a letter, the head of the Capitol Police explained, "We train our officers on being alert for people conducting surveillance or reconnaissance, and we do not consider any of the activities we observed to be suspicious." That did not stop the committee from accusing their colleague of wrongdoing.  
About Colbert's break-in, Fox News reports, "The group reportedly banged on doors of several Republican offices – including that of Minority Leader Kevin McCarthy of California, Jim Jordan of Ohio and Lauren Boebert of Colorado — as they allegedly filmed a skit for Colbert's "Late Show" program that was to center around the January 6 hearings." The crew broke into the same building that the January 6 Committee had claimed Loudermilk had helped rioters surveil. 
The hearings have been a bit of a ratings flop for Democrats, and it makes sense that they would break the law to help Colbert drive some publicity for them. The Morning Consult polling firm noted, "While 40% of voters reported watching at least some of the June 9 hearing live, that percentage was driven by Democrats, 57% of whom said they tuned in. Just one-third of independents and 27% of Republicans reported doing the same." 
In May, excited members announced that they were planning to hold six public hearings to "walk through Trump's efforts to overturn the 2020 election — starting and ending with blockbuster prime time hearings at 8pm on June 9 and June 23." The last hearing, which was supposed to be a grand finale, has been moved off of primetime and will instead be held at 1 PM. 
The hearings haven't been completely for naught for Democrats. They did recently reveal that former President Trump "scammed" more than $250 million from his supporters for an 'official election defense fund' that did not exist, instead using the money to pay former Fox News host, Trump campaign fundraiser, and fiance to his son, Kimberly Guilfoyle $60,000 for a two-minute-and-thirty-second speech. 
The Guardian recently stated that the odds of Trump being charged has increased. "Trump," wrote the newspaper, "could also potentially face fraud charges over his role in an apparently extraordinary fundraising scam – described by House panel members as the "big rip-off" – that netted some $250m for an "election defense fund" that did not exist but funneled huge sums to Trump's Save America political action committee and Trump properties."
In a shocking poll, ABC News discovered that "58% of Americans think Trump should be charged with a crime for his role in the riot. That's up slightly from late April, before the hearings began, when an ABC News/Washington Post poll found that 52% of Americans thought the former president should be charged."
While the White House is weighing indictments against Trump, few believe that the Colbert crew break-in will lead to charges for those who committed the Late Night Coup at the Capitol. As we learned with COVID rules, there are two sets of rules, one for regular people and one for Democrats. 
[Read More: Radical Left Promise More Attacks Against Pro-Lifers]