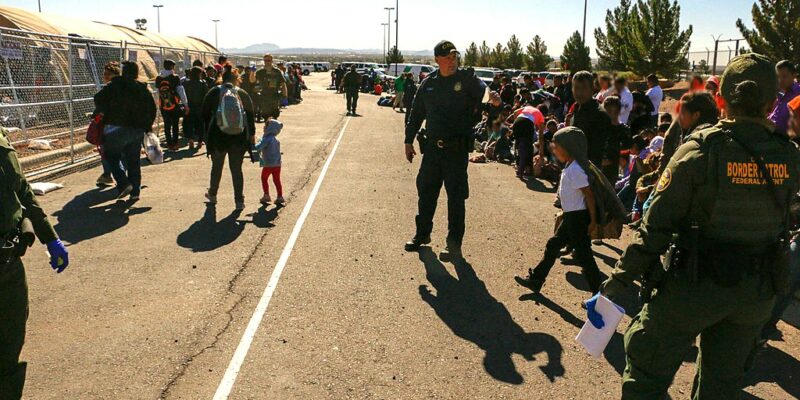 Under the direction of the Biden Administration, federal prosecutors tasked with processing charges against those who have entered the country illegally have been mandated to "effectively pardon" them. 
Biden appointees at U.S. Immigration and Customs Enforcement have ordered not to pursue the prosecution of anyone who entered the country illegally before the 2020 election. The Washington Examiner reported that the plan from the White House will dismiss the prosecution of an estimated 1 million people by 2024. 
The Washington newspaper spoke with people involved. "This is a de facto amnesty," said an ICE federal prosecutor who spoke with the Washington Examiner on the condition of anonymity. The Washington Examiner obtained leaked video recordings of virtual meetings that Kerry Doyle, ICE's principal legal adviser, held with the more than 1,200 ICE prosecutors who bring cases against illegal immigrants nationwide, in which she explained in detail who should not be targeted for deportation. Illegal immigrants identified as national security and public safety threats, or those who had crossed the border illegally after Nov. 1, 2020, would be the only cases ICE would pursue. All others would be dropped.

"As the memo explains — I think pretty clearly — we've put our thumb sort of heavily in favor of dismissal and durable solutions," Doyle told her workforce in a private town hall meeting on April 14. "Even if you've spent a lot of time on the case, if it's a nonpriority, you should be moving to offer [prosecutorial discretion] in that case."

Doyle's mandate to close out cases took effect on April 25. An indicator of how quickly ICE has moved is the number of cases wiped out in those two months. Between 60,000 and 80,000 cases have been closed, according to the ICE attorney. The total case closures since the start of fiscal year 2022 last October is more than 97,000, according to data from the Transactional Records Access Clearinghouse, a research organization at Syracuse University in New York. Case closures eight months into 2022 are already up fourfold from all of 2021, another sign of how quickly ICE prosecutors are moving to clear the books.

If the agency's 1,200 prosecutors keep the current pace of 60,000-80,000 case closures every two months, ICE could hit 360,000 to 480,000 closed cases by next April and 1 million by early summer 2024, months before the presidential election.
The policy is consistent with the president's plan to allow more immigrants into the United. The country has seen its foreign-born population dramatically rise over the past few years. 
As NCP reported earlier in the year, "According to new data, the United States has seen a ten percent surge in the undocumented immigrant population since the inauguration of President Joe Biden and the implementation of his open borders policies. The Census Bureau and the Bureau of Labor Statistics indicate that the population grew from 10.2 million in January 2021 to 11.6 million this past April. The foreign-born population in America, which includes legal and illegal immigrants, is now 47 million, or 14.3% of the total population, the highest since the 1890s."
An examination of deportations over the past few years shows how dramatically the Biden Administration has moved away from Trump's policy on the border. According to statistics shared by U.S. Immigration and Customs Enforcement, "only 59,011 immigration violators were removed from the country during FY 2021. For comparison, the Trump administration still removed 185,884 immigration violators in FY 2020 despite ICE efforts being hampered by the COVID-19 pandemic. Deportations totaled 267,258 in FY 2019, meaning that in just two years ICE removals have decreased by nearly 80 percent." 
The dramatic change in prosecutions should come as no surprise to anyone who's been following the issue. In September 2021, the Washington Free Beacon procured a memo detailing the hiring of Kerry Doyle, "a left-wing attorney who has publicly endorsed sanctuary laws for illegal aliens" to be ICE's lead prosector. 
Doyle has long been an advocate for undocumented immigrants, "Throughout her legal practice in Boston," the alleged memo read, "Ms. Doyle worked closely with the Massachusetts Immigrant and Refugee Advocacy Coalition and Massachusetts Law Reform Institute providing technical assistance and public testimony and various immigration-related policy issues before the state legislature and Boston City Council." 
In 2019, she said that ICE was a "tool of almost terror" against immigrant communities and asked the Boston City Council to prevent the Boston Police Department from sharing information with the federal agency. The White House agrees with this mentality and is putting their ideology into practice. It recently trumped-up charges against some border agents because Twitter confused horse reins for whips. 
The president's immigration policies were recently labeled a "human catastrophe for vulnerable people involved" in a report produced by the Senate Foreign Relations Committee. 
Fox News offered a summary of the report titled "Biden's Border Crisis: Examining Policies that Encourage Illegal Migration," which connected the current administration's policy to that of the Obama administration. The report said that Biden has "incentivized illegal migration and undermined the ability of U.S. law enforcement to secure our borders" and pointed to the president's attempt to end Title 42 and focus on the "root causes" of illegal immigration as important elements contributing to problems on the border. 
Not everything has gone to plan for open-borders proponents in this administration, however. A Texas judge recently blocked a Biden administration attempt at limiting deportations. NPR wrote, "Federal Judge Drew Tipton threw out a Department of Homeland Security policy that limits who immigration authorities can arrest and deport. In a ruling published Friday, Tipton sided with the states of Texas and Louisiana, which argued that the DHS guidance is preventing U.S. Immigration and Customs Enforcement from enforcing the law. Homeland Security Secretary Alejandro Mayorkas announced the policy last year, directing immigration authorities to prioritize serious threats to public safety and national security, as well as recent border-crossers." 
Problems at the border might get worse over summer, as well. AP reported on June 24 that thousands of migrants had joined a caravan in south Mexico and have begun to demand a "corridor to border." The news followed the dissolution of a much larger caravan of 7,000 people trying to head to Mexico City a few weeks ago. 
Of the larger caravan, CNN wrote, "Many of the migrants are from Venezuela, and many of them are families with children. There are at least three different groups divided among the cities of Huixtla, Mapastepec, and Escuintla in the Mexican state of Chiapas. A large number of them are still waiting to process migration documents to continue their journey to the US. The Human Rights Watch released a report on June 6, stating that migrants and asylum-seekers who enter Mexico through its southern border face abuses and struggle to obtain protection or legal status."
President Biden still has failed to successfully appoint a head of ICE. CNN reports that the president's "pick to helm US Immigration and Customs Enforcement, Ed Gonzalez, is withdrawing from consideration, Gonzalez announced in a tweet on Monday, leaving the agency without permanent leadership as the administration tries to usher forward its immigration agenda." Gonzalez currently serves as the Houston Sheriff. 
Gonzalez's nomination was held up in the Senate after Senator James Lankford released an affidavit accusing him of domestic violence. Gonzalez has denied the allegation, saying, "It's false, it's all politics."  
[Read More: Liz Cheney Begs Dems To Save Her From Defeat]