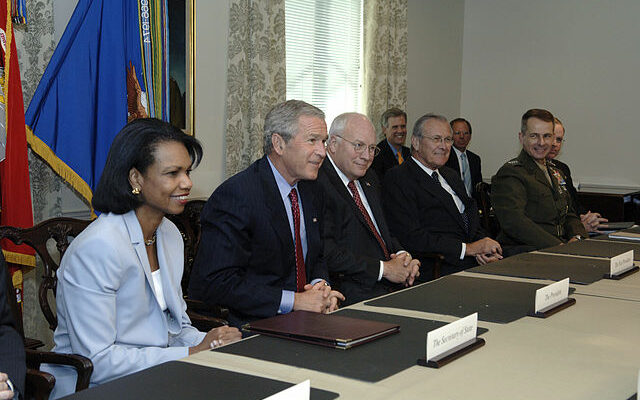 There is nothing the leaders in Washington love more than supporting war and Florida governor Ron DeSantis has ruffled the feathers of the pro-war caucus by saying the Ukraine-Russia War might not be in the vital interests of the United States in comparison to other foreign policy issues. 
What did the former JAG officer say? Peace should be the priority of foreign policy rather than war. 
In response to a question from Tucker Carlson, DeSantis dared to claim that maybe the United States shouldn't be fighting wars all over the world, writing, "While the U.S. has many vital national interests … becoming further entangled in a territorial dispute between Ukraine and Russia is not one of them."
He continued: "We cannot prioritize intervention in an escalating foreign war over the defense of our own homeland, especially as tens of thousands of Americans are dying every year from narcotics smuggled across our open border and our weapons arsenals critical for our own security are rapidly being depleted."
Fox News reported, "Though he has not officially declared that he will seek the GOP nomination for president next year, DeSantis' comments drew immediate scrutiny from a handful of Republicans who have consistently signaled their support for Ukraine as it works to fend off Russian aggression – including former Wyoming Rep. Liz Cheney, Florida Sen. Marco Rubio, South Carolina Sen. Lindsey Graham, Texas Sen. John Cornyn, and North Carolina Sen. Thom Tillis.

Cheney, a former member of the January 6 Select Committee and an outspoken critic of former President Donald Trump, said DeSantis "is wrong and seems to have forgotten the lessons of Ronald Reagan."

"This is not 'a territorial dispute,'" Cheney said in a statement, according to the New York Times. "The Ukrainian people are fighting for their freedom. Surrendering to Putin and refusing to defend freedom makes America less safe."

"Weakness is provocative and American officials who advocate this type of weakness are Putin's greatest weapon. Abandoning Ukraine would make broader conflict, including with China and other American adversaries, more likely," added Cheney, who lost her bid for re-election last year to pro-Trump Republican Rep. Harriet Hageman.
Democrats worked to turn a fairly benign statement from Florida's governor into some kind of pro-Putin conspiracy. The Hill noted that Chuck Schumer called the comment "part of a broader trend among what he called 'the hard right' of "excusing' Russian President Vladimir Putin and 'not even daring to condemn him.'"
Of course, the Democratic leader, like all pro-war politicians, said that DeSantis saying we should examine the hundreds of billions of dollars being sent overseas as somehow helping the rise of Hitler. 
"Schumer said DeSantis's reluctance to stand up to Russian aggression raises questions about how he might have responded to the rise of fascism in the 1930s if he held office before World War II. 
'I have to wonder what he would have thought if he was around in the 1930s. We know what happened then when many refused to stand up to aggression, a world war resulted. Sadly, these remarks are not unique within the GOP,' the Democratic leader said."  
Tucker Carlson stood up for the governor's comments earlier in the week. 
Warmongers Take Aim at Ron DeSantis After He Came Out Against Further Involvement in Ukraine@TuckerCarlson: "What they really care about is foreign policy and a neoconservative foreign policy. It's exactly why they hated Trump; they would have put up with anything, but when he… https://t.co/2u6UhPyJDh pic.twitter.com/2EFQ8JlQHv

— The Vigilant Fox 🦊 (@VigilantFox) March 15, 2023
The popular host said, "What they really care about is foreign policy and a neoconservative foreign policy. It's exactly why they hated Trump; they would have put up with anything, but when he criticized the Iraq War, he was done. Same with Tulsi Gabbard; they kicked her out of the Democratic Party for it. So they were very mad that Ron DeSantis took a completely reasonable position consistent with the overwhelming majority of Americans."
DeSantis might be more in line with the public. The Associated Press recently stated that Americans are becoming more and more skeptical of sending billions to Ukraine as things get worse at home. 
The outlet wrote, "Support among the American public for providing Ukraine weaponry and direct economic assistance has softened as the Russian invasion nears a grim one-year milestone, according to a new poll from The Associated Press-NORC Center for Public Affairs Research.
Forty-eight percent say they favor the U.S. providing weapons to Ukraine, with 29% opposed and 22% saying they're neither in favor nor opposed. In May 2022, less than three months into the war, 60% of U.S. adults said they were in favor of sending Ukraine weapons.
Americans are about evenly divided on sending government funds directly to Ukraine, with 37% in favor and 38% opposed, with 23% saying neither.
Biden has repeatedly stated that the United States will help Ukraine "as long as it takes" to repel the Russian invasion that began on Feb. 24 of last year. Privately, administration officials have warned Ukrainian officials that there is a limit to the patience of a narrowly divided Congress — and American public — for the costs of a war with no clear end. Congress approved about $113 billion in economic, humanitarian and military spending in 2022.
The poll shows 19% of Americans have a great deal of confidence in Biden's ability to handle the situation in Ukraine, while 37% say they have only some confidence and 43% have hardly any."
The White House recently ignored a train derailment in Ohio that likely poisoned an entire town while the president traveled to Kyiv. While Americans deal with "Medicare and Social Security insolvency [being] right around the corner," according to CNN, the president giddily announced that the U.S. would be covering Ukraine's government pensions. 
Biden proudly announces that your tax dollars will go to fund Ukrainian pensions so they "have something in their pocket"

This comes one day after denying aid to East Palestine pic.twitter.com/SggIwlBEAm

— Clayton Keirns (@CKeirns) February 18, 2023
[Read More: Hunter's Bank Statements Made Public]