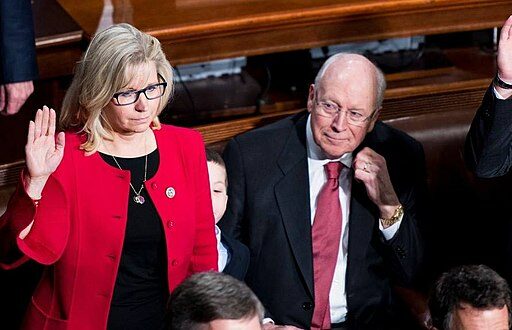 Liz Cheney has had quite the last year or so, voting for the second impeachment of Donald Trump after he'd already left office and joining the January 6 Committee investigating the mob scene at the Capitol two weeks before Biden's inauguration. In May 2021, after spending almost all of her time criticizing former President Trump rather than focusing on what's happening in the country under the current occupant of the White House, the GOP removed her from the powerful position of conference chair in the House. 
She, of course, responded by talking about the only thing she ever talks about: Donald Trump. After the vote, she declared, "I will do everything I can to ensure that the former president never again gets anywhere near the Oval Office." 
You have to give her credit, she's stayed true to her word. Democrats recently gave her the number 2 position on the January 6 Special Committee. The New York Times wrote, "The announcement effectively made Ms. Cheney the committee's second-ranking member, an unusual move for the majority party in the House, which typically grants that position to one of its own. But her appointment has been a break with convention from the start, given that Democrats nominated her and another Republican, Representative Adam Kinzinger of Illinois, in a bid to bring bipartisan credibility to an investigation that many other GOP lawmakers had denounced and worked to thwart."
Bennie Thompson, the leader of the investigation, said, "Representative Cheney has demonstrated again and again her commitment to getting answers about Jan. 6, ensuring accountability, and doing whatever it takes to protect democracy for the American people. Her leadership and insights have shaped the early work of the select committee and this appointment underscores the bipartisan nature of this effort."
Cheney's fixation on Trump has created headaches for her and the party back home in Wyoming. In November 2021, the Wyoming Republicans formally rebuked their congresswoman. NPR noted, "The 31-29 vote Saturday in Buffalo, Wyoming, by the state party central committee followed votes by local GOP officials in about one-third of Wyoming's 23 counties to no longer recognize Cheney as a Republican."
She has fallen so far out of favor with Republicans there that she's now begging Democrats in the Equality State to switch parties so they can vote for her in the August primary. 
The Washington Post reported that Rep. Liz Cheney, the Wyoming Republican fighting for political survival after clashing with former president Donald Trump, has started sending Democrats instructions on how to switch parties and vote for her, underscoring an urgent effort to try to overcome serious vulnerabilities ahead of an August primary.

A spokesman for the Wyoming Democratic Party confirmed Thursday that members of the party are receiving the mailers, including the state party's chairman. "How do I change my party affiliation to register as a Republican so I can vote for Liz?" the mailer reads. Cheney's website has also been updated to include instructions for Democrats.

In a defiant statement released late Thursday, Cheney defended the political move.

"I've been a conservative Republican since I first voted for Ronald Reagan in 1984," said Cheney in the statement, shared first with The Washington Post. "I encourage everyone with principles who loves our country to exercise their right to vote. And, damn right, I will continue to give every voter in Wyoming a list of all the key rules for casting ballots in our state. If any eligible voter living in Wyoming wishes to become a republican, they are free to do so. That is their right."

The congresswoman has held Wyoming's at-large district for five years and is facing a handful of Republicans, including Trump-endorsed Harriet Hageman, who used to support Cheney but has embraced the former president's agenda. Trump's picks in other primaries this year have suffered some notable defeats, but Cheney must overcome particular ire from Trump and his base as one of his most strident GOP critics. And many local activists in the state have turned sharply against the congresswoman.
Trump himself has taken on the Cheneys directly. During a May rally for his endorsed candidate, Harriet Hageman, the former president, stated, "Liz Cheney hates the voters of the Republican Party, and she has for longer than you would know," Trump said. "Wyoming deserves a congressman who stands up for you and your values, not one who spends all of her time putting you down, going after your president in the most vicious way possible, and loving endless, nonsensical, bloody, horrible wars that never end — they just never end."
"The Cheneys," Trump continued, "are die-hard globalists and warmongers who have been plunging us into new conflicts for decades….That is why Liz Cheney is at the front of the parade trying to get us to go into wars with Russia or anyone else that wants to bite."
The elections website FiveThirtyEight broke down Cheney's plan to win with Democratic support, and their analysis shows that it's not a particularly good idea. They argued that only Republicans can save Cheney from defeat. "If she's counting on anyone else, then she's probably done for," the site explained.
FiveThirtyEight concluded: "The math just doesn't work for Cheney if she's looking for substantial help from non-Republicans in Wyoming's GOP primary without winning a healthy share of Republicans first. The vast majority (70 percent) of voters in the state are registered Republicans. And in midterm years (like 2022), an even larger share of the state's primary voters have cast ballots in GOP nomination battles, as the table below shows — meaning they're very likely reliably Republican-leaning Wyomingites. And of course, in a state as red as Wyoming — Trump garnered 70 percent of the vote there in 2020 — winning the GOP primary is tantamount to winning the election in November."
The voters of Wyoming will decide Cheney's fate on Tuesday, August 16, 2022.
[Read More: European Hypocrites Attack American Democracy]