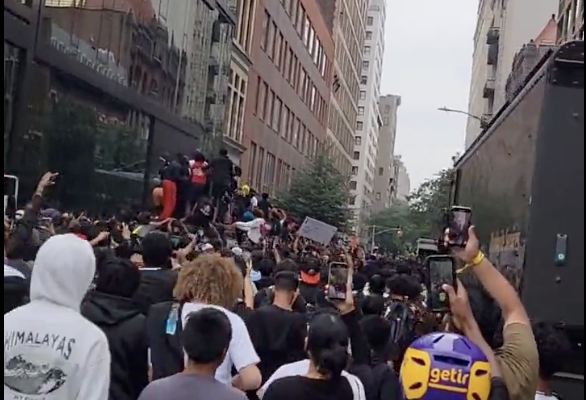 A social media influencer's giveaway at Union Square Park in New York City has, according to reports, "descended into chaos, with the young attendees throwing bottles, jumping on vehicles and screaming 'F–k the PD' — as NYPD cops were assaulted and some eventgoers were nearly trampled.
Twitch gamer Kai Cenat, who has over 20 million followers on the gaming platform, scheduled the real-world meet-up at 3:30 p.m. and planned to give away PlayStation 5s, computers, microphones and other gaming accessories," explains The New York Post.
An unruly crowd of nearly 1,000 young adults broke into chaos and violence with the attendees tossing cones, brawling, and attacking police officers.
RIGHT NOW—Union Square Park in Manhattan is showcasing why it's a terrible idea to live in big cities in urban decay.

Looks just fine from my small town in Kentucky though. 😎 ☕️

Have fun y'all! pic.twitter.com/8U83faSl7j

— Amiri King (@AmiriKing) August 4, 2023
Aerial TV news footage showed a surging, tightly packed crowd running through the streets, scaling structures in the park and snarling traffic. Shouting teenagers swung objects at car windows, and some people climbed on top of a moving vehicle, falling off as it sped away. Others pounded on or climbed atop city buses, writes The Washington Post.

By 5:30 p.m., police officers in growing numbers had regained control of much of the area, but small skirmishes were still breaking out, with young people knocking over barricades and tossing bottles and even a flower pot at officers. Police were seen wrestling people to the ground and chasing them down the street.

The NYPD didn't immediately have information on injuries or arrests. Numerous people were in hand restraints, sitting on the sidewalks, and at least one young man led away by two officers. Police formed lines in the street to try to direct the crowd.

On his Instagram feed, the streamer Kai Cenat had an image promoting a giveaway at 4 p.m. in the park. Some young people leaving the park said they had come expecting to get a computer for livestreaming and a new PlayStation.
Social media caught much of the grim scene. 
#Breakingnews.
Riot breaks out at Union Square Park in NYC. One office was cut in the neck and had his gun taken away from him! pic.twitter.com/t8dv7CILST

— Viral News NYC (@ViralNewsNYC) August 4, 2023
Union Square Park NYC. A rioters cut a cop on the neck and take his gun from him. One of bystander Is bleeding from his head pic.twitter.com/01k0LqFk6O

— Viral News NYC (@ViralNewsNYC) August 4, 2023
An NYPD representative accuses Kai Cenat fans of "destroying property, looting, and assailing officers with rocks and bottles"

In response to a reporter, he claims Kai may be charged with "inciting a riot"

The Twitch streamer was giving away PS5's in Union Square Park pic.twitter.com/BVchlFpsiy

— Dexertonox (@Dexertonox) August 4, 2023
Local NYC news writes that "Cenat was eventually pulled out from the massive crowd by police officers and seen speaking several officials. A spokesperson confirmed the influencer and "numerous" other people were in custody as the crowd size started to shrink and many of the young people abandoned the park.
Top brass say it's not yet clear if criminal charges will be sought against Cenat."
This story is developing.