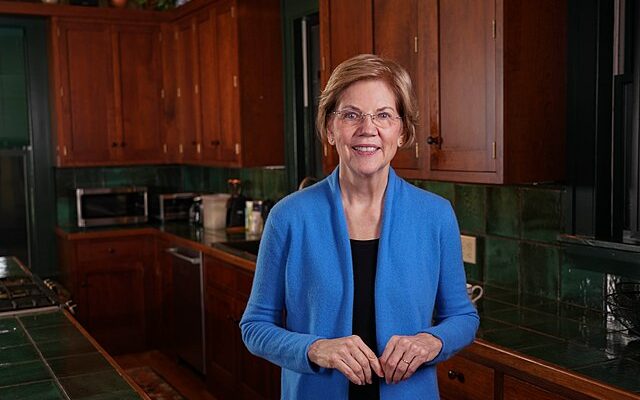 It has happened again. A leftwing social justice warrior has been caught lying about her ethnicity in order to grift from donors and even land a job at the University of Wisconsin, where academics considered her a "scholar in residence."
Wisconsin Public Radio reports, "Madison artist and activist Kay LeClaire, who took on an Ojibwe spirit name, is facing allegations for posing as Native American. 
Since at least 2017, LeClaire has claimed multiple identities including Native identities. They also took on the Ojibwe name nibiiwakamigkwe. LeClaire uses they/them pronouns and identifies as "two-spirit," an Indigenous term which refers to people who are nonbinary. 
Many say LeClaire took pride in their heritage. They served on the state Department of Justice's Missing and Murdered Indigenous Women Task Force, earned speaking gigs and had a paid residency at the University of Wisconsin-Madison." 
No one thought to ensure she wasn't just a white girl playacting. 
The New York Post offered more details: There were already accusations of fraudulent behavior shadowing Kay LeClaire when they showed off their intricate bead and basket work on Etsy and social media over the last two years. The posts described the "visions" and dreams that led the Wisconsin artist — who identifies as non-binary and Native American — to create the elaborate pieces of art.

But more than once, the real creators of the work had come forward to take ownership of pieces that LeClaire, 28, tried to appropriate, said a Native American administrator who has known LeClaire since 2020.

"[LeClaire] passed off people's crafts as their own, and made up stories about the visions," said Jon Greendeer, the health and wellness coordinator at the Ho-Chunk Nation, in Black River Falls, Wis. "In this way, they did more damage than any European colonizers did in the old days."

Greendeer, a former president of the Ho-Chunk Nation, a tribe of more than 8,000, told The Post that members of his community were shocked by LeClaire, who wrote academic papers and spoke at conferences, railing against the appropriation of indigenous culture at community events in Madison and other parts of the state.
The Milwaukee Journal Sentinel wrote, "Representing themselves as a member of the Indigenous community benefited LeClaire in many ways. In March, they began a 10-month paid residency at the University of Wisconsin-Madison, where they helped students and staff 'understand the stakes of cultural appropriation for Indigenous communities.'
And a Madison nonprofit advocating for the LGBTQ community paid LeClaire $1,000 to speak at a dinner last June."
The School of Human Ecology at the University of Wisconsin–Madison issued a statement apologizing for hiring a white person pretending to be Native American to be the public university's first ever "scholar in residence." The school wrote, "We are deeply concerned about allegations that a community member with whom we have partnered misrepresented their identity and engaged in disingenuous actions. There is a long and painful history of erasure and cultural appropriation in the U.S., which has had an immense impact on the lives of Indigenous people. These latest allegations are a disturbing reminder of how this persists today.
As the Center for Design and Material Culture's Community Leader in Residence for 2022, Kay LeClaire worked with UW–Madison faculty and students between March 2022 and December 2022 and received stipend payments totaling $4,876.56 in private gift/grant funding. The newly created Community Leader in Residence program invites community practitioners to partner with faculty, staff, and/or students on projects. This limited-time role, filled through an application process, is not identity-based, although individuals from underrepresented or historically marginalized groups are encouraged to apply. LeClaire's residency was slated to end on December 31, 2022. They voluntarily resigned their position on December 29, 2022. The School of Human Ecology and its Center for Design and Material Culture do not have plans to further collaborate with LeClaire and have not acquired any materials from LeClaire for its Helen Louise Allen Textile Collection.
We greatly value our relationships with Native students, faculty, staff and community members in Wisconsin and across the nation. We strive to uplift others and make sure our school is a place where people of all backgrounds and identities know they belong. We remain steadfast in our commitment to creating educational pathways for Native students, faculty, staff and community members and invite feedback on meaningful ways to continue to support this commitment. As the layers of this situation unfold, we are committed to understanding and learning from it and fostering healing for all involved."
LeClaire has since apologized for being a "pretendian," saying, "What I can do now is offer change. Moving forward, my efforts will be towards reducing harm by following the directions provided by Native community members and community-specified proxies. Currently, this means that I am not using the Ojibwe name given to me and am removing myself from all community spaces, positions, projects, and grants and will not seek new ones. Any culturally related items I hold are being redistributed back in community, either to the original makers and gift-givers when possible or elsewhere as determined by community members."
LeClaire may have gotten the idea to fake being Native American by watching Rachel Dolezal the former "president of the Spokane, Washington, chapter of the NAACP, a Howard University graduate, an adjunct professor of Africana studies at Eastern Washington University, and, according to her application to the policing commission on which she sits, "white, black, and American Indian."
The accusation that Dolezal was actually raised as a white woman and formerly self-identified as white but actively tried to deceive people into thinking she was black — curating an entire life to suit this story — has left Americans tickled, intrigued, outraged, and dumbfounded at once," Vox wrote.
"Our daughter is Caucasian" say parents of Spokane NAACP President Rachel Dolezal. pic.twitter.com/6VHxm9v4Wt

— Taylor Viydo (@TViydo) June 11, 2015
There's a likely reason why this keeps happening: the money is good.
There's also a chance that LeClaire was merely emulating the most famous lefty who faked her ethnicity to curry favor, Elizabeth Warren, the senator from Massachusetts and 2020 presidential candidate. In 2019, she was forced to apologize for her actions, saying she was "was sorry that she identified herself as a Native American for almost two decades, reflecting her ongoing struggle to quiet a controversy that continues to haunt her as she prepares to formally announce a presidential bid.
Her comments more fully explain the regret she expressed last week to the chief of the Cherokee Nation, the first time she's said she was sorry for claiming American Indian heritage, The Washington Post stated.
The senator had believed that releasing a DNA test showing that she was 1/1024th Native American would be a campaign winner in the Democratic primary for president. 
By the way, @realDonaldTrump: Remember saying on 7/5 that you'd give $1M to a charity of my choice if my DNA showed Native American ancestry? I remember – and here's the verdict. Please send the check to the National Indigenous Women's Resource Center: https://t.co/I6YQ9hf7Tv pic.twitter.com/J4gBamaeeo

— Elizabeth Warren (@ewarren) October 15, 2018
Never forget Trump trolled Elizabeth Warren into taking a DNA test that showed she was 1/1024 Native American https://t.co/VFEinxzmPh pic.twitter.com/KkyIuxc8Zh

— American Firebrand (@AmFirebrand) October 10, 2022
Warren has been ridiculed for her fakery for years, but who knew she also inspired so many to follow in her footsteps? 
"Pretendians" have become a major problem for Native American communities. Warren, Dolezal and now LeClare are not the only people who viewed falsifying their family histories to steal Native identity as a way to allegedly get a leg up.  Other academics have been caught claiming tribal ancestry:
Elizabeth (Liz) Hoover, professor at UC-Berkeley, is latest academic to admit to falsely claiming Indigenous identity. https://t.co/FUQOx3wIlU

— Darryl Leroux (@DarrylLeroux) October 21, 2022
Karen Ann Hoffman, a renowned Oneida bead artist told the Milwaukee Journal Sentinel, "Adopting a Native identity might also be perceived by pretendians as 'value added' or a 'competitive edge' when they want to compete for, or steal, resources. Those resources might be jobs, academic positions, scholarships, acceptance into art venues, policy-making boards, promotions and more."
The newspaper added, "Certain scholarships, such as the Wisconsin Indian Student Assistance Grant and the First Nations' Native Agriculture and Food Systems Scholarship, and other financial benefits may only be available to applicants with proof of Indigenous ancestry."
[Read More:  Biden's "Think Tank" Took Millions From China With Hunter's Help]