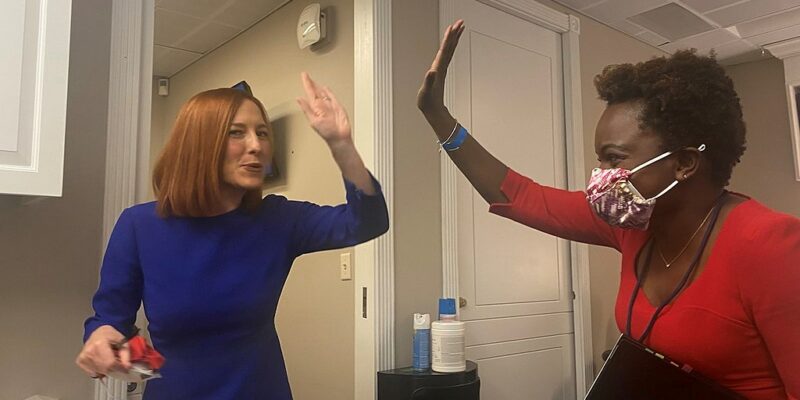 Over the past two years, you can throw a rock in any direction and hit a liberal in a full-fledged panic over Donald Trump's claim that the 2020 election was "rigged." Biden himself has said that his predecessor's statements function as a "dagger at the throat of America, at American democracy."
These harsh words demand a higher standard from the presidency. But, like everything else, Joe Biden has only been able to talk the talk without walking the walk. Sure, there's always some hypocrisy in politics, it's natural to the game, but this Administration seems to be fueled by it. The latest example comes from the White House Press Office. 
White House spokesperson Jen Psaki is leaving her post to cash in at MSNBC, where she will undoubtedly continue to repeat White House talking points. The Administration filled the position with Karine Jean-Pierre, a former political campaign flack, activist, political commentator, and conspiracy theorist who believes that when Democrats lose elections, it's because they were stolen. She previously held the role as White House Principal Deputy Press Secretary. 
The pick wasn't surprising, but that doesn't make the hypocrisy any less head spinning. Yahoo reports, "President Biden's new White House press secretary has previously claimed the 2016 presidential election was 'stolen' from Hillary Clinton and that Georgia Republican Gov. Brian Kemp 'stole' the 2018 gubernatorial election from Stacey Abrams.

'Stolen emails, stolen drone, stolen election …..welcome to the world of #unpresidented Trump,' Karine Jean-Pierre tweeted after former President Donald Trump's 2016 presidential win, repeating Clinton's claims that Trump was illegitimately elected.

'Reminder: Brian Kemp stole the gubernatorial election from Georgians and Stacey Abrams,' Jean-Pierre tweeted on April 2, 2020, reacting to a news story about Kemp saying he only just learned that asymptomatic people can spread COVID-19.

Abrams, the former Georgia House Democratic leader, alleged that Kemp, who oversaw the election in his role as secretary of state, engaged in voter suppression, even though she has admitted she has 'no empirical evidence' to prove it."
The silence is deafening. It's rather clear that almost everything liberals say is not motivated by principle, but rather convenience. It's like they have a flowchart that simply reads "does this help us win more power?" For the Party of Clinton-Obama-Biden, the only legitimate election is one in which Democrats win.
The choice of Jean-Pierre has also left CNN in a bind. The New York Post writes that the "new press secretary is already being accused of creating troubling conflicts of interest because of her long-term relationship with star CNN reporter Suzanne Malveaux." The two have a daughter. Why there wasn't a conflict before when Jean-Pierre played a major role in White House communications is anyone's guess. 
CNN has already been in hot water after the Cuomo Fiasco in which the network allowed younger brother Chris Cuomo to allegedly help Andrew Cuomo cover up thousands of deaths in nursing homes and a sexual harassment charge. I guess when your company is already scandal-plagued, with the CEO getting into trouble for harassment, the utter debacle of CNN+, and so forth, throwing another one on the pule isn't a big deal. 
The concerns come as Psaki herself has been criticized for the way she's exited the Administration. The watchdog group Protect the Public's Trust (PPT) recently called for the White House, Justice Department and U.S. Office of Government Ethics to investigate alleged conflicts of interest after news broke that the White House press secretary had secretly negotiated with MSNBC while continuing her job as President Joe Biden's press secretary.
Then again, we should just remember: rules are for the little guys, not Democrats. 
[Read More: Mass shortage of baby food threatens health of children]