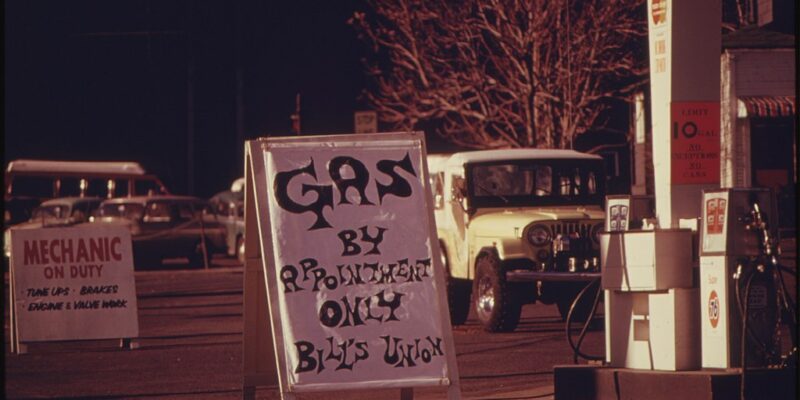 Joe Biden came to the Senate in 1973. Later that year, America experienced an oil crisis, one that The Smithsonian has said "caused widespread panic and led to profound shifts in U.S. culture." Now, as Biden mutters to himself as president, our country may be on the verge of a second oil crisis, especially as it relates to diesel fuel. 
Billionaire John Catsimatidis, CEO of United Refining Co., recently warned that this summer may see fuel shortages and rationing, especially on the East Coast. United operates an oil refinery in Warren, Pennsylvania, that can process 70,000 barrels of oil into gasoline, diesel fuel, and other petroleum distillates per day and distributes gasoline under the Kwik Fill and Keystone brands.
In an interview with Bloomberg, Catsimatidis said, "I wouldn't be surprised to see diesel being rationed on the East Coast this summer. Right now inventories are low and we may see a shortage in coming months."
"East Coast stockpiles of the fuel have fallen to the lowest in data going back to 1990. National inventories stand at the lowest in 17 years as the US has become the world's diesel supplier of choice. Fuel markets have been in disarray since growing bans against Russian products restricted one of Europe's main suppliers of energy. With exports draining U.S. tanks, the East Coast is feeling the pinch most acutely due to a lack of sufficient fuelmaking capacity there.

Consumers are already feeling the squeeze. Diesel prices have risen for the past 16 straight days and hit a new record of $5.553 a gallon Tuesday, according to the American Automobile Association. Gasoline prices rose to a new record of $4.404 a gallon.

Fuel supplies are tight across the country after refineries mothballed plants during the pandemic when fuel demand was decimated by stay-at-home orders. The East Coast suffered a particular blow after Philadelphia Energy Solutions permanently closed its refinery, which supplied the entire East Coast, in 2019 following an explosion.

Companies are already working around the tight diesel market in order to keep trucks on the road. Pilot Flying J Inc., which operates a chain of truck stops, adopted a contingency plan to keep certain East Coast markets fully supplied, according to Brad Jenkins, senior vice president of supply and distribution. The company is 'taking additional actions to secure extra supply and mobilize our fleet to deliver diesel to areas facing tight availability, such as Virginia and Georgia,' he said."
Catsimatidis also predicted that Americans would pay more for gas than ever before during the upcoming Memorial Day weekend. During the 2020 campaign, Joe Biden begged the CEO to help fund his campaign to defeat Donald Trump. 
As with inflation, which even Vox has blamed on the White House, President Biden has tried to blame everyone but himself for the increase of gas prices over the past year. The Wall Street Journal noted, "Another week, another example of the Biden Administration's energy incoherence. On Tuesday the President blamed record gasoline prices on Vladimir Putin. The next day the Interior Department announced the cancellation of three offshore oil and gas lease sales, setting up the possibility that there won't be any during his Presidency."
The Department of the Interior ended the potential to drill for oil in over a million acres in Alaska's Cook Inlet and canceled two lease sales in the Gulf of Mexico. In 2018 the United States became a net exporter of oil for the first time in 75 years until Democrats took the House later that year. Today, the same liberal members believe that production isn't the problem. Instead, they held hearings to blame oil companies for "price gouging." 
In March, Biden begged Saudi Arabia and Venezuela to produce more oil. He doesn't dislike oil production; he just doesn't want us to do it. The president's ban on energy production from public lands has been estimated to cost Americans $670 billion over the next 20 years. 
Politico recently predicted that natural gas is likely to be the next energy crisis our nation experiences. "Prices for another crucial fossil fuel — natural gas — have also surged to their highest levels in more than a decade, raising costs for everything from home heating and cooking to fertilizer, chemicals and wholesale electricity." The price of natural gas has tripled since the beginning of the year. 
[Read More: Biden Admin Handing Out Free Crack Pipes (Yes, Really)]