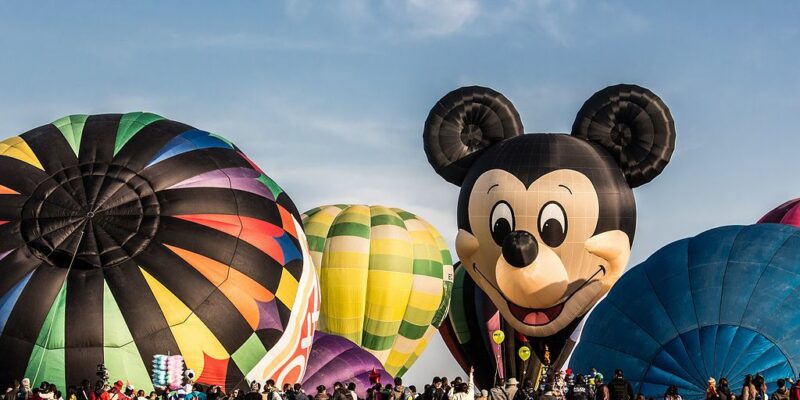 What has been pitched as "the most magical place on Earth" has been conquered by wokesters obsessed with gendered language. The homes of Mickey and Minnie Mouse recently announced that they would no longer be using "gendered greetings" at the children's entertainment company's theme parks. 
Outkick is reporting, "Those inside the budget-bursting theme parks will no longer be addressed or greeted by the phrases' boys and girls' or 'ladies and gentlemen.' 

If you're wondering if Disney has lost its magic, or its marbles, wonder no more. A recently released online meeting of various Disney execs makes the new policy very clear.

'We trained – we provided training for all of our cast members in relationship to that. So now they know it's 'Hello, everyone,' or 'Hello, friends," Vivian Ware, Disney's diversity and inclusion manager, can be heard saying on a conference call, per Christopher F. Rufo.

Not only will Disney greetings that amplify throughout the park no longer refer to guests as "ladies and gentlemen" and "boys and girls," but those who sell $7 Mickey Mouse pretzels and $5 bottled waters will refrain from using such phrases as well. Ware noted that employees working in food and beverage and guest-facing areas will not presume anyone's gender."
Rufo also documented Disney inclusion manager Vivian Ware saying, "We don't want to just assume because someone might be, in our interpretation, may be presenting as female, that they may not want to be called 'princess."
Disney is considered one of the most influential corporations on our culture. Millions of children across the country, and the world, are influenced by their decisions. A recent study stated, "It may appear that Disney's target audience is primarily children, but with its vast assets Disney's products reach the full spectrum of audiences from preschoolers to adults. Disney products include television programs, books, magazines, musical recordings and movies. Disney Channels Worldwide is comprised of 94 kid and family entertainment channels available in 169 countries." 
A large majority of those who visit the company's theme parks are six to twelve years old. In the wake of Florida Governor Ron DeSantis signing the Parental Rights in Education bill into law. Labeled "the Don't Say Gay" bill by its opponents, the new law stops teachers from instructing 5 to 8-year-olds about sexual orientation and gender identity. The Walt Disney Co. issued a statement opposing the legislation.
Rufo also posted a video of a Disney executive producer Latoya Raveneau saying that her team has implemented a "not-at-all-secret gay agenda" and is regularly "adding queerness" to children's programming as she spoke during "Disney's all-hands meeting about the Florida parental rights bill." 
Fox News also recently reported that many park-goers are upset by Disney's response. For example, one avid fan said, "Walt Disney would be rolling over in his grave over company's 'wokeness.'" 
Disney's latest release Turning Red sparked controversy by having scenes that focused on puberty and disobeying parents. Vox reported that audience reviewers at Rotten Tomatoes found some of the subjects unsuitable for children. "'Jon K' [wrote] that Pixar overstepped its bounds in a major way. 'Insanely inappropriate,' he wrote. 'Please leave the explanation of puberty to us parents and we'll leave the family entertainment … to you.' Jeana O was 'shocked for the huge emphasis on periods and sexual obsessiveness with boys (not something this audience is even thinking about right now and doesn't need to be concerned about).'
[Read More: Wapo Confirms Biden Scandal]