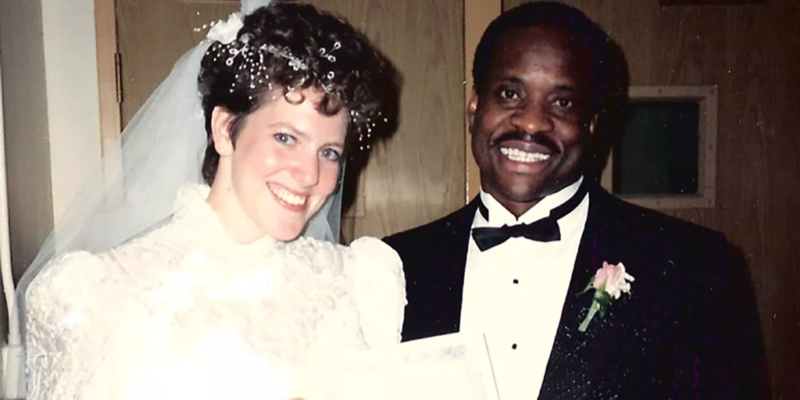 Update: The Supreme Court watcher SCOTUSBlog is reporting that Thomas has been discharged from the hospital. 
Update: The Supreme Court has still not updated the status of Justice Clarence Thomas. The longtime constitutional conservative on the Court was admitted to the hospital over the weekend due to a non-COVID-19 related illness. He was due to be released on Tuesday as his sickness "abated." However, as of Wednesday evening, the Supreme Court had still declined to share his status as Thomas unexpectedly missed another day of hearings. 
Supreme Court Justice Clarence Thomas has been hospitalized following the 73-year-old judge experiencing flu-like symptoms, according to an official statement from the court. On Friday, Thomas went to Sibley Memorial Hospital in Washington, D.C. Tests revealed he has an infection of some kind. He has been receiving antibiotics and is on the mend.
NBC has reported, "Thomas' symptoms were abating, he was comfortable, and he could be released in the next few days, the court said.
Thomas will participate in cases that he may miss by using briefs, transcripts and oral arguments, sometimes delivered virtually, the court said."
The judge's illness comes amidst the announcement from Stephen Breyer that he would be stepping down before this November's midterm elections. President Joe Biden has nominated Ketanji Brown Jackson, a federal judge on the United States Court of Appeals for the District of Columbia Circuit, who is facing Senate hearings this week. 
Brown would be the first African American woman on the Supreme Court and is facing criticism for her work defending detainees held at Guantanamo Bay under terrorism charges. "The Republican Party has branded Jackson as a "radical, left-wing activist" and suggested her representation of Guantanamo detainees was "'zealous,' going beyond just giving them a competent defense," according to A.P. 
The intellectual leader of the 6-3 conservative majority on the Court, Thomas has seen his wife attacked over the past few years because of her work in politics. Recently, leftwing media outlets, such as MSNBC, have called for his impeachment. 
The calls for the removal of the second-ever African-American to sit on the Supreme Court have stemmed from a conspiratorial profile of Ginni Thomas, his spouse of over three decades, in The New Yorker. Written by Jane Mayer, the same reporter who alleged without much evidence that then-Supreme Court nominee Brett Kavanaugh was a gang rapist in college, the liberal magazine asks, "Is Ginni Thomas a Threat to the Supreme Court?" The main gist of this charge is that she's a Republican.  
Since the passing of Ruth Bader Ginsberg and the appointment of Amy Coney Barrett in her place, Democrats, but especially liberal activists, have become more radical in their approach to the court, calling for impeachments, making wild accusations, and attacking rulings. Some, including popular N.Y. Rep. Alexandria Ocasio-Cortez, have even demanded the packing of the Supreme Court despite their slim majority in Congress.  
[Read More: Rising Wheat Prices May Cause Instability]