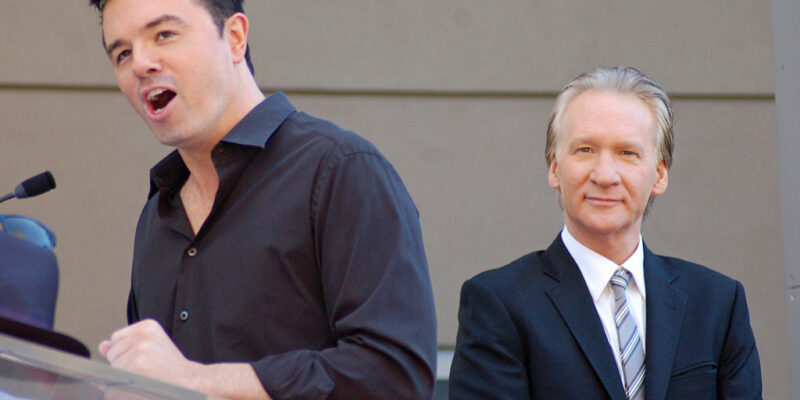 CNN is in full collapse, and they're hoping that they can be saved by hiring Bill Maher. The news channel recently announced the network will be adding the host of "Real Time with Bill Maher" to its lineup on Friday nights.
The network said the new programming change will begin on Feb. 3 and air during "CNN Tonight."
Maher has grown more popular because of his taking on of wokeness that he believes is destroying the Democratic Party (and the country).
Liberals are furious at the news. The leftwing The New Republic stated, "When Chris Licht took over CNN last year, he told employees he sought to make CNN "an organization that exemplifies the best characteristics in journalism," pillaring values like "fearlessly speaking truth to power" and "educating viewers and readers with straightforward facts and insightful commentary." Seeming to forget all of that, CNN will now be hosting Bill Maher's late night HBO segment, Overtime, every Friday night, beginning this week. Falling short of some of these pillars, Maher comes with a spanning history of issues.
Maher once questioned where Zayn Malik, the Pakistani-British member of One Direction, was during the Boston bombing and has described Muslims as dangerous and anti-American. He once said, "What if during Black History Month, we all bought lobster with food stamps? What if for Cinco de Mayo we all went swimming in blue jeans?" Maher also hosted alt-right commentator and alleged pedophilic advocate Milo Yiannopoulous. 
Maher hosted anti-vaxxer Jay Gordon, giving the "doctor" open and unopposed headway to peddle anti-vaccine talking points. He also praised Republican Governor Ron DeSantis for being a "voracious consumer of the scientific literature" on Covid-19. Maher said DeSantis "protected his most vulnerable population, the elderly, way better than did the governor of New York." As of January 30, Florida's seven-day average of Covid deaths stands at 53.6 deaths; New York's is 32.3.
Maher appeared on Chris Cuomo's show to talk about the need for "an honest history of racism," only to then use right-wing terms to denounce "critical race theory," manufacturing a nonexistent conflict between the two ideas."
Desperate times call for desperate measures, though, and things are becoming quite desperate at CNN. They recently fired many of their liberal "hacks" as they looked to cut costs. 
Ted Turner's baby "just notched its lowest ratings in nine years across all its day parts for the week of Jan. 16 through Jan. 22, 2023, according to Nielsen averaging just 444,000 viewers in primetime, 93,000 in the all-important age 25-54 news demographic and 417,000 in viewers and 80,000 in the demo for total day. It's the first time since May 2014 that the network failed to reach 450,000 viewers, The Wrap wrote.

By comparison, during the same period Fox News drew 1.4 million viewers and 176,000 in the demo while MSNBC notched 629,000 total viewers and 69,000 in the demo. In primetime, Fox News had 2 million viewers, 256,000 in the demo and MSNBC had 943,000 viewers and 91,000 in the demo.

Some especially troublesome news out of this week's Nielsen numbers is that Licht's primary programming move, "CNN This Morning," also suffered the lowest week since its launch just three months ago. It averaged just 331,000 viewers while "Fox & Friends" had nearly 1 million and "Morning Joe" drew 760,000.

Licht hand-picked CNN's Don Lemon, Poppy Harlow and Kaitlan Collins to host the rebooted morning show. But so far that trio is failing to grow its audience. An individual with knowledge of the situation told TheWrap exclusively last week that EP Eric Hall was being reassigned to "CNN Tonight," hosted by Laura Coates, signaling that Licht is aware that the show needs to perform better."
Semafor had previously reported that "CNN is considering hiring a comedian to host one of its prime time shows.
The 'news entertainment' personality could fill the primetime 9 to 11 p.m. hours with a nontraditional version of the news, five people familiar with the planning said. CNN executives have floated names including Bill Maher, Trevor Noah, Arsenio Hall, and Jon Stewart, and have looked at other comedic news-focused talk shows for inspiration.
CNN president Chris Licht hinted at his desire to sign Stewart in an interview last year with the New York Times, saying he'd love to bring on the former late night host, but Stewart remains under contract with Apple.
Maher is a potentially more realistic prospect: The host of HBO's long-running weekly show that bears his name is already in-house at Warner Bros. Discovery, CNN's parent company (Puck's Matt Belloni reported this week that CNN is in talks to begin airing some of Maher's weekly extra HBO segments)."
They apparently got their man, or at least they get him for one segment on Fridays. The hope at CNN is to mimic the success of Greg Gutfield, who has been crushing the competition at Fox News. 
Forbes wrote last fall, "Something's happening in late night. On Tuesday night, Fox News Channel's Gutfeld! delivered a total audience of 2.5 million viewers, a staggering audience for a late-night show on cable, and the second biggest night in the history of Greg Gutfeld's politics-and-comedy program.
With 2.494 million total viewers and 396,000 viewers in the key demographic group of adults 25-54, Gutfeld! beat not just everything else on cable, but the high-profile broadcast networks' late night shows as well. CBS' The Late Show with Stephen Colbert was a close second with 2.1 million viewers and 375,000 viewers in the key demo, followed by NBC's The Tonight Show (1.289 million viewers and 318,000 in the demo), and ABC's Jimmy Kimmel Live (1.285 million total viewers and 287,000 viewers in the key demo)."
[Read More: Jury Smacks Joe Biden's Attempt To Silence Pro-Lifer]