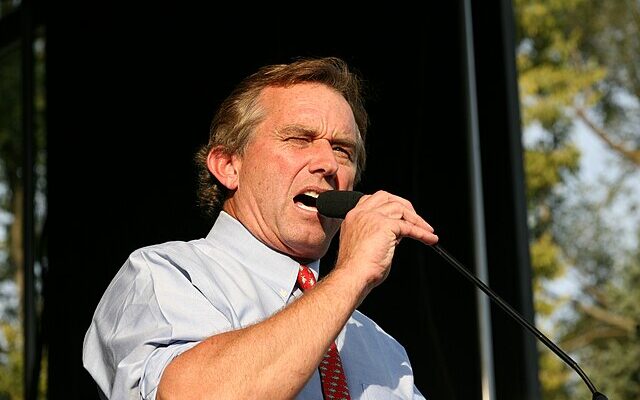 There is nothing that Democrats (and Republicans) hate more than giving voters more choices. Over the past few months, in the name of "protecting democracy" and stopping a second Trump term, liberals in the media have begun panicking over high-profile candidates running as third parties in the presidential election. 
They demand that Americans pick between two people the country strongly dislikes, hoping that Joe Biden can be slightly less hated than Donald Trump and using his re-election as a mandate to justify their unpopular policies to overhaul society. 
A new report shows that this time around, Democrats should be fearful. 
With another close presidential election expected in 2024, third parties are likely to impact the general election in key battleground states if there's a rematch between former President Donald Trump and President Joe Biden, polling analysts and political observers told the Daily Caller News Foundation.

Multiple third-party candidates could be on the ballot in 2024, including a Green Party candidate, a No Labels candidate, a Libertarian Party candidate and likely Robert F. Kennedy Jr. as an independent. Several polling analysts and political strategists believe that the additional third-party candidates will likely siphon off more support from Biden, which could allow Trump to return to the White House in 2024, they told the DCNF. 

"If there is a rematch between Biden and Trump, there are going to be a significant number of voters who hold negative views of both candidates, given that both have favorability numbers only around 40% and unfavorability over 50%. Those are conditions ripe for heightened third-party voting," Kyle Kondik, nonpartisan polling analyst and managing editor for Sabato's Crystal Ball at the University of Virginia's Center for Politics, told the DCNF. "I wouldn't expect the third-party vote to be all that large, but the margins in key states are likely to be so small that the third-party candidates could end up playing spoiler."

Cornel West is running for the Green Party nomination, many are running for the Libertarian Party nomination and centrist organization No Labels is considering running a third-party ticket in 2024, with West Virginia Democratic Sen. Joe Manchin often mentioned as a potential contender. Kennedy, who is currently seeking the Democratic Party nomination, is expected to switch his party affiliation to run as an independent in Philadelphia on Oct. 9.
Robert Kennedy, Jr. has been a particular thorn in the president's side since the beginning of the year. Using his famous name and well-heeled connections, the son and nephew of Camelot has raised millions while demanding a debate with Biden. 
Most recently, the Democratic candidate got help from rocker Eric Clapton to raise $1 for his presidential campaign at a private fundraiser.
The Hill writes, "Clapton and his band performed at an event, which raised a total of $2.2 million, including $1 million for Kennedy's campaign and $1.2 million for a political action committee supporting him.  
'I am deeply grateful to Eric Clapton for bringing his musical artistry and rebellious spirit to my gathering in Los Angeles last night," Kennedy said in the press release, which described the Monday night event as a "once-in-a-lifetime musical performance.'
Kennedy's campaign announced in late August that Clapton would perform at the private fundraiser, which reportedly offered tickets starting at $3,300, up to a maximum of $6,600."
Biden has found RFK Jr so "annoying" that he has refused to grant his fellow Democrat the protection of Secret Service despite his family's history. 
Kennedy also recently released a video teasing a "major announcement" that he claims will spark a "sea change in American politics" that has gotten the fearful attention of leaders in the Democratic Party.  
"How are we going to win against the established Washington interests?" Mr. Kennedy says in the video. "It's not through playing the game by the corrupt rules that the corrupt powers and the vested interests have rigged to keep us all in their thrall. Instead, we're going to have to rewrite the assumptions and change the habits of American politics."
"What I've come to understand after six months of campaigning: There is a path to victory," he declares at another point, saying that the more he sees the inherent goodness of the American people, "the more the path to victory becomes visible."
Mr. Kennedy's top aides declined to elaborate to The New York Times "about his intentions. But his supporters have expressed frustration with the Democratic National Committee's primary process, which has been geared toward backing Mr. Biden's re-election bid.
"It's kind of obvious," said Lincoln Chafee, the former Rhode Island governor and senator, who is backing Mr. Kennedy. "The primaries are so rigged, there's no debates."
Mr. Kennedy, he added, "has to look at his options."
Liberals have watched Mr. Kennedy's candidacy nervously since it began in April. They fear that any third-party candidacy could siphon off crucial votes from Mr. Biden, ultimately helping former President Donald J. Trump, the current favorite to be the Republican nominee."
Democrats are right to feel uneasy about the potential rise of third parties in 2024. NBC News noted, "As discontented Americans consider having to choose between President Joe Biden and former President Donald Trump at the ballot box next year, almost 15% of registered voters say, when presented with the choice in the new NBC News poll, that they will vote for a third party or independent candidate in the latest NBC News poll.
That would be a major increase from the less than 2% of voters in 2020 who actually voted for a candidate other than Biden or Trump.
When given five options, 39% of voters said they would vote for Trump, 36% said they would vote for Biden, 5% said they would vote for a Libertarian candidate, 5% said they would vote for a No Labels candidate and 4% said they would vote for a Green Party candidate."
Democrats, who have spent the last four years claiming to be champions of democracy, along with President Biden, who plans to make his re-election campaign revolve around "defending democracy," have been working for months to keep groups like No Labels and the Green Party from having ballot access in the upcoming election. 
Democracy for these "champions" appears to be less about representation and choice and more about validating their own power. 
[Read More: National Landmark Attacked]