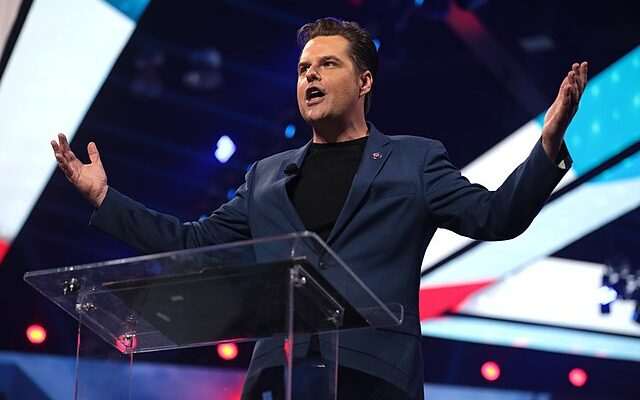 Conservative Congressman Matt Gaetz has decided that enough is enough when it comes to Kevin McCarthy and it might eventually lead to his expulsion from Congress if the Speaker's allies get their way.
On Sunday the Florida congressman made the announcement during an interview with CNN that he would file a motion to vacate against McCarthy this week, which would take the leadership of the House of Representatives away from the California Republican and put it back up for grabs.
"I think we need to rip off the Band-Aid," Gaetz said. "I think we need to move on with new leadership that can be trustworthy."
The move represents an intense escalation of House conservatives' hostility towards McCarthy. Gaetz' commitment comes after the speaker relied on Democrats to pass a short-term, stopgap spending measure – referred to as a continuing resolution – to keep the government open and avert a shutdown on Saturday.

Gaetz has repeatedly threatened to file a motion to vacate if McCarthy ever reached across the other side of the aisle to pass a continuing resolution. Instead, Gaetz pushed for GOP leadership to pass the 12 appropriation bills necessary to fund the government long term, even if it meant leading the country to a government shutdown, wrote USA Today.

"We have to move to single-subject spending bills," Gaetz said. "That's why we now have to move to vacate because we have to get a system where the House and Senate will negotiate over each of these agencies of government independently.

Reacting to Gaetz' promise to oust him from the speakership, McCarthy brushed off the Florida conservative's threats and openly welcomed the challenge in an interview on CBS' "Face the Nation" on Sunday.

"That's nothing new. He's tried to do that from the moment I ran for office," McCarthy said. "I'll survive. This is personal with Matt."
Gaetz later responded to McCarthy's quip, saying, "This isn't personal….This is about the deal Kevin McCarthy made. If Kevin McCarthy didn't want to keep the deal to return to pre-COVID spending, if he didn't want to keep the deal to have single subject spending bills, not vote for government spending all up or down at once, then he shouldn't have made that deal. So this is about keeping Kevin McCarthy to his word. It's not about any personal animus." 
Fox News noted that "the House Ethics Committee has been investigating Gaetz since 2021 on allegations, including campaign finance violations as well as claims of taking bribes and using drugs – accusations the congressman has vehemently denied. Gaetz also denies allegations leaked from a Justice Department sex trafficking probe said to have involved an underage girl."
Gaetz is looking at a possible expulsion from Congress if the Ethics Committee. Fox also reported that "House GOP members are preparing a motion to expel Rep. Matt Gaetz, R-Fla., amid his renewed threat to pursue a motion to vacate House Speaker Kevin McCarthy.
The House Republican members will seek to expel Gaetz if the ethics committee report comes back with findings of guilt, Fox News has learned. One member told Fox News the report is mostly written but does not know what it contains. Yet following threats to vacate McCarthy, the member said of Gaetz, "No one can stand him at this point. A smart guy without morals."
It takes a two-thirds vote to expel. And Republicans are treading on thin ice with their majority. The House is down to 433 members. It's unclear where things stand with federally indicted Rep. George Santos, R-N.Y. If you were to have members expelled, retire or die, the majority could be right on the edge for the GOP."
Gaetz has said he won't back down, however, 'If Kevin McCarthy is still the speaker of the House, he will be serving at the pleasure of the Democrats. He will be working for the Democrats. The only way Kevin McCarthy is speaker of the House at the end of this coming week is if Democrats bail them out now, they probably will.'" 
"I will make no deal with Democrats and concede no terms to them. I actually think Democrats should vote against Speaker McCarthy for free. I don't think I should have to deal with that," he continued.
The comment is strange coming from Gaetz because in the middle of last month, the Florida congressman openly pitched working with Democrats to overthrow McCarthy. 
"Such a gambit to try to bounce a speaker in the middle of a Congress is rare," Fox News wrote. "Former Rep. Mark Meadows, R-N.C., threatened to use the tactic on House Speaker John Boehner, R-Ohio, in the summer of 2015. Boehner saw the writing on the wall and resigned that October. The House last saw a formal effort to remove a speaker in 1910." 
McCarthy was able to solidify his control over the Republican House caucus with the help of Donald Trump last January. The Speaker was only able to gain enough votes to lead after winning the former president's backing.
Long seen as an ally to Trump, Gaetz responded with mockery: "Sad!" Gaetz said in a statement to Fox, mocking Trump. The Florida congressman continued, however, "This changes neither my view of McCarthy nor Trump nor my vote."
The division in the House over Kevin McCarthy has also divided the candidates running for president. While the Speaker appears to have the support of Donald Trump, his challenger, Ron DeSantis, has encouraged conservatives in the lower chamber to "keep fighting." 
"DeSantis served in Congress from 2013 to 2018, where he was a founding member of the House Freedom Caucus, a far-right group that mostly opposes McCarthy on the stopgap spending bill. 
DeSantis has mostly been attacking McCarthy at the same time he brings up Trump. In a Fox Business interview Tuesday, DeSantis was asked for a response to McCarthy's comments. He responded that both Trump and the speaker have "added trillions and trillions of dollars to the debt — even when we had a unified Republican government." 
During a press conference in Jacksonville, Florida, Monday, DeSantis disparaged McCarthy as a "D.C. establishment" figure and cast doubt on whether McCarthy would have won the speakership without Trump's assistance. He also repeatedly mentioned that the 2022 Republican congressional wins in Florida were "instrumental" in securing the House majority for Republicans," reported CBS. 
Gaetz is expected to make his move as early as Monday morning. 
{Read More: Dems Worst Fear Becoming Reality}