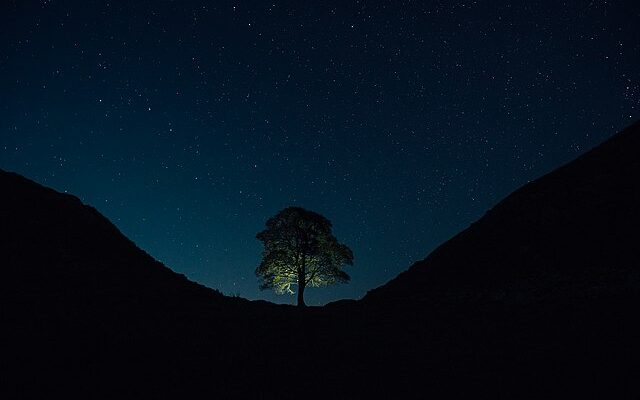 In a sickening act, someone has chopped down a world-famous tree located at Sycamore Gap alongside Hadrian's Wall in Great Britain. Hadrian's Wall, constructed approximately 2,000 years ago during the Roman Empire's control of Britain, features a UNESCO World Heritage Site with a notable tree serving as one of its primary landmarks.
The Guardian writes, "Shock, sadness and anger over the destruction of the 300-year-old Sycamore Gap tree have been expressed by readers contacting the Guardian with personal memories of its picturesque presence.
The tree meant so much to so many. A local man, Michael Palmer, summed it up: 'Sycamore Gap is a Northumberland symbol, more than a piece of landscape, more than just a tree; it's as instantly recognisable as the Palace of Westminster or the Liver Building.'"
Authorities have actively begun an investigation into the matter following the emergence of pictures on Thursday morning showing the tree toppled over near the wall, indicating that it may have been deliberately felled.
VIDEO: 🇬🇧 One of Britain's most famous trees cut down

The #SycamoreGap tree next to the Roman-era Hadrian's Wall in Northumberland, northeast England, was "deliberately felled", authorities said. A 16-year-old boy has been arrested on suspicion of causing criminal damage pic.twitter.com/8lAJZ6sSiV

— AFP News Agency (@AFP) September 29, 2023
On Thursday morning the national park authority said: "(We) can confirm that sadly, the famous tree at Sycamore Gap has come down over night. We have reason to believe it has been deliberately felled, reports The Independent.

"We are working with the relevant agencies and partners with an interest in this iconic North East landmark and will issue more details once they are known."

Northumberland County Council Leader Glen Sanderson expressed his shock and anger at the "absolutely terrible" incident.

"Today is a very sad day for our county. I am finding it difficult to express the shock, anger and hurt I feel at the destruction of this iconic landmark," He said.

He added: "The Sycamore Gap tree has stood for centuries and is known throughout the world. For it to be felled in what is clearly a deliberate act is absolutely terrible and I'm sure I speak for everyone in the county when I say how upset I was when I heard the news this morning."
In an update, police have announced that a 16-year-old boy has been arrested in connection with the incident. 
This afternoon, we've arrested a 16-year-old male in connection with the incident. He remains in police custody at this time and is assisting officers with their enquiries.

Given our investigation remains at a very early stage, we are keeping an open mind. (2/3)

— Northumbria Police (@northumbriapol) September 28, 2023
The police have not yet announced a motive, but it would not be unreasonable to worry that the destruction of a national symbol is part of an ongoing campaign by to attack artwork and other landmarks to force the western world away from fossil fuels.  
Last autumn two young activists in England attacked the famous "Sunflowers" painting by Vincent Van Gough. 
Activists with @JustStop_Oil have thrown tomato soup on Van Gogh's Sunflowers at the national Gallery and glued themselves to the wall. pic.twitter.com/M8YP1LPTOU

— Damien Gayle (@damiengayle) October 14, 2022
New Conservative Post described the horrifying scene as two young protesters "removed jackets to reveal Just Stop Oil T-shirts, threw a can of Heinz soup over the 1888 artwork shortly after 11 a.m. on Friday, before glueing themselves to a wall.
The climate campaign group targeted Scotland Yard a few hours later, where 24 people were arrested after activists sprayed orange paint on a sign outside the building and glued themselves to the road outside.
Art historians warned that if activists continued to target great works of art in public galleries extra security measures, which force visitors to view paintings from afar, may be introduced."
In May, roughly ten activists "from the climate group Ultima Generazione (Last Generation) entered the 18th century late-Baroque fountain holding a banner that said, "Let's not pay for fossil campaigns considering what is happening in Emilia Romagna," referring to the deadly flooding in northern Italy, which some experts have linked to the climate crisis.
'Our country is dying,' other banners stated.
All activists were arrested and face vandalism charges, Rome police told CNN.
All might not be lost for the famous tree, however. NPR reports that "The National Trust's rangers are working to salvage what they can from the famous tree, hoping to preserve its genetic legacy.
"Regrowth from the original tree stump should be possible but it's too early to tell," Heard said. Even if that happens, she added, the tree's dramatic effect wouldn't be the same, as multiple stems would emerge rather than one.
Seeds and grafting are also being explored, Heard said: "Our ranger team have been on site today to collect seed and scion wood (i.e. this season's growth, which is suitable for grafting)."
'Although it's not the ideal time of year to attempt either, we will see if we can get some of the seeds to germinate and produce new trees,' she said. The team also plans to use scion wood for grafting, and to combine individual growth buds onto rootstocks, with the goal of 'retaining the tree's unique, genetic material.'"
[Read More: Late Entrant Into Race Could Shake GOP]