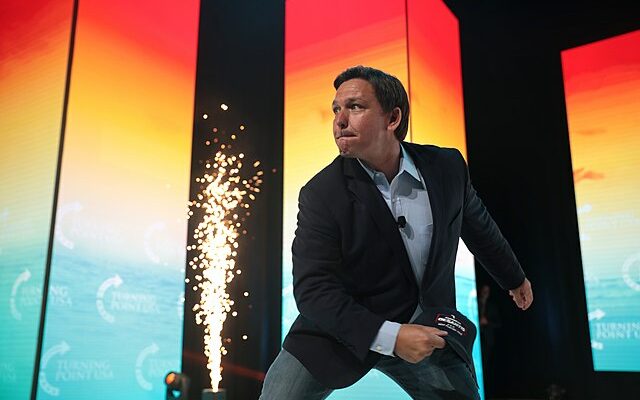 Ron DeSantis infuriated his opponents, both Donald Trump supporters and Democrats alike, on Thursday when he announced that he'd be doing something that Joe Biden had so far refused to do. The Florida governor signed an executive order to charter flights into Israel and bring back stranded American citizens caught in a war zone. Under his direction, DeSantis ordered the Florida Division of Emergency Management to coordinate flights that would bring 1,000 or so American citizens and Florida residents back to the United States.
This was in stark contrast to Joe Biden who would only ship Americans to other places in Europe while demanding the sign promissory notes to pay back the government and Donald Trump, who, despite owning a jumbo jet himself, has focused on criticizing Israel's prime minister.
Terrorists have murdered at least 1,200 Israelis and 22 Americans and are holding more hostage, so it is absurd that anyone, much less someone running for President, would choose now to attack our friend and ally, Israel, much less praise Hezbollah terrorists as "very smart."

As… pic.twitter.com/408e82OVDP

— Ron DeSantis (@RonDeSantis) October 12, 2023
Now some of those Americans protected by DeSantis have made it back home safe. Politico reports that "the flight carrying 270 people landed in Tampa, where DeSantis and Florida first lady Casey DeSantis greeted passengers. Another flight carrying seven people landed in Orlando.

Florida partnered with Tampa-based nonprofit rescue organization Project DYNAMO to arrange the flights. The governor's office didn't immediately respond to a question about the flights' cost and whether the state will be providing more help to get people home if they live in another part of the state. A statement sent by the governor's office did say that passengers weren't being charged for the flights.

DeSantis, who's running for the 2024 Republican presidential nomination, has said President Joe Biden hasn't done enough to help stranded Americans.

"There was a devoid of leadership so we stepped up and led," DeSantis said Sunday night in a video posted on X.

The Biden administration announced it too was sending flights to Israel, though the State Department is bringing people to European countries — not to the U.S. — and asking passengers for a refund.
91 children were passengers on the first jet to return to Florida safely.
We are getting ready to welcome hundreds of people who were stuck in Israel back to the United States of America. pic.twitter.com/4gYyDI09DK

— Ron DeSantis (@GovRonDeSantis) October 16, 2023
"These kids are having to dodge rockets, these kids are having terrorists come after them," DeSantis told NBC News at the Tampa airport. "Not the way this world should be."
In an interview with NBC News, one of the evacuees who arrived in Florida after huddling in a bomb shelter in Israel said "on an emotional level it is very overwhelming to be in a situation of where you have a fear of your life."
Project DYNAMO is a veteran-led professional rescue organization located in Tampa, Florida. The organization "was established in response to the U.S. troop withdrawal from Afghanistan when hundreds of American Citizens and thousands of our Allies were left behind. Little did we know that over two years later, we would still have a need to rescue American Citizens from conflict-zones and natural disasters both overseas and on the U.S. Homeland.
To date, Project DYNAMO has rescued more than 6,075 men, women, children, and babies. We have also rescued hundreds of pets from harm's way for families who have lost everything.
Project DYNAMO operates in 'The Grey Space' where the U.S. government is not. This means, when the government is unable or unwilling to provide assistance, DYNAMO responds & deploys."
It's got to be tough these days to be Adam Kinzinger, knowing that you have to hit DeSantis for trying to make things better or else you could lose your CNN job. 
You're a governor. You have no power here <eye roll> https://t.co/0MWi81s4wX

— Adam Kinzinger (Slava Ukraini) 🇺🇸🇺🇦 (@AdamKinzinger) October 13, 2023
DeSantis wasn't content to merely bring some of his citizens back home, however. The Florida governor also called out Biden for supporting Gaza rather than focusing on freeing American hostages. 
"Innocent Americans and Israelis are being held hostage by Hamas terrorists, yet Biden is more focused on sending 'humanitarian aid' to Gaza that will be commandeered by Hamas terrorists," the GOP presidential candidate posted on Twitter.  
"Biden should work with Israel to free all American and Israeli hostages, not shower Hamas with money."
"Palestinian leadership is already bankrolling Hamas' atrocities against Israel and Biden wants to send aid into Gaza that will further support terrorist activity," DeSantis said in a follow-up post. "As President, I wouldn't send a single dollar into Gaza."
Biden, wrote Fox News, "has been widely criticized by Republicans for not moving quickly enough to secure the release of American hostages in Israel following the Hamas attack on Oct. 7 as well as not doing enough to help the thousands of Americans stranded in Israel find a way home."
The president intends to visit Israel on Wednesday. He has warned Israel not to occupy Gaza and earlier on Tuesday refused to call out antisemitism on his own side, instead focusing on fighting "hate."
There are certain core values that should bring us together as Americans.

One of them is standing together against hate, racism, bigotry, and violence that have long haunted and plagued our nation.

Everyone has a role to play.

— President Biden (@POTUS) October 16, 2023
The move was similar to the one Democrats pulled after receiving criticism for refusing to condemn antisemitic comments Rep. Ilhan Omar from Minnesota in 2019. 
The Washington Post wrote at the time that calling out antisemitism in the president's party caused a "bitter intraparty dispute, which centered on remarks by freshman Rep. Ilhan Omar (D-Minn.) that many in both parties viewed as anti-Semitic, resulted in the passage last week of a resolution broadly condemning hatred that received unanimous support from Democrats — yet served to underscore Pelosi's deep challenges in bridging schisms of race, religion, age and gender within her vastly diverse caucus."
Again, if Democrats can't call out basic antisemitism, the problem is not their "vastly diverse caucus." The problem is that the party appears to be filled with antisemites.  
[Read More: 'Ally' In Middle East Routinely Backstabs United States]