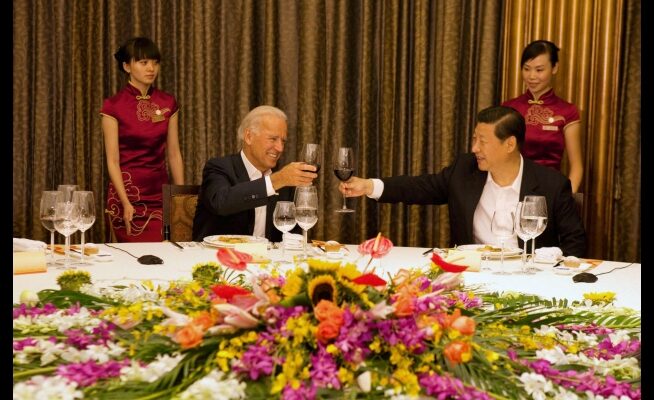 Communist China has upped its use of covert influence operations, a recent congressional report showed. Director of National Intelligence Avril Haines deemed the Chinese Communist Party the "most consequential threat to U.S. national security" during her opening statement before the Senate Intelligence Committee earlier in the week as she unveiled the intelligence community's annual threat assessment. 
"In brief, the CCP represents both the leading and most consequential threat to U.S. national security and leadership globally," Haines told Congress. "Its intelligence, specific ambitions and capabilities make it for us our most serious and consequential intelligence rival." 
Director of National Intelligence Avril Haines warns senators on Capitol Hill China challenging the U.S. is an "unparalleled priority" @OrenCNN reports pic.twitter.com/SDKMYRTRAp

— The Lead CNN (@TheLeadCNN) March 8, 2023
Fox News noted that "Chinese President Xi Jinping, recently elected to a third, five-year term, gave a speech this week which Haines categorized as "the most public and direct criticism that we've seen from him to date, and probably reflects growing pessimism in Beijing about China's relationship with the United States, as well as Xi's growing worries about the trajectory of China's domestic economic development and indigenous technology innovation challenges that he now blames on the United States.
"The next few years are critical as strategic competition with China and Russia intensifies, in particular of how the world will evolve and whether the rise of authoritarianism can be checked and reversed," Haines continued. "The People's Republic of China, which is increasingly challenging the United States economically, technologically, politically and militarily around the world, remains our unparalleled priority. Chinese Communist Party, or CCP under President Xi Jinping, will continue efforts to achieve Xi's vision of making China the preeminent power in East Asia and a major power on the world stage." 
"To fulfill Xi's vision, however, the CCP is increasingly convinced that it can only do so at the expense of U.S. power and influence," she said. "And by using coordinated whole of government tools to demonstrate strength and compel neighbors to acquiesce to its preferences, including its land, sea and air claims in the region and its assertions of sovereignty over Taiwan."
One way the CCP looks to undermine America is through "influence campaigns," according to DNI testimony. 
The Washington Times reported that "the most recent DNI annual threat assessment warned China's recent efforts are nearing the aggressive intensity of similar covert disinformation operations coming from Russia, including the use of intelligence agents, cyber tools and social media to meddle in U.S. elections, weaken national security laws and exacerbate domestic divisions.

'Beijing's growing efforts to actively exploit perceived U.S. societal divisions using its online personas move it closer to Moscow's playbook for influence operations,' the assessment states.

Key targets of the Chinese influence campaigns are attempting to soften U.S. support for Taiwan and limit criticism of human rights abuses in Xinjiang, that the State Department identified in 2021 as an ongoing genocide against minority Uyghurs and others in China.

The CCP is also working covertly to influence Americans' views of the Chinese crackdown on democracy in Hong Kong and repression of Buddhists in Tibet."
Another way Beijing has tried to impact American society is by infiltrating colleges and universities, think tanks, and other academic institutions, according to other leaders in D.C. Rep. Greg Murphy, a Republican from North Carolina and one of Congress's staunch China hawks, wrote an op-ed describing the way that the CCP has worked to influence our college campuses and steal valuable American innovations.
The congressman said, "This year, we were all rattled by the news of a spy balloon meandering its way across the continent. While this was an alarming episode, it was not the beginning of the Chinese invasion. It is the inconvenient truth that China has been infiltrating American universities for decades in a coordinated effort to hijack and influence the education of future generations in America. We need not look any further than the malignantly misnamed Confucius Institutes and the siphoning of taxpayer-funded, American intellectual property for proof of Chinese influence at universities.
It is well known now that state-backed Confucius Institutes are not innocent cultural centers. In reality, Confucius Institutes are financed and supervised by the CCP to serve as a propaganda arm on foreign shores against the United States. By promulgating poisonous communist ideology on students, it has a direct and dangerous influence on millions of young Americans.
But Communist China is not just influencing college students – it's actively stealing our research and intellectual property.
Communist China's Thousand Talents Program is a state-sponsored initiative to place scientists in highly sensitive American labs, only to lure them back via hefty checks in order to glean American research and intellectual property.
According to a recent report, at least 154 Chinese scientists who worked at the Los Alamos National Laboratory – where nuclear weapons were first developed – have subsequently been lured back to China to help make advances in such technologies as deep-earth-penetrating warheads, hypersonic missiles, quiet submarines, and drones.
Some of them were paid as much as $1 million to return to China, equipped with their newfound American research."
The DNI report comes as the Biden administration is losing its second-ranking diplomat following her weakness related to China. Deputy Secretary of State Wendy Sherman announced that she is retiring, leaving a trail of weak foreign policy decisions in her wake. 
"Sherman had taken the primary role in directing the State Department's China policy under Blinken, and that there was dissent within the department about how Sherman handled China following the Chinese Communist Party (CCP) flying a spy balloon over the continental United States in February," wrote The Daily Caller.
Blinken had been scheduled to make a high-profile visit to Beijing around the same time the balloon was discovered, but the administration canceled the trip due to "conditions" not being right. The State Department has maintained the trip was only postponed, not canceled, and that it will eventually be rescheduled in due course.
There had been a series of steps the administration was planning to take, from sanctions to export controls, in an attempt to counteract China prior to the spy balloon incident. But after the balloon was shot down and Blinken's trip canceled, Sherman ordered the delay of those measures due to a concern about further undermining American relations with Beijing, Reuters reported, citing multiple sources in the department and internal emails it had reviewed.
The Biden administration has generally taken a softer rhetorical approach to China than Beijing has taken toward Washington. Beijing's top foreign policy officials often tout the CCP's "wolf warrior" diplomacy strategy, which has led to baseless accusations toward the United States on every topic from human rights to foreign interference. Contrarily, the State Department, under the leadership of Blinken and Sherman, has consistently referred to China as a competitor rather than an adversary, and has emphasized areas where the U.S. would like to cooperate with the CCP."
[Read More: Dems Blame Car Companies For Car Theft, Not Their Own Terrible Policies]