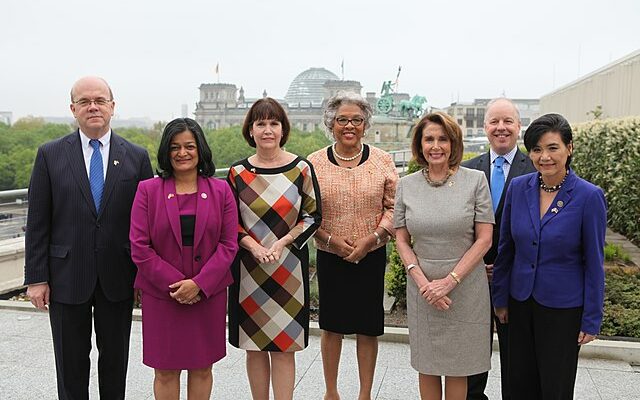 As noted here and elsewhere, Democrats and their liberal allies in the media have a growing antisemitism problem. Whether it is the leader of the Democratic caucus in the House supporting avowed antisemite Louis Farrakhan or liberal co-host of The View, Whoopie Goldberg, denying the reason behind the Holocaust, the Left in the United States has been Jewish people over the past few years. 
Throughout the protests and burning of cities that followed the death of George Floyd in 2020, many Jewish neighborhoods were attacked by protesting lefties. For example, in Los Angeles, The Times of Israel noted, "graffiti on the walls of a synagogue read "Free Palestine" and "f*** Israel." A statue of Raoul Wallenberg, the Swedish diplomat who saved thousands of Hungarian Jews from the Nazis, was smeared with anti-Semitic slogans.
Along with the synagogues, Jewish-owned buildings and stores were defaced, in several cases also with anti-Semitic graffiti. The businesses were looted, too.
This city's Fairfax district, a heavily Jewish area that has been continuously represented by a Jewish city councilman since 1953, was hit particularly hard by the kind of vandalism that has struck major cities following the killing of George Floyd in police custody."
As Democratic leaders try to keep a lid on the boiling pot, "The Squad" is making matters worse, taking extreme positions against Israel as a cover for the rise of antisemitic sentiment from themselves and their allies. 
At least four members of the Democratic Party's progressive "Squad" announced they would boycott Herzog's address to Congress this Wednesday. The group includes Reps. Alexandria Ocasio-Cortez (D., N.Y.), Jamaal Bowman (D., N.Y.), Cori Bush (D., Mo.), and Ilhan Omar (D., Minn.). Omar and fellow progressive Rep. Pramila Jayapal (D., Wash.) drew widespread scrutiny over the weekend for criticizing Israel, which Jayapal slammed as a "racist state," reports The Washington Free Beacon.

Herzog's visit comes days after President Joe Biden denounced Israel's governing coalition as "extremist." Until Monday, when Biden spoke to Israeli prime minister Benjamin Netanyahu by phone and made plans to meet with him in person, the two had not talked in months, and Biden's invitation to Herzog, who has been a critic of Israeli judicial reforms backed by Netanyahu, was viewed as a rebuke. It was also a move that some Jewish community leaders say has emboldened Israel-bashing within the Democratic Party.

"The Biden administration has created an atmosphere that is literally anti-Israel, that doesn't respect democracy," former Democratic New York assemblyman Dov Hikind told the Washington Free Beacon. "When the prime minister is not invited to the White House, which is a tradition going back decades and decades and decades, what message does that send? That gave a green light to these [anti-Israel] radicals."

Speaking at the left-wing Netroots Nation conference Saturday, Omar called for voters to elect to Congress "Palestinian people who have now experienced occupation and displacement for 75 years." At the same event, Jayapal, the chairwoman of the Congressional Progressive Caucus, said she was "fighting to make it clear that Israel is a racist state."
Civil rights attorney Leo Terrell criticized Jayapal's recent anti-Israel comments as "anti-Semitic."
"That was a very, very strong anti-Semitic statement. She is head of the congressional progressive caucus within the Democratic Party. As a prerequisite, you have to be anti-Israel. I'll tell you right now, what bothers me is I have not heard from Joe Biden criticizing her, I have not heard from Kamala Harris, I have not heard from the secretary of state. Crickets. Why? Let's be very clear because this is too important. There is a strong anti-Israel, antisemitic wing in the Democratic Party. Everyone knows that and she walked it back a little bit only because of the donors on K street. This woman hates Israel along with Omar and Talib and all the members of the progressive wing," The Daily Caller detailed.
Speaker of the House Kevin McCarthy laid into the antisemitism coming out of certain Democratic corners. The Hill reported that when he was "asked about Jayapal's comments — which were made during a progressive conference Saturday — McCarthy noted Democrats who have come under fire in the past for making antisemitic remarks, telling reporters 'this isn't the first person in the Democratic conference that has continued to make antisemitic comments.'
'We've watched what they have continually to do," he continued. "There are a number of them over there. I think if the Democrats want to believe that they do not have a conference that continues to make antisemitic remarks, they need to do something about it.'
He specifically called on House Minority Leader Hakeem Jeffries (D-N.Y.) to "prove" that Democrats are not antisemitic.
'I think this is a role for the leader, Hakeem, to prove that no, they're not antisemitic,' McCarthy said. 'And they cannot allow their members to continue to see what they have said in the past.'"
Democrats in the House responded to the Speaker's call. CNN noted that a "draft statement signed by a handful of other House Democrats and circulating among lawmakers' offices on Sunday expresses 'deep concern' over what it calls Jayapal's 'unacceptable' comments, adding, 'We will never allow anti-Zionist voices that embolden antisemitism to hijack the Democratic Party and country.'" Nine signatures on the letter even came from the leftwing Congressional Progressive Caucus, which Jayapal chairs in the House of Representatives. 
For his part, President Biden has tried to downplay the rising tide of antisemitism coming from members of his own party. Fox News wrote, "President Biden on Monday invited Israeli Prime Minister Benjamin Netanyahu to the White House, after several days in which some Democrats faced accusations of antisemitism from Republicans after their public condemnation of the Jewish State.
"They have agreed that they will meet, probably before the end of this year, and all the details of the wheres and the whens are still being worked out," John Kirby, the strategic communications director at the National Security Council of the White House, said after Biden and Netanyahu talked by phone Monday."
[Read More: Saudi Arabia Is Taking Arizona's Water]