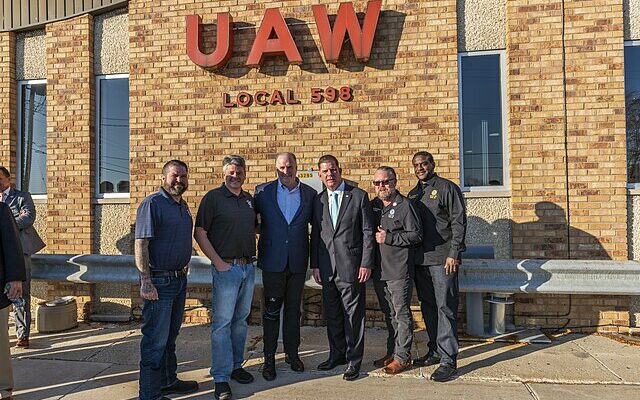 Donald Trump has come up with another excuse not to debate his Republican primary rivals. This time he's decided that he has to speak with striking UAW workers in Detroit rather than talk about issues facing the country on national television. 
The Washington Post writes that "former president Donald Trump plans to give a speech to union workers on the day of the second Republican presidential primary debate, according to two advisers to Trump involved in the planning who spoke on the condition of anonymity because they weren't authorized to speak publicly.
The Republican front-runner skipped the first debate in late August, choosing instead to tape an interview with former Fox News host Tucker Carlson that aired at the same time as the debate.
While other Republican candidates participate in the Sept. 27 event in California, Trump instead plans to speak to more than 500 autoworkers, plumbers, electricians and pipe-fitters, the adviser said. The group is likely to include workers from the United Auto Workers union that is striking against the Big Three automakers in the country's Rust Belt. The Trump adviser added that it is unclear whether the former president will visit the strike line."
You think he's going to take any questions or face any criticism or will it be just a speak-and-go-home sort of thing? 
The New York Times broke the news of the plan, stating, "The decision to go to Michigan just days after the United Auto Workers went on strike shows the extent to which Mr. Trump wants to be seen as looking past his primary rivals — and the reality that both he and his political apparatus are already focused on the possibility of a rematch with President Biden.
The campaign is also considering the possibility of having Mr. Trump make an appearance at the picket line, although the adviser said such a visit, which could involve difficult logistics given the former president's security protections, is unlikely.
The former president has long prided himself on his appeal to rank-and-file union workers — even as most union leaders have remained hostile to him, and as Mr. Biden has called himself the most pro-union president in history. In the 2016 campaign, an adviser to Mr. Trump, Paul Manafort, sought to establish a back channel with organized labor in Michigan and Wisconsin in the hopes the A.F.L.-C.I.O. would scale back its efforts to help the Democratic nominee, Hillary Clinton. It did not appear to go anywhere, but underscored the areas that Mr. Trump considered vital in the general election.
Mr. Trump won Michigan in the 2016 election, one of the states in the so-called blue wall that crumbled for Democrats that year. But Mr. Biden carried Michigan by more than 150,000 votes in 2020, and it is seen as a critical state for Democrats in 2024.
The Trump campaign has produced a radio ad that will begin running on Tuesday in Detroit and Toledo, Ohio, trying to cast Mr. Trump as aligned with autoworkers. The same Trump adviser said the ad targeted union workers and men, and will air on sports and rock-themed stations.
In a recent interview, Trump criticized electric vehicles and claimed that "auto workers are being sold down the river by their leadership, and their leadership should endorse Trump."  
Although Trump believes talking to UAW workers might be less hostile than debating fellow Republicans, he might want to think again. 
"UAW President Shawn Fain on Tuesday morning said workers should reject former President Donald Trump's overtures to them ahead of next year's election as Trump plans a visit to Detroit next week amid the union's strike against Ford, General Motors and Stellantis for better wages and benefits and more job protection.
'Every fiber of our union is being poured into fighting the billionaire class and an economy that enriches people like Donald Trump at the expense of workers," Fain said in a statement. "We can't keep electing billionaires and millionaires that don't have any understanding what it is like to live paycheck to paycheck and struggle to get by and expecting them to solve the problems of the working class,'" according to The Detroit Free Press. 
.@UAW President Shawn Fain on former President Trump:

"That's not a person I want as my president…That's not someone that represents working-class people…And that's what our members need to think about when they go to vote."
Video via @Morning_Joe pic.twitter.com/rM8QMeFASd

— MSNBC Public Relations (@MSNBCPR) September 7, 2023
 The Detroit newspaper also noted that while "Trump has attempted to interject himself more in the strike, Fain has also noted that in the 2016 presidential campaign, Trump talked about the need to have auto jobs moved to states where they would be paid less as a way to force wage concessions elsewhere. "That's not a person I want as my president," Fain has said.
But the UAW has also declined, unlike most major unions in the country, to endorse President Joe Biden for reelection next year, saying he needs to earn it. Biden has spoken in support of the union but is also a proponent of the transition to EVs. While he has said those vehicles should be built by union labor, Biden's administration can't mandate that and joint ventures between the car companies and battery makers for EVs would have to be organized by the UAW, a long and uncertain project, especially outside the Midwest."
In August, former President Trump declined to attend the initial Republican debate, and it seemed to be a costly move. A poll following the event showed Republicans softening on their nominee in 2016 and 2020. 
According to the same poll, 74 percent of Republican primary voters believed that the president should have participated in the debate. After the debate, 20 percent of Republican primary voters claimed they were less likely to support Trump. 
[Read More: Chicago Becomes Soviet-Style City]