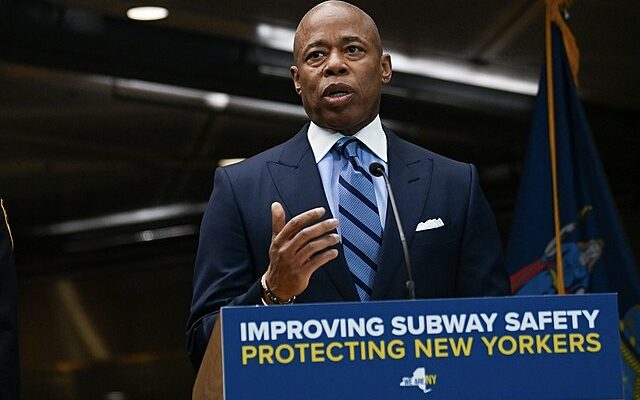 The Mayor of New York Eric Adams wants his fellow citizens to take in migrants in the country illegally into their private homes. The plan marks his latest move in dealing with a rash of incoming people who have come from Central and South America to The Big Apple without a place to stay.   
Adams has previously pushed migrants toward staying in houses of worship. 
"It is my vision to take the next step to this faith-based locales and then move to a private residence," Mr. Adams, a Democrat, said Monday during a City Hall press conference. "There are residents right now who are suffering because of economic challenges. They have spare rooms," noted The Washington Times.

He said if the city can figure out ways around legal restrictions on such a move, "we can take that $4.2 billion — $4.3 [billion] maybe now — that we anticipate we have to spend and we can put it back in the pockets of everyday New Yorkers, everyday houses of worship instead of putting it in the pockets of corporations.

The city has received more than 72,000 migrants since last spring, with more than 45,000 living in 160 taxpayer-funded emergency shelters and hotels, the New York Post reported. Last week, the city recorded 2,200 new arrivals.

"We need to be clear, this is not sustainable with the inflow that we're receiving," the mayor said.

Mr. Adams said his administration would need to "find a way" to get around city government rules that typically bar the city from housing homeless people in private homes.
The plan shows where the Democrats put their priorities. 
"Adams didn't offer up specifics on how the plan would work – including how much New Yorkers could potentially receive per night to cover the cost of hosting a migrant. A spokesperson also did not respond when asked if the mayor would take in migrants at his home in Brooklyn," according to The New York Post.
"He did say, however, that the city would pay places of worship a nightly rate of about $125 for each asylum seeker – which is cheaper than the $380 it costs to put up a migrant household – including a family with kids or just single adults – in one of its shelter hotels.
If the private residence plan went ahead, it could mean New Yorkers are being paid more to host a migrant than a foster parent is given to raise a child in the Empire State.
The state currently pays a daily allowance of $40 for children aged over 12 years, according to the Office of Children and Family Services."   
Adams has not been in lockstep with the Biden Administration. He called the president's immigration policies "a real embarrassment, I believe, on a national level, and we must have an appropriate response. We have had conversations around the issues on migrants for decades. This is a national issue. It must have a national response." 
The mayor has also followed the lead of Governors Ron DeSantis and Greg Abbott in shipping illegal immigrants to places that have declared themselves to be sanctuaries. In February, Quebec begged Adams to stop sending illegal immigrants their way." 
"Adams began using city dollars to buy bus tickets so illegal immigrants could reach the cities of their choice in partnership with Catholic Charities, he told FOX 5's Good Day New York on Feb. 6. The buses take the illegal immigrants to Plattsburgh, where they take taxis and vans to then cross the border by foot and turn themselves in to Canadian authorities, according to The Daily Caller.
"If they're seeking to go somewhere else, we are helping in the reticketing process. What we've found [is] that people had other destinations but were compelled only to come to New York City and we are assisting and interviewing those who seek to go somewhere else. Some want to go to Canada, some want to go to warmer states and we are there for them as they continue to move on with their pursuit of this dream," Adams said Feb. 6."
Under Adams' scheme, as many as 250 migrants have been crossing the Canadian border illegally each day, and almost all of them have settled in Montreal, Quebec's biggest city.
[Read More: Texas Democrat Wants To Charge DeSantis With A Crime]