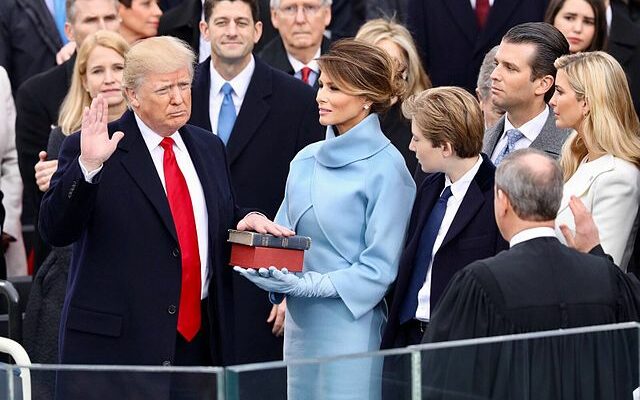 If the latest poll from The Washington Post is even close to being correct, the wheels have completely fallen off of the Biden 2024 campaign and Americans are ready to turn back to Donald Trump. 
The D.C. newspaper writes, "A Washington Post-ABC News poll finds President Biden struggling to gain approval from a skeptical public, with dissatisfaction growing over his handling of the economy and immigration, a rising share saying the United States is doing too much to aid Ukraine in its war with Russia and broad concerns about his age as he seeks a second term.
Biden and former president Donald Trump appear headed for a rematch of their 2020 contest, although more than 3 in 5 Democrats and Democratic-leaning independents say they would prefer a nominee other than the president. But Biden's advisers have argued that he is the strongest Democrat for 2024 and those who wish for someone else share no consensus on who that should be, with 8 percent naming Vice President Harris, 8 percent naming Sen. Bernie Sanders (I-Vt.) and 20 percent saying they prefer 'just someone else.'"
The results of the poll has caused such jitters among liberals that WaPo itself is telling its readers to disregard the poll, writing that the "poll shows Biden trailing Trump by 10 percentage points at this early stage in the election cycle, although the sizable margin of Trump's lead in this survey is significantly at odds with other public polls that show the general election contest a virtual dead heat. The difference between this poll and others, as well as the unusual makeup of Trump's and Biden's coalitions in this survey, suggest it is probably an outlier."
Some on Twitter noted how the spin from the liberal outlet shows how it has spooked the left. 
WaPo subhead suggests its own poll may be an outlier. That may be true, but they put no such disclaimer in headline 3 yrs ago when they published a poll of Wisconsin right before election day in 2020 showing Biden up 17 pts on Trump – 10 pts more than the avg of other polls at… pic.twitter.com/3rUyguL83D

— Tom Bevan (@TomBevanRCP) September 24, 2023
In addition, Post treats other results in poll as reliable. In note, pollster tries to explain Trump lead over Biden. People have a negative opinion about a lot of what Biden has done, so maybe they're just trying to send a message to Biden. https://t.co/XeR1jS1jdU pic.twitter.com/rAR4ahn3qQ

— Byron York (@ByronYork) September 24, 2023
The poll, conducted over last week and had a sample size of 1,006 randomly selected adults contacted on landlines and cell phones. The margin of error was plus or minus 3.5 percent.
The NBC News poll has Trump and Biden knotted at 46% each, but otherwise it has a lot of similarities with ABC News/WaPo's. https://t.co/oQz2oxoxmn

— Varad Mehta (@varadmehta) September 24, 2023
One point from the poll that cannot be brushed aside is America's opinion of the president himself, along with what the White House has called "Bidenomics." 
ABC News noted that "President Joe Biden's job approval rating is 19 points underwater, his ratings for handling the economy and immigration are at career lows. A record number of Americans say they've become worse off under his presidency, three-quarters say he's too old for another term and Donald Trump is looking better in retrospect — all severe challenges for Biden in his reelection campaign ahead.

Forty-four percent of Americans in the latest ABC News/Washington Post poll say they've gotten worse off financially under Biden's presidency, the most for any president in ABC/Post polls since 1986. Just 37% approve of his job performance, while 56% disapprove. Still fewer approve of Biden's performance on the economy, 30%.

On handling immigration at the U.S.-Mexico border, Biden's rating is even lower, with 23% approval. In terms of intensity of sentiment, 20% strongly approve of his work overall, while 45% strongly disapprove. And the 74% who say he's too old for a second term is up 6 percentage points since May. Views that Trump is too old also are up, but to 50% in this poll, produced for ABC by Langer Research Associates.

Trump, for his part, has improved in retrospect. When he reluctantly left office in January 2021, 38% approved of his work as president, essentially the same as Biden's rating now. But currently, looking back, 48% say they approve of Trump's performance when he was in office — matching his peak as president. Essentially as many — 49% — now disapprove, down from 60% when he left the White House.

Comparison with Biden may be a factor. Among the 56% of Americans who disapprove of Biden's work in office, a wide 75% say that, looking back, they approve of Trump.
The poll showed such a massive lead that some liberal commentators are attacking The Washington Post for even releasing the bad news for the White House. 
Ignore the Washington Post – ABC poll. It's a ridiculous outlier (Trump up 10 over Biden—laughable). My question: How could you even publish a poll so absurd on its face? Will be a lingering embarrassment for you.

— Larry Sabato (@LarrySabato) September 24, 2023
The reaction from the left to suppress a poll showing shoudn't surprise, even if it is gross. A separate poll recently found that Democrats are becoming more and more opposed to free speech, often applying their totalitarian tendencies in the name of "saving democracy," which is really just a way of saying "Stop Trump." 
A new poll from RealClearPolitics.com revealed a startling embrace of repression from the left, especially those under the age of 35. 
Here are some of the findings:
Republican voters (74%) and independents (61%) believe speech should be legal "under any circumstances, while Democrats are almost evenly divided. A bare majority of Democrats (53%) say speech should be legal under any circumstances, while 47% say it should be legal "only under certain circumstances."

Nearly one-third of Democratic voters (34%) say Americans have "too much freedom." This compared to 14.6% of Republicans. Republicans were most likely to say Americans have too little freedom (46%), while only 22% of Democrats feel that way. Independents were in the middle in both categories.

Although majorities of Democrats, Republicans, and independents agree the news media should be able to report stories they believe are in the national interest, this consensus shifts when it comes to social media censorship. A majority of Democrats (52%) approve of the government censoring social media content under the rubric of protecting national security. Among Republicans and independents, this percentage is only one-third.

Fully three-fourths of Democrats believe government has a responsibility to limit "hateful" social media posts, while Republicans are more split, with 50% believing the government has a responsibility to restrict hateful posts. (Independents, once again, are in the middle.)
This growing sentiment from Democrats should worry the public, and it's not just a random poll. The president and his supporters in Congress have also promoted censorship in the name of "fighting disinformation" when it suits their political goals. 
In 2022, the White House tried to launch a government agency that was labeled "The Ministry of Truth" by critics. New Conservative Post wrote at the time, "Secretary of the Department of Homeland Security Alejandro Mayorkas told Congress that his agency is creating a "Disinformation Governance Board" to combat "misinformation" that gets stated on the Internet. The group will "immediately begin focusing on misinformation aimed at migrants, a problem that has helped to fuel sudden surges at the U.S. southern border in recent years. Human smugglers often spread misinformation around border policies to drum up business."
Called Committee on Public Information, the organization will be led by Nina Jankowicz, who will head the board as executive director. Politico reported, "She previously was a disinformation fellow at the Wilson Center, advised the Ukrainian Foreign Ministry as part of the Fulbright Public Policy Fellowship and oversaw Russia and Belarus programs at the National Democratic Institute." As anyone who can remember "two weeks to flatten the curve" or the made-up Steele Dossier used to attack the Trump administration, this is truly scary stuff because we know how it's going to be used."  
In April, Democratic Congresswoman Alexandria Ocasio-Cortez called for Tucker Carlson to be silenced while an MSNBC anchor nodded in agreement. 
AOC calls on the government to ban Tucker Carlson and other Fox hosts

Jen Psaki nods along pic.twitter.com/2vX0ZxuASQ

— End Wokeness (@EndWokeness) April 23, 2023
Carlson, of course, was fired a few months later by Fox News. 
Moreover, in July, reports showed that the FBI had been working with social media companies to censor Americans.
The effort by this president to build a censorship regime became so extreme that a federal judge had to block major Biden initiatives to control what Americans read online. 
While Democrats have grown more hostile to free speech, the RealClearPolitics poll did show that the American public still supports it. The liberals are the ones outside of the mainstream. 
"Poll respondents were read this statement: "I disapprove of what you say, but I will defend to the death your right to say it." Only 31% of Democratic voters "strongly agreed" with that sentiment, compared to 51% of Republicans."
Maybe that ten-point lead for Trump over Biden isn't as unbelievable after all. 
[Read More: Gavin Newsom Burns His Base]