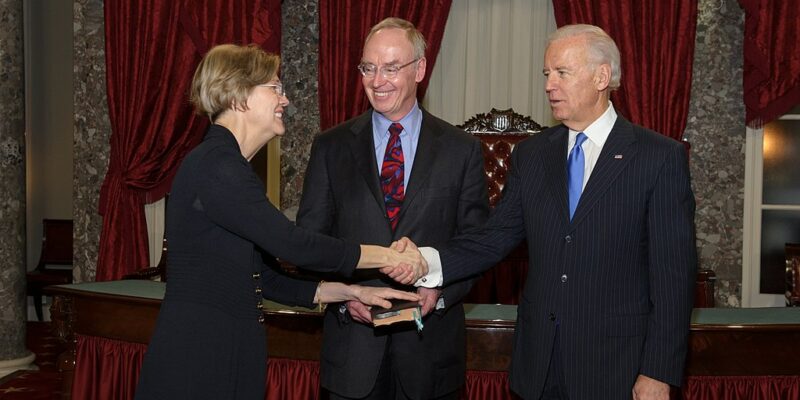 Top Democrats are preparing for Joe Biden to announce that he is not running for president, according to a new report by CNN. 
The news channel writes, "The conversations keep happening – quiet whispers on the sidelines of events, texts, emails, furtive phone calls – as top Democrats and donors reach out to those seen as possible replacement presidential candidates.
Get ready, they urge, in conversations that aides to several of the people involved have described to CNN: Despite what he has said, despite the campaign that has been announced, President Joe Biden won't actually be running for reelection.
They feel like time is already running out and that the lack of the more robust campaign activity they want to see is a sign that his heart isn't really in it.
It's a persistent sense that the inner circle of advisers to the president and several of the very few aides who have been hired for his reelection campaign dismiss as absurd. Of course, he is running, they say. Of course, they're taking preparations very seriously. And, with the always present Biden chip on their shoulder, of course they're being written off again by the purported wise elders of the party and pundits who still refuse to take him seriously."
Despite constantly beating Donald Trump in polling for 2024, Americans have never quite bought into the Biden presidency. The Washington Free Beacon writes, "Biden's polling numbers, which have been underwater for two years, in June hit an all-time low of 35 percent. Nearly 60 percent of Democrats say they want the party to run another candidate, a Washington Post poll found in April.
The president's unpopularity has led some Democrats to embrace primary opponent Robert F. Kennedy Jr., who has consistently polled at around 20 percent against Biden. Kennedy's candidacy was bolstered last month by an Economist/YouGov poll that showed him with a net 19-point favorability rating. Biden, by contrast, has a net 9-point unfavorability rating.
Democrats' rush to find alternatives to Biden comes as the party seeks to avoid running Vice President Kamala Harris, whose poll numbers are even lower than Biden's. 'Kamala Harris can't win' a general election, one Capitol Hill Democrat told New York magazine last year. Another alternative, California governor Gavin Newsom, is dead-set on running if Biden bows out, sources close to Newsom told the Wrap last year. Michigan governor Gretchen Whitmer and Transportation Secretary Pete Buttigieg, meanwhile, have already launched or relaunched super PACs."
New Conservative Post noted last month that Newsom has been running a shadow campaign. Although he has been outspoken about conceding the Democratic nomination to the president if he runs for reelection, it's clear that the California governor has his eyes on the White House. 
Newsom isn't the only lefty thinking about higher office these days and it's starting to fray the nerves of some Democrats who see Biden as a weak incumbent. Party leaders in several states have begun working to prevent third-party candidates from being placed on the ballot in 2024 rather than try to win votes from disaffected Americans, especially if that candidate is Joe Manchin. 
Other national Democrats expressed concerns about even minor candidacies, including a run by Cornel West, every liberal's favorite academic. The Hill reported that "Cornel West's third-party presidential campaign is stirring up unpleasant flashbacks to 2016 for members of the Democratic Party, some of whom are starting to grow anxious about the effect it could have on President Biden's reelection.
West, a philosopher, Ivy League academic and leftist, recently announced he is newly registered with the Green Party as he seeks to challenge Biden and the eventual Republican nominee for the White House.
Now, some prominent figures supporting Biden, from the head of the Democratic National Committee to veteran campaign hands, are already sounding the alarm about his quixotic White House run.
"This is not the time in order to experiment. This is not the time to play around on the margins," warned DNC Chairman Jaime Harrison, a close Biden confidant, over the weekend.
West, for his part, is not taking the criticism sitting down. In an interview with The New York Post, the professor "ripped President Biden's record on race issues, calling the Democrat's history with black Americans nothing short of a "crime against humanity," in an exclusive interview with The Post.
West, 70, accused Biden of spurring mass incarceration among minorities because of the tough-on-crime federal Violent Crime Control and Law Enforcement Act Biden sponsored as a senator in 1994. The bill authorized the hiring of 100,000 new police officers and allocated $9.7 billion for prisons. 
'Well, I think you'll think Joe Biden contributed to a crime against humanity when he became the architect of the mass incarceration regime in the 1990s," said West, 70, referring to the tough-on-crime Violent Crime Control and Law Enforcement Act Biden sponsored as a senator in 1994. The bill authorized the hiring of 100,000 new police officers and allocated $9.7 billion for prisons. 
'Black folks are low priority' to Biden, West continued, adding the president was much better at window dressing — 'black faces in high places' — than substantive change. West gave Biden's performance on race a dismal grade of 'C-.'
He also slammed the 80-year-old president as 'slowing down.'
'It's very clear that his cognitive powers are in decline,' claimed West, who insisted he is fit as a fiddle, with no notable health issues."
There has yet to be polling for the 2024 Democratic nomination that includes major alternatives, like Newsom or Whitmer. Still, even without strong competition, the president only wins about 65 percent of the Democratic vote, a paltry showing for a first-term president running for another four-year stay in the White House. 
[Read More: Biden Calls Up Troops To Prepare For War]