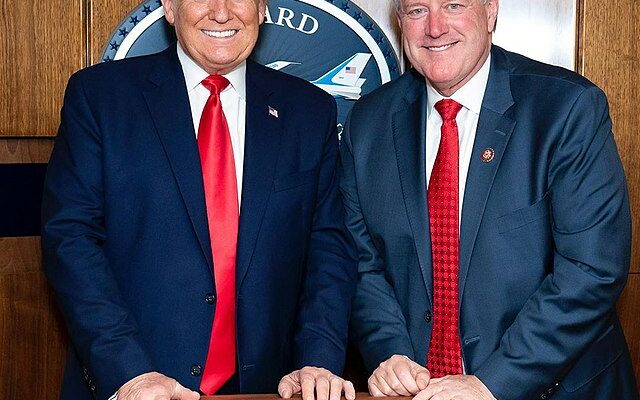 Even some of Trump's closest advisors did not believe his claims about election fraud during the 2020 election. New evidence has come to light showing that the then president's chief of staff, Mark Meadows, made jokes about Trump's push to say that the election in Georgia was stolen from him. 
The Washington Post writes, "Mark Meadows joked about the baseless claim that large numbers of votes were fraudulently cast in the names of dead people in the days before the then-White House chief of staff participated in a phone call in which President Donald Trump alleged there were close to 5,000 dead voters in Georgia and urged Brad Raffensperger, Georgia's secretary of state, to overturn the 2020 election there.

In a text message that has been scrutinized by federal prosecutors, Meadows wrote to a White House lawyer that his son, Atlanta-area attorney Blake Meadows, had been probing possible fraud and had found only a handful of possible votes cast in dead voters' names, far short of what Trump was alleging. The lawyer teasingly responded that perhaps Meadows's son could locate the thousands of votes Trump would need to win the election. The text was described by multiple people familiar with the exchange.

The jocular text message, which has not been previously reported, is one of many exchanges from the time in which Trump aides and other Republican officials expressed deep skepticism or even openly mocked the election claims being made publicly by Trump, according to people familiar with the investigation, who spoke on the condition of anonymity due to the sensitivity of the criminal investigation.

Special counsel Jack Smith, who is leading a Justice Department investigation of Trump's activities in the weeks leading up to the Jan. 6, 2021, attack on the U.S. Capitol, has focused on exploring whether Trump and his closest advisers understood that claims of fraud in the election were baseless, even as they pressed state officials and others to overturn Biden's victory and convinced Trump's millions of supporters that the election had been stolen, people familiar with the probe have said."
The text messages from Meadows are a small piece of a much larger puzzle that federal prosecutor Jack Smith has been putting together to understand how and why Donald Trump believed the election was stolen and what actions, including potential criminal, he took to continue his fight over election results. 
 Over the past few months, reports have slowly come out of the Trump camp that they fear the president's chief of staff was spilling the beans on the 45th president. Business Insider noted, "People close to former President Donald Trump have been using the rat emoji to refer to his former chief of staff, Mark Meadows, amid fears he might be helping prosecutors, a report says. 
Some Trump aides and allies have been using the emoji in private communications as they fear Meadows might be cooperating with special counsel Jack Smith, who is overseeing investigations into Trump's efforts to overturn the 2020 election and his handling of classified documents, a person with knowledge of the matter told Rolling Stone.
Trump's team has been left in the dark over whether Meadows has been cooperating with authorities — and what information he may or may not have given them, Rolling Stone reported.
Meadows and his lawyer stopped communicating with most of Trump's circle months ago, the outlet reported, adding that this had further aggravated Tump's team."
The Trump camp has become so concerned about former staff possibly testifying against the president that they sent out Mike Huckabee, a former minister, to pressure those connected to the former president into a kind of omerta.
Huckabee: "I think there are two virtues. Loyalty and confidentiality. Be loyal to the people who helped you and learn how to keep your mouth shut. If you have information that could be hurtful to someone, be confidential."@Acynpic.twitter.com/BVHRRLEPCf

— The Intellectualist (@highbrow_nobrow) July 22, 2023
Along with Rudy Giuliani, Meadows would probably be one of the last people the Trump camp would want to "flip." 
Newsweek reported, "Meadows is considered a key player in the attempt by Trump and his allies to try and overturn the 2020 election results, despite allegedly being made aware that the efforts could be illegal, and he was present with Trump on January 6 as the riot at the Capitol was taking place.
In 2022, the House Select Committee investigating the January 6 attack obtained messages sent to Meadows showing that GOP lawmakers, Fox News presenters and members of Trump's own family tried to persuade Meadows to get the former president to tell his supporters to end the violence on January 6, something Trump failed to do for more than three hours."
Throughout the multiple investigations that have occurred over the past 18 months, Mark Meadows has kept quiet and not sought the limelight, a reverse from what he has spent his career doing. A source close to Meadows told WaPo that the former chief of staff understands that his relationship with Trump has permanently been destroyed. He has also told others that he "does not seek to antagonize Trump and his supporters but concluded he had to cooperate with Smith's office as required by law."
Jack Smith's first stab at Trump will happen in May 2024, just in time for the president to have wrapped up the Republican primary while hurting him enough to lose the general election. 
[Read More: Glenn Beck Pulls The Curtain Back On Fox News]