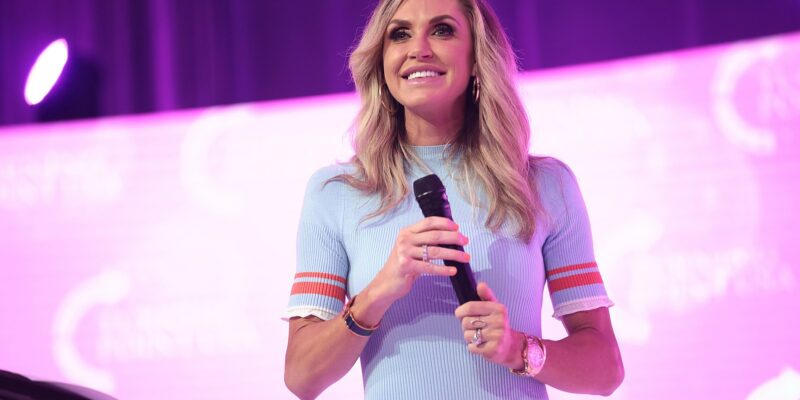 It looks like Fox News will not be bending its rules to help Donald Trump's 2024 campaign. The powerful conservative news channel often has campaign surrogates on to support their candidates, but they have decided to cut ties with Lara Trump, the wife of Eric Trump. She had previously joined the channel on March 29, 2021, as a contributor.
In a statement provided to Insider, a Fox News spokesperson said: "We appreciate Lara's valuable contributions across FOX News Media programming."
"Her exit is said to be amicable and based solely on company protocol, but it comes after Rupert Murdoch, executive chairman of Fox News parent Fox Corporation, made it clear that he does not support the former president's decision to pursue the White House again. While criticism of Trump on Fox News has been muted, the editorial pages of Murdoch's print outlets the New York Post and the Wall Street Journal have been harsh in their assessments," according to The Los Angeles Times.
The newspaper continued: "Former White House officials and political operatives are usually welcomed as contributors at cable networks. But Fox News has made it a rule to not employ people running for office or directly connected to active campaigns.
Lara Trump could still appear on Fox News as a guest without pay. Paid contributor deals typically give a network news operations exclusive access to an expert or commentator."
The Daily Caller gave more contest to the removal of Lara from Fox's payrolls. "Her departure came in compliance with the network's protocol, which states it cannot employ figures running for office or with close connections to candidates. Fox News executive chairman Rupert Murdoch has also publicly expressed his opposition to her father-in-law's decision to run again, the outlet reported.

She has not appeared on the network since her father-in-law announced his third presidential bid in a Nov. 15 speech at his Mar-a-Lago residence. She commonly joined programs on the network to defend her father-in-law against criticism surrounding January 6 and the FBI raid on Mar-a-Lago.

The network terminated the employment of former Trump-era White House press secretary Sarah Huckabee Sanders once she announced her gubernatorial bid in Arkansas, which she recently won. The former president's daughter-in-law was hired to be a contributor despite hinting at the idea of running for Senate in North Carolina.

Trump administration veterans on the network include former White House press secretary Kayleigh McEnany, who hosts the program "Outnumbered," and paid contributor Kellyanne Conway."
The Trump campaign has had a weird few weeks. Earlier in the weekend, the former president called for overturning the United States Constitution. The Washington Post wrote, "Inaccurately describing the contents of a just-released report about Twitter's moderation decisions during the 2020 campaign, Mr. Trump again demanded that the 2020 election be overturned or rerun, for the first time explicitly calling to set aside the supreme law of the land.
"A Massive Fraud of this type and magnitude allows for the termination of all rules, regulations, and articles, even those found in the Constitution," he wrote in a post on Saturday on his social network, Truth Social.
Mr. Trump was responding to a report Friday night about Twitter employees' internal deliberations over the company's decision in 2020 to block links to a New York Post article that described emails found on a laptop belonging to Hunter Biden, President Biden's son. The report, a Twitter thread by the writer Matt Taibbi, also criticized the fact that the Biden campaign had a back channel to ask Twitter to remove certain tweets, though it noted that Republicans had such a back channel, too.
Several Republicans did reject the comments. 'Well, obviously I don't support that,' Representative-elect Mike Lawler, a Republican who unseated Repesentative Sean Patrick Maloney in a suburban New York district, said on CNN's 'State of the Union' on Sunday. 'The Constitution is set for a reason, to protect the rights of every American.'"
The comments came a week or so after the former president met with Kanye West, who in the midst of some kind of mental health crisis, said he supported Hitler, and Nick Fuentes, an avowed antisemite who doesn't think the Holocaust happened. 
Fortune Magazine noted the former president now has to have a babysitter and that "his dinner with a Holocaust-denying white nationalist and a rapper who has spewed antisemitic conspiracies is demonstrating the risks of that approach. It underscores the dangers of his limited campaign operation and leaves the former president subject to stinging criticism from fellow Republicans who increasingly see him as a liability for their party after a lackluster showing in this year's midterm elections.
In an acknowledgment of the severity of the backlash and an effort to prevent a repeat, Trump's campaign is putting new protocols in place to ensure that those who meet with him are approved and fully vetted, according to people familiar with the plans who requested anonymity to share internal strategy. The changes will include expediting a system, borrowed from Trump's White House, in which a senior campaign official will be present with him at all times, according to one of the people.
The decision follows the anger and handwringing from people close to Trump over how the former president became embroiled in scandal just two weeks after launching his third campaign for the White House under the cloud of numerous investigations. And it highlights their concerns about Trump's vulnerability as GOP strategists and officials increasingly conclude that new leadership is the party's best hope for winning in future elections." 
Trump has taken some lumps as of late. Recently, several MAGA diehards blamed the former president for the Republicans' poor performance during the midterms and announced that they would not be supporting him in 2024. 
[Newt Gingrich: Biden Is Eating The GOP's Lunch]