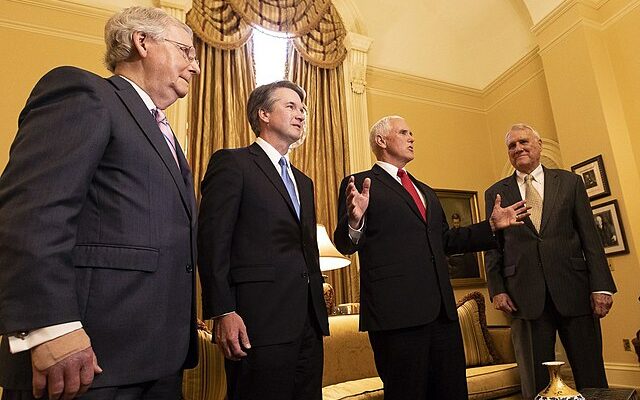 It has happened again. Senate Minority Leader Mitch McConnell appeared to freeze again earler today, this time in front of a group of reporters in Covington, Kentucky. The top Republican in the Senate stopped for over than 30 seconds after being asked about his reelection. 
NBC writes that "when it became apparent that McConnell had frozen again on Wednesday, an aide came up to him and asked, "Did you hear the question, senator?" McConnell continued to be unresponsive.

Once McConnell re-engaged, he responded briefly to another question about Kentucky Attorney General Daniel Cameron, a Republican; his aide needed to repeat the question to him. McConnell was then asked about former President Donald Trump, another question that had to be repeated. McConnell brushed off the question because he does not usually engage in Trump-related topics.

"Leader McConnell felt momentarily lightheaded and paused during his press conference today," a McConnell spokesperson said.

McConnell "feels fine," but will consult a doctor before his next event as "a prudential measure," an aide said.
This was the second time this has happened, with the first instance occurring back in July when McConnell suddenly stopped speaking during an afternoon press conference. His sudden departure from the event for a few minutes before returning to answer questions caused some concern among those present.
McConnell has served as the United States Senator from Kentucky since 1985 and held the position of Senate Majority Leader from 2015 to 2021. Known for his strategic legislative approach and political maneuvering, McConnell played a pivotal role in shaping conservative policies and confirming judicial appointments during his tenure as Majority Leader, especially as it related to the Supreme Court.