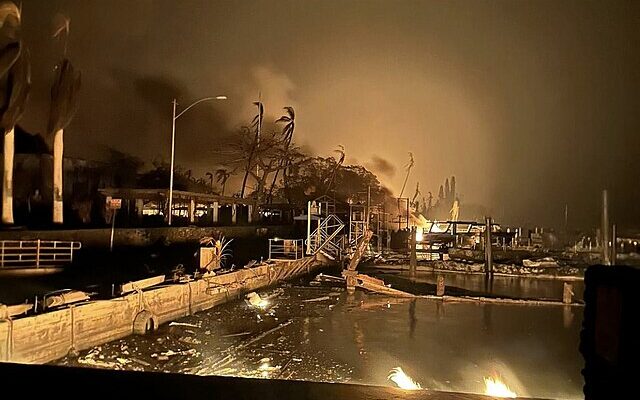 For much of his career, before Barack Obama oddly made him his running mate, Joe Biden was viewed by much of the country as a buffoon or a hothead. When he ran for president in 2020, the hard makeover of the then vice president's personality went into full force and Joe Biden became "empathetic," which became the buzzword for the election that year. 
In a puff piece that followed his election to the White House, ABC went so far as to say that "empathy remains at Joe Biden's core." While it is true that the president has indeed suffered tragedy, he has often deployed "empathy" more as a political strategy than genuine affection. For example, he ignored his inconvenient granddaughter until it became a liability.
Biden only deploys empathy when it suits his political needs. We saw that during the East Palestine, Ohio train disaster, where he doesn't expect to win many votes, and now we're seeing it again with the terrible fires that have engulfed the island of Maui, where he doesn't need to win votes. 
The minimum expectation for a nation's leader is to address disasters swiftly with compassion and transparency.

Biden can't even be bothered to comment on Maui.

The Biden regime do not care about the American People and they don't care if you know it.pic.twitter.com/kYMFaWkHm5

— Clandestine (@WarClandestine) August 14, 2023
Newsweek writes, "President Joe Biden is facing a backlash for his reportedly dismissive responses on Sunday to questions about the recent wildfires in Maui, Hawaii, that have taken the lives of 96 people with more still unaccounted for.
Biden was cycling on vacation at the seaside in Delaware.
According to Bloomberg correspondent Justin Sink, after spending a few hours sunbathing on the beach near his home, when asked about the death toll on the island, Biden replied with a 'no comment,' before leaving.
Asked by several reporters camped outside earlier in the day whether he could stop riding his bike to talk about the devastating blazes, Biden responded: 'We're looking at it.'"
It's surprising that he didn't yell his favorite ice cream flavor like a senile old man.
After a couple hours on the Rehoboth beach, @potus was asked about the rising death toll in Hawaii

"No comment," he said before heading home pic.twitter.com/Y0UmXirju9

— Justin Sink (@justinsink) August 13, 2023
The New York Post captured some reactions to Biden's coldness. 
"I campaigned for you," raged former Hawaii legislator Kaniela Ing early Monday. "Now, when I lose dozens of my friends, family, and neighbors. This?"
"Biden doesn't give AF [a f–k] about the suffering people of Maui," tweeted Monica Crowley, former US Treasury Department assistant secretary for public affairs during the Trump administration.
Biden doesn't give AF about the suffering people of Maui.

Or the suffering people of East Palestine, Ohio.

Or the suffering people in border towns.

Or the suffering people anywhere in America. pic.twitter.com/s3hUNe3msa

— Monica Crowley (@MonicaCrowley) August 14, 2023
Stephen L. Miller, an editor at conservative outlet The Spectator, tweeted that Biden "just came back from a 14-day beach vacation. Spent 4 days in DC, now is back on the beach and has no comment for wildfires that wiped out entire communities. Just incredible stuff."
He just came back from a 14 day beach vacation. Spent 4 days in DC, now is back on the beach and has no comment for wildfires that wiped out entire communities. Just incredible stuff. https://t.co/eVJMXIG0bP

— Stephen L. Miller (@redsteeze) August 14, 2023
Biden's current vacation isn't the only one he has planned. After spending a couple of days back at the White House, the president will be heading to Lake Tahoe at the end of the week. 
According to The Daily Mail, "President Joe Biden jets off to ritzy Lake Tahoe on Friday for another summer vacation as the White House still hasn't announced plans for him to visit fire-devastated Hawaii. 
The president is scheduled to arrive in Lake Tahoe on Friday, August 18 and will stay there until the following Thursday, according to guidance from the White House.
But there has been no word on if he'll head further west to see the billions of dollars in damage and visit displaced residents on Maui, where wildfires raced through the area at a speed of up to a mile an hour. 
The White House hasn't said what Biden will do during his time in Lake Tahoe."
The New York Post noted that the fire in Maui "is also the deadliest US wildfire since 1918, when 453 people died in the Cloquet fire in Minnesota and Wisconsin, according to data from the National Fire Protection Association."
The death toll from the Maui wildfires in Hawaii has grown over the past few days as the devastation becomes better understood, reaching 93 on Saturday, according to the Maui County website. 
"The scale of the damage came into sharper focus four days after a fast-moving blaze leveled the historic resort town, obliterating buildings and melting cars," Reuters reported.
"The cost to rebuild Lahaina was estimated at $5.5 billion, according to the Federal Emergency Management Agency (FEMA), with more than 2,200 structures damaged or destroyed and more than 2,100 acres (850 hectares) burned.
Hawaii Governor Josh Green warned at a press conference on Saturday afternoon the death toll would continue to increase as more victims were discovered. Dogs trained to detect bodies have covered only 3% of the search area, Maui County Police Chief John Pelletier said.
Officials have described a nightmarish confluence of factors – including communications network failures, wind gusts of up to 80 miles per hour (130 kph) from an offshore hurricane and a separate wildfire dozens of miles away – that made it nearly impossible to coordinate in real time with the emergency management agency that would typically issue warnings and evacuation orders."
If reporters want the president of the United States to talk about the destruction, maybe they should ask him what his favorite ice cream is to grab his attention first. 
Then again, maybe not. 
[Read More: Former Senator Threatened To Beat Up Biden After Inappropriate Touching Of Wife]