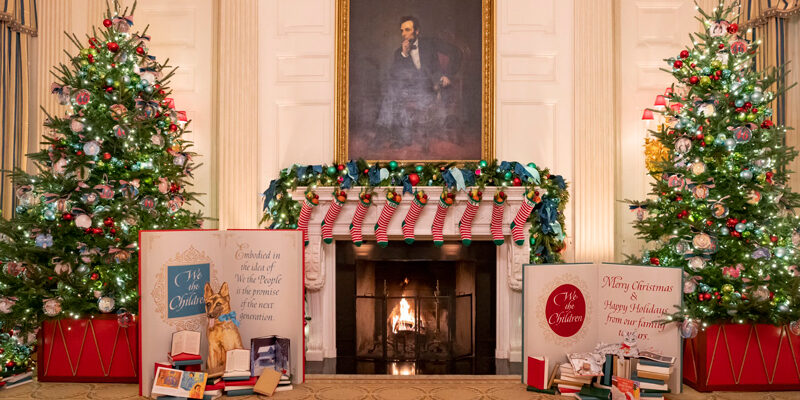 Joe Biden is often portrayed as a loving grandfather. He's often shown doting on one of his granddaughters, calling them or visiting with them. Most recently, he even loaned out the White House to one of them for her wedding. 
The AP reported, "President Joe Biden 's granddaughter Naomi Biden and Peter Neal were married Saturday in just the 19th wedding in the history of the White House, exchanging vows on the lawn in unseasonably cold temperatures in front of scores of family and friends.
It's the first White House wedding with a president's granddaughter as the bride, and the first one ever on the South Lawn."
The president's love for family, however, only comes so long as it isn't a political liability, which is why once again, the White House has left the youngest Biden granddaughter out in the cold this Christmas.  
While the Biden Family made a huge display of their stockings hanging up in the White House, The New York Post noticed Navy Roberts, Hunter's daughter, was missing. "For the second straight year, the Biden White House's holiday display did not include a stocking for first son Hunter Biden's out-of-wedlock daughter.

First lady Jill Biden unveiled photos of the first family's Christmas decorations on Monday, complete with 77 Christmas trees bearing more than 83,000 lights and stockings hanging over the mantle in the State Dining Room for the Biden grandchildren — with one notable exception.

Hunter and ex-wife Kathleen Buhle's three daughters Naomi, Finnegan and Maisy were represented — along with Naomi's new husband Peter Neal as well as Natalie and Hunter, the two children of the late Beau Biden and his widow Hallie.

Still another stocking bore the name "Baby," an apparent reference to Hunter's two-year-old son Beau with second wife Melissa Cohen, while the last two were set aside for first dog Commander and first cat Willow."
"The little girl is being raised by her mother in Arkansas. Navy, who bears a striking resemblance to a young Hunter, does not have access to Secret Service protection like the rest of the Bidens do, according to The Daily Mail. 
"She is Hunter's fourth of five children who was conceived while he was still in a relationship with Hallie Biden, his brother Beau Biden's widow, who he got together with after her husband died of brain cancer in 2015. 
He's currently married to South African native Melissa Cohen, who he wed a week after meeting and with whom he shares two-year-old Beau – named after his dead brother." 
The White House Christmas display features "77 Christmas trees, 25 wreaths and more than 83,615 holiday lights, according to the first lady's office. This year's Gingerbread White House also incorporates a cookie model of Independence Hall in Philadelphia; together the creation weighs 300 pounds, which includes 100 pounds of pastillage, a thick sugar paste, as well as 30 pounds of chocolate and 40 pounds of royal icing, according to White House pastry chef Susan Morrison.
 "Jill Biden revealed this year's Christmas decorations, under the theme "We the People," which she selected months ago. The White House says more than 150 volunteers came together to decorate the building over the course of a week," NPR noted.
'The values that unite us can be found all around you, a belief in possibility and optimism and unity,' the first lady said Monday. 'Room by room we represent what brings us together during the holidays.'"
Maybe there should be an asterisk on that comment: The display represents "what brings us together" unless it causes uncomfortable questions to be asked.
The Washington Free Beacon lambasted the president, calling the president "Grandpa Grinch." The newspaper wrote, "Joe Biden's heartless determination to erase his granddaughter's existence undermines his reputation as a self-described family man and raises serious questions about his fitness to serve as commander in chief.
The Biden family's behavior toward Navy Joan Roberts has been consistently callous. Hunter initially denied ever meeting the child's mother, Lunden Roberts, whom he would go on to describe in his 2021 memoir as "hardly the dating type," and challenged his paternity in court until a DNA test proved with "scientific certainty" that he was indeed the child's father.
Since then, Hunter has reportedly expressed no interest in meeting his daughter, while Sleepy Joe has refused to provide Secret Service protection for Navy Joan Roberts, even after her life was threatened by a deranged ex-MMA fighter.
Every child deserves to be loved."
A representative for Navy and her mom noted that while Hunter pays child support, the Biden family wants nothing to do with her. He said, "[Hunter] has not seen his child. He has no relationship with his child, by his own choosing. Mr. Biden hasn't taken responsibility for this child until he parents her. Every child needs loving parents and loving grandparents. This child could stand a relationship with her father. She could stand a relationship with her grandfather."
While her grandfather doesn't care, we at NCP hope Navy had a great Christmas. 
[Read More: Bloomberg Looks To Make Power Move]