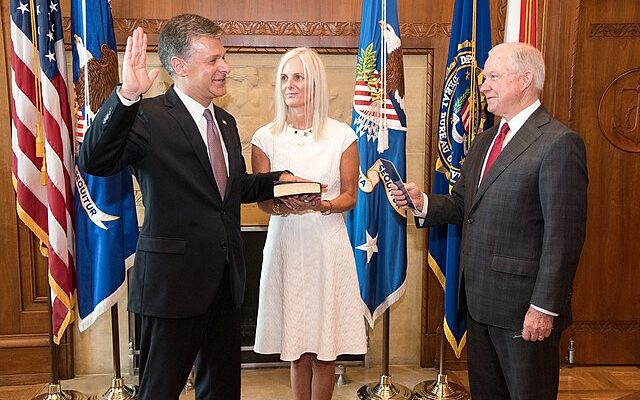 Earlier in the year, New Conservative Post wrote that a whistleblower stationed in Richmond, Virginia, revealed that the FBI was producing documents that showed the FBI was investigating "radical traditionalist" Catholics, claiming that those who prefer to attend Latin Mass could be potential terrorists. The FBI, the document stated, intended to place spies and informants among church-goers to monitor their fellow congregants in secret.
Fox News reported at the time that "former FBI special agent and federal whistleblower Kyle Seraphin reportedly obtained a leaked FBI document that outlines a plan to spy on a segment of one of America's biggest religious denominations.
"The FBI's Richmond Division would like to protect Virginians from the threat of 'white supremacy,' which it believes has found a home within Catholics who prefer the Latin Mass," Seraphin reported for Uncover DC. "An intelligence analyst within the Richmond Field Office of the FBI released in a new finished intelligence product dated January 23, 2023, on Racially or Ethnically Motivated Violent Extremists (RMVE) and their interests in 'Radical-Traditionalist Catholics' or RTCs."
He added that the document "assesses with 'high confidence' the FBI can mitigate the threat of Radical-Traditionalist Catholics by recruiting sources within the Catholic Church."
Last week documents revealed by House Republicans proved that FBI Director Chris Wray lied to Congress about the bureau's monitoring of Catholics who prefer traditional liturgy, the Latin Mass. 
In an excellent editorial, The Washington Examiner makes the case that the FBI Director lying indicates how the radicalized bureau threatens the First Amendment. 
The memo, produced by the FBI's Richmond field office, said the bureau should particularly monitor "traditionalist Catholic" people, such as those who prefer the Latin Mass, as potential purveyors of "violent extremis[m]" who may need to be targeted for "threat mitigation." It assumed traditionalist Catholics are particularly prone to becoming domestic terrorists. This is false and defamatory, and the specter of law enforcement targeting a faith community raises serious First Amendment concerns.

In his July 12 testimony to the House Judiciary Committee, Wray insisted that the memo was merely "a single product by a single field office." (See this video at 1:29:33.) He also said "that product did not result, as best as we can tell, in any investigative action as a result of it. None." Asked specifically about redactions in the memo held by the committee, Wray dodged commenting on why they were necessary.

For more than half a year he promised to be more forthcoming with Congress about the whole situation as soon as an "internal" investigation was completed — as if it should take seven months to find out who wrote a single memo and why.

Well, once the Judiciary Committee was finally able to get past the redactions, it showed Wray was flagrantly misleading Congress on both major counts. It wasn't only the FBI's Richmond office that targeted traditional Catholics. Instead, that office "coordinated with" the FBI's Portland office in preparing the assessment and, worse, was in touch with the FBI's Los Angeles office, too, which initiated an investigation into a particular Catholic society there.

So it wasn't just one office but three, and there was an "investigative action" contrary to Wray's explicit denial. This information would have been readily available if Wray had not kept it redacted despite pleas from congressmen for transparency.
The Examiner wasn't the only outlet to highlight Wray's deceptions as a danger to American freedoms. 
Wray, at the time, The New York Post noted, "had the audacity to shed crocodile tears over the memo: 'As soon as I found out about it, I was aghast.'
Not aghast enough to make sure every office involved was held to account, however. 
And his alleged outrage did not stop him from presenting a document deceptively redacted to match his narrative to Congress. 
Take a look at some of the supposed crimes of the people the feds wanted to surveil and infiltrate because of their religious beliefs:
Harboring disdain for Pope Francis.

Rejecting the theological precepts of the Second Vatican Council.

Criticizing pro-choice advocates on Twitter.
Truly bone-chilling, right? There's simply no way such activities should be allowed!"
In June 2017, former President Donald Trump nominated Christopher Wray to serve as the eighth Director of the Federal Bureau of Investigation. The nomination came in the aftermath of the abrupt firing of James Comey, a move that drew widespread attention and controversy.
"I will be nominating Christopher A. Wray, a man of impeccable credentials, to be the new Director of the FBI. Details to follow," the president wrote.
Wray, a seasoned attorney who became famous working for Chris Christie during his "Bridgegate" scandal, underwent Senate confirmation hearings where he pledged to uphold the agency's independence and impartiality, while also navigating the challenges posed by ongoing investigations and political dynamics. His tenure as FBI Director has been marked by the FBI deploying SWAT teams against critics of the Biden administration, including Catholics, pro-lifers, and whistleblowers.
Drastically reforming the FBI has become a significant policy cornerstone for several Republicans running for president, including Florida Governor Ron DeSantis. 
RealClearPolitics reported that DeSantis "has been working for months on plans to tear down and rebuild both the Department of Justice and the FBI, consulting with experts and members of Congress to develop a 'Day One' strategy to end what conservatives see as the weaponization of the justice system.
The governor has privately told advisors that he will hire and fire plenty of federal personnel, reorganize entire agencies, and execute a 'disciplined' and 'relentless' strategy to restore the Justice Department to a mission more in line with what the 'Founding Fathers envisioned.'
But his ambitions go beyond bureaucratic restructuring. He wants to physically remove large swathes of the DOJ from the District of Columbia, including FBI headquarters, RealClearPolitics is first to report.
'We're not going to let all this power accumulate in Washington, we're going to break up these agencies,' DeSantis said during a private strategy session over the weekend, excerpts of which were obtained exclusively by RCP. He vowed in that call to order 'some of the problematic components of the DOJ' be uprooted, reorganized, and then promptly 'shipped to other parts of the country.'"
[Biden: Let Them Eat Ice Cream]