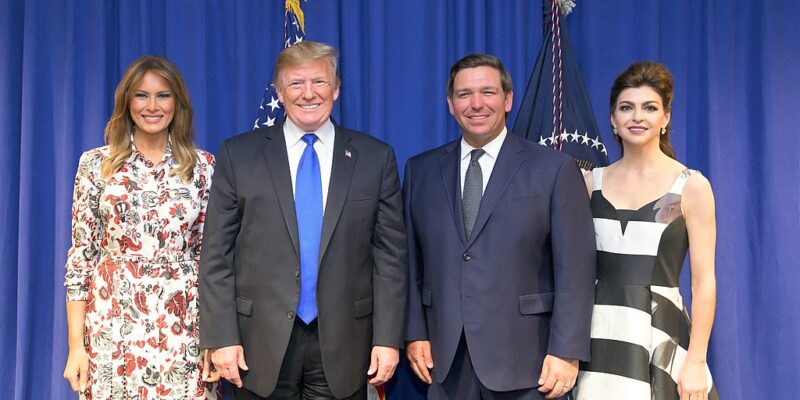 Republican leaders are facing a problem. The general public does not want former president Donald Trump (or Joe Biden for that matter) to run for president. However, the majority of polled GOP voters want the former president to stay in the race despite indictments from both Manhattan and the federal government and another one likely coming from the State of Georgia.
The Washington Examiner reported that "Republicans continue to stand behind former President Donald Trump despite his recent indictment by a Florida grand jury, according to a poll released on Friday.

Although the majority of voters overall (56%) believe Trump should drop out of the 2024 presidential race because of the indictment, 64% of Republican and Republican-leaning respondents said they would continue to support Trump if he remains in the race, according to a national poll conducted by the Marist Institute for Public Opinion.

More than three-quarters of Republicans and Republican-leaning independents, 76%, have a favorable opinion of Trump, up from 68% in February, the poll said.

The poll questioned 1,327 adults from June 12-14. Of the adults polled, 1,212 were registered voters. The poll has a margin of error of 3.5 percentage points overall and 3.6% for registered voters. Republicans and Republican-leaning voters make up 467 of the respondents.

Nearly three-quarters of the poll takers, 73%, believe Trump did something wrong, but only half of those respondents believe he committed a crime. The other 23% claim he did something unethical but not illegal. Half of the Republicans taking the survey believe that he did nothing wrong, up from 45% in March.

In a statement about the poll, Director of the Marist Institute for Public Opinion said, "As former President Trump deals with his latest legal woes, Republicans are mostly standing with him, while Democrats are calling for him to exit the 2024 campaign. Time will tell if this pattern holds, but for now, Republicans are grounded on where they stand on Trump regardless of these unfolding events."
"Despite speculation over how the indictments might affect Trump's presidential bid, his campaign reportedly received over $6.6 million in fundraising within days of the federal indictment. Trump pleaded not guilty in a Miami court Tuesday and has not made any indication at this time that he will drop out of the 2024 race," according to Fox News.
"Trump was first indicted in April on state-level charges stemming from alleged claims he made hush money payments to adult film actress Stormy Daniels during the 2016 election.
Last week, the former president faced a second indictment from Special Counsel Jack Smith on 37 federal counts relating to retention of sensitive documents."
While polling during his post-indictment with Republicans shows the former president as a strong candidate for the nomination in 2024, a New York Times writer argued that underneath the surface, the charges are hurting Trump as he runs for the White House for a third time. 
David Leonhardt calls to ignore the headlines, writing,"To be clear, Trump's enduring support among Republicans is an important story. If it continues, he is likely to become the party's nominee. That support is a sign that political polarization in the U.S. has become so intense that most Republican voters appear to care more about loyalty to Trump than about the possibility that he damaged national security by allowing sensitive intelligence to circulate.

But the existence of an enduring pro-Trump Republican majority is not the only important conclusion from the recent polls. A couple of subtler patterns in the data are more worrisome for Trump.

First, look at the relative sizes of the minority opinions in each category in that chart above: There are considerably more Republicans who consider the charges serious than Democrats or independents who do not think they're serious. The indictment divides Republicans more than it divides Democrats.

Another problematic sign for Trump is that the number of Republicans bothered by his legal problems seems to be growing. So is the number among independents. More voters are bothered by the case against him — on charges of taking classified material and trying to conceal that he did — than by the earlier New York State charges related to hush money for a sexual encounter:
Polling has also shown that the current Republican primary race is between two people: Donald Trump and Ron DeSantis. The two have been duking it out for months, but things have gotten more heated over the past couple weeks.
Earlier in the week, Trump's campaign got testy with DeSantis supporters after one of the Florida governor's surrogates noted that the president has lost Nevada twice in the general election, despite him winning the primary twice.
"Trump hasn't won Nevada the last two go-arounds," said former state Attorney General Adam Laxalt, a 2022 Senate candidate who is heading a super PAC backing DeSantis. "I was a two-time Trump chair. I don't see a path for him to win Nevada in a general election. Those voters are not coming back."
Laxalt made the comments before the annual Basque Fry, a popular event that draws thousands of conservatives from around the state that has become known for stewing and frying of lamb testicles, a Nevada tradition.
The comments got under the skin of at least one Trump adviser, Chis LaCivita, who said he was "not surprised Ron DeSantis is looking for a set of balls."
"So Adam Laxalt, who lost the governor's race in '18 and lost the Senate race in '22, is lecturing President Trump?" LaCivita added. "That's the pot calling the kettle black."
Erin Perrine, the communications director for Never Back Down, the pro-DeSantis super PAC, shot back at LaCivita: "The Trump team's obsession with men's genitalia is more perverted than a woke grooming book."
CNN broke the news that "in since unreported radio and television interviews from spring and summer 2012, Trump celebrated the interest in a 23-year-old transgender woman named Jenna Talackova participating in a Canadian pageant. He then later effusively praised the winner of the Miss USA pageant, Olivia Culpo, for saying that transgender women should be allowed to compete.
Trump, then the owner of the Miss Universe pageant, would go on to cite the possible participation of transgender women in Olympic sports to justify his decision to end a ban on transgender pageant participants.
Trump claimed to CNN at the time he personally made the decision to end the ban….A statement released by the Trump Organization at the time said the change was to modernize the pageant.
"Pageant rules have been modernized to ensure this type of issue does not occur again," read the statement, issued on Trump's behalf by his then-attorney Michael Cohen."
It's going to be a long primary.
[Read More: Biden Accused of Groping Hollywood Star]