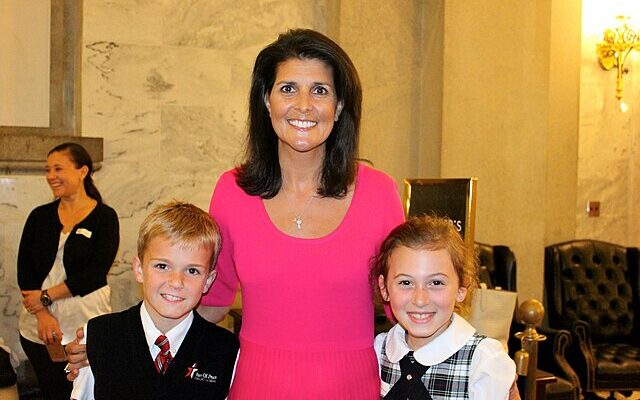 Nikki Haley is no longer mincing words. The former UN Ambassador under Donald Trump took on one of her party's most powerful leaders after it appeared that Mitch McConnell had a second health incident in the past few months. 
Senate Minority Leader Mitch McConnell froze up again earlier in the week, this time in front of a group of reporters in Covington, Kentucky, while discussing whether or not he planned to run for re-election. The top Republican in the Senate stopped for over 30 seconds. 
McConnell was cleared to resume his "schedule as planned" following the incident. "I have consulted with Leader McConnell and conferred with his neurology team. After evaluating yesterday's incident, I have informed Leader McConnell that he is medically clear to continue with his schedule as planned," Dr. Brian Monahan, Congress' attending physician, reported Fox News.
The incident was another stark reminder that the current group of leaders in the United States are pretty old, including President Biden and former Donald Trump, who are closer to age 100 than 50.
"No one should feel good about seeing that, any more than we should feel good about seeing [California Democratic Sen.] Dianne Feinstein, any more than we should feel good about a lot of what's happening or seeing [President] Joe Biden's decline," Haley said of McConnell's difficulties. "What I will say is, right now, the Senate is the most privileged nursing home in the country."
The South Carolinian has previously proposed that politicians over the age of 75 be tested for mental competence, one that would apply to both Donald Trump and Joe Biden. In April, she argued that voting for Biden was really voting for Kamala Harris to be president.
"He announced that he's running again in 2024, and I think that we can all be very clear and say with a matter of fact that if you vote for Joe Biden you really are counting on a President Harris, because the idea that he would make it until 86 years old is not something that I think is likely," Haley said, according to ABC News.
In 2018, President Trump claimed to have aced the Montreal Cognitive Assessment (MoCA), scoring a perfect 30 out of 30.
"The MoCA test was created by Canadian neurologist Dr. Ziad Nasreddine. The test is 30 questions and designed to take 10 minutes. Questions include drawing a clock, copying a picture of a cube and identifying pictures of animals," noted NBC News.
https://www.youtube.com/watch?v=yVpsTa_dnSc
Haley, nor any of the other much younger rivals to the former president, have not announced they can easily remember things. 
The former South Carolina governor has had a good few weeks on the campaign trail and at the Republican Fox News Debate. 
"Nikki Haley's strong debate performance is piquing interest among voters and GOP officials hoping to attract women back into the party," reported The Hill.  
"The only woman running for the Republican nomination, Haley took down Vivek Ramaswamy on foreign policy and dismissed former Vice President Mike Pence's call for an abortion ban at the federal level. She also appeared to take aim at whether former President Trump could beat President Biden and called him out for adding '$8 trillion to our debt.' 
While her debate performance underscored her positioning as the adult in the room and crystallized her take on abortion — likely a deciding issue in 2024 — what's unclear is whether it is enough to break through in a Republican primary electorate dominated by Trump. 
Some note that Haley appeared to be employing a general election strategy at Wednesday's debate when she needed to figure out a way to win over primary voters.
'She could be positioning herself as a better general election candidate, but it's still going to be hard for her to win the primary with that sort of approach,' said Kelly Dittmar, the director of research at the Center for American Women in Politics at Rutgers University." 
Her rivals have noticed, as well, including Donald Trump and his team. The Washington Examiner wrote that "a pollster for the super PAC supporting former President Donald Trump says ex-U.N. Ambassador Nikki Haley is surging in Iowa and New Hampshire after last week's first presidential debate while Gov. Ron DeSantis (R-FL) holds steady in a distant second place.
Tony Fabrizio, who is polling for MAGA Inc., released a memo obtained by the Washington Examiner on Tuesday finding Haley with double-digit support in Iowa and statistically tied with DeSantis in New Hampshire. Entrepreneur Vivek Ramaswamy, meanwhile, won last Wednesday's debate, according to the poll."
Many Republicans have come to see Haley as the best way to mitigate "the abortion issue," which has appeared to be an anchor on GOP candidates in the past midterm. 
Congresswoman Nancy Mace, for example, praised "former South Carolina Gov. Nikki Haley after the presidential hopeful said at the first Republican primary debate that Americans 'need to stop demonizing' the issue of abortion. 
"Every candidate talked about being pro-life and what their limits may or may not be," Mace told CBS' "Face the Nation" on Sunday. "But the only candidate on the stage that talked about how we should protect women and not demonize them was Nikki Haley." 
"We have to be pro-woman and pro-life. You cannot go after women and attack them because they make a choice that you don't like or do not agree with because it's a very sensitive subject right now," Mace added.
USA Today pointed to Haley's answers regarding a federal ban of abortion as a standout performance. "Haley during the Wednesday primary debate tried to argue to Republicans that they need to be honest with Americans when discussing a national abortion ban.  
Because any federal legislation will require 60 votes in the Senate, she said, party leaders should be trying to find a consensus on abortion issues, such as banning later abortions and agreeing not to jail women who get them."
[Read More: Feds Target What Trump Loves The Most]