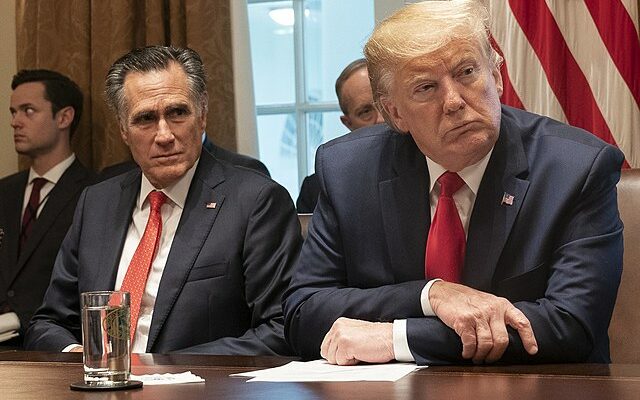 It's not often that liberals like The Washington Post's Ruth Marcus and Vox's Ian Millhiser, Never Trumpers like National Review's Andrew McCarthy and Senator Mitt Romney, and Donald Trump himself all agree on something. But, that's exactly what happened following District Attorney Alvin Brigg's flimsy indictment of the former president on Tuesday. 
The Washington Post's associate editor, Marcus, for example, called the charged "a dangerous leap on the highest of wires." She continued: "The hard question is whether those efforts also violated the criminal law — specifically, now that a New York grand jury has indicted him on 34 felony counts, whether they violated the laws of the state of New York. On that front, the indictment unsealed on Tuesday is disturbingly unilluminating, and the theory on which it rests is debatable at best, unnervingly flimsy at worst.
That is a scary situation when it comes to the first criminal charges ever lodged against a former president.
I'm not saying prosecutors will lose this case. They could well win, and I hope they do, because a failure to secure a conviction will only inflame Trump and his supporters in their claims that the criminal justice system is being weaponized against them. But the fears I had in the weeks leading up to the indictment about the strength of the case against Trump were in no way allayed by Tuesday's developments.
The indictment and an accompanying recitation of the underlying facts offers almost nothing in the way of new evidence against Trump. No surprise there — the tawdry details of Trump's "catch and kill" scheme to suppress damaging information from adult-film actress Stormy Daniels and former Playboy model Karen McDougal about their relationships with Trump have already been well-aired."
Trump's enemies may consider Marcus a moderate who doesn't have the guts to take on a former president, but the same could not be said for Ian Millhiser at Vox. He "is a senior correspondent at Vox, where he focuses on the Supreme Court, the Constitution, and the decline of liberal democracy in the United States. Before joining Vox, Ian was a columnist at ThinkProgress." He is a committed lefty who's gone as far as calling for a revolution in the United States to "abolish the Senate."
Abolish the Senate. https://t.co/Nd8cij6jw2

— Ian Millhiser (@imillhiser) March 17, 2023
Millhiser looked at the indictments and called them "dubious," writing, "Bragg built his case on an exceedingly uncertain legal theory. Even if Trump did the things he's accused of, it's not clear Bragg can legally charge Trump for them, at least under the felony version of New York's false records law."
Never Trumpers went even further in attacking the indictment. NRO's Andrew McCarthy, for example, called the charges "a disgrace." 
He wrote, "It's always possible to be surprised. The indictment brought by Manhattan's elected Democratic district attorney Alvin Bragg against Donald Trump is even worse than I'd imagined.
Bragg's indictment fails to state a crime. Not once . . . but 34 times. On that ground alone, the case should be dismissed — before one ever gets to the facts that the statute of limitations has lapsed and that Bragg has no jurisdiction to enforce federal law (if that's what he's trying to do, which remains murky).
Bragg's indictment charges 34 counts, just as we said it would, based on media reporting that clearly came from illegal leaks of grand-jury information — a crime, you can be sure, that goes in the overflowing bucket of serious offenses that Bragg refuses to prosecute.
The 34 counts are arrived at by taking what is a single course of conduct and absurdly slicing it into parts, each one of which is charged as a separate felony carrying its own potential four-year prison term."
Even Donald Trump's greatest nemesis in the Senate, Mitt Romney, has accused Brigg's of overreaching and playing politics.
In a statement, the Utah senator said, "I believe President Trump's character and conduct make him unfit for office. Even so, I believe the New York prosecutor has stretched to reach felony criminal charges in order to fit a political agenda. No one is above the law, not even former presidents, but everyone is entitled to equal treatment under the law. The prosecutor's overreach sets a dangerous precedent for criminalizing political opponents and damages the public's faith in our justice system.
The charges and evidence will be duly considered and the outcome decided by a jury with an obligation to fulfill its responsibility with the utmost care and impartiality. The American voters will ultimately render their own judgment on the former President's political future
Finally, it is also incumbent on all elected leaders to discourage violence and anger in response to this situation."
Trump, of course, agrees with all the above. On Tuesday evening, the former president lambasted the DA and the judge in the case. The Hill reported, "The former president maintained his innocence, saying he never did anything illegal and that the charges against him should never have been brought. He also attacked the judge presiding over the case, Justice Juan Merchan, calling him a 'Trump-hating judge.'
'You want to get President Trump at any cost,' Trump said. 'As it turns out, everyone who has looked at this case … says there is no crime and it should never have been brought. Never have been brought.'
'It's an insult to our country,' he added, 'and the world is already laughing at us.'"
In his inaugural speech, Joe Biden promised to bring unity to the United States, but I wonder if this is what he meant. 
[Read More: Biden Bans Something We All Own…Again]