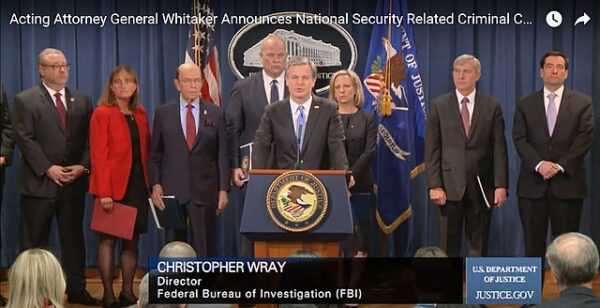 Speaker of the House Kevin McCarthy has a simple message to FBI Director Christopher Wray: Enough with the games. On Tuesday, the California Republican announced that he would seek to hold Wray in contempt of Congress for his refusal to turn over documents the FBI holds allegedly showing that Joe Biden took bribes during his time as vice president. 
The New York Post writes, "House Oversight Committee Chairman James Comer (R-Ky.) gave Wray until Tuesday to comply with a subpoena for the tipoff — warning that his continued refusal would begin the contempt process.

"Let me tell Director Christopher Wray right here, right now: If he misses the deadline today, I'm prepared to move contempt charges in Congress against him," McCarthy (R-Calif.) said on "Fox & Friends."

"I personally called Director Wray and told him he needs to send that document. Today is the deadline," the House speaker said.

"We have jurisdiction over this. He can send us that document. We have the right to look at that —Republicans and Democrats alike in that committee. And if he does not follow through with the law, we will move contempt charges against Christopher Wray and the FBI. They are not above the law."
McCarthy has backed up Comer's deadline to the FBI for them to turn over the requested document by May 30. The Post also reported that the Oversight chairman has scheduled a call with Wray the day after the deadline.
"It's unclear what the timing of the phone call portends for Wray's compliance, but the FBI has thus far refused to provide the file, citing concerns about informant confidentiality and the fact that tips are unverified," wrote the newspaper.
The FBI  that "releasing confidential source information could potentially jeopardize investigations and put lives at risk. The FBI remains committed to cooperating with Congress's oversight requests on this matter and others as we always have." 
The FBI's current track record of dragging its feet and targeting political enemies of the president, however, makes it harder to believe their statement is true. 
Last month, for example, in what was labeled an intimidation tactic, FBI agents went to the home of an anti-abortion activist's mother. Two agents, identified as Ashley Roberts and Kathleen Brown, showed up at the childhood home of Elise Ketch, an anti-abortion activist who is part of group of progressives who believe that abortion kills a human life. 
FBI Director Christopher Wray will likely go down as one of President Donald Trump's most controversial appointees. 
In June 2017, following the removal of James Comey, Trump "announced that he had selected Christopher A. Wray to be his F.B.I. director, turning to a former federal prosecutor who recently defended Gov. Chris Christie of New Jersey in the so-called Bridgegate scandal to lead an agency under a harsh political spotlight.
Hours after the Twitter post," The New York Times reported, "the White House followed up with an official statement in which Mr. Trump called Mr. Wray 'an impeccably qualified individual,' citing his role in major fraud investigations and antiterrorism efforts at the Justice Department after the 9/11 attacks.
'I know that he will again serve his country as a fierce guardian of the law and model of integrity once the Senate confirms him to lead the F.B.I.'" 
Contempt of Congress has been a charge levied by both parties. In 2021, Democrats in charge of the House of Representatives charged former Trump advisor Steve Bannon with contempt of Congress. In July 2022, Bannon was found guilty by a federal jury, but the sentence was stayed pending an appeal. 
The criminal offense of contempt of Congress sets the penalty at not less than one month nor more than twelve months in jail and a fine of not more than $100,000 or less than $100.
[Read More: Russia Threatens To Arrest Republican Senator]